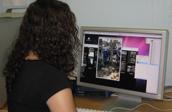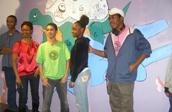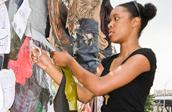 Teen Classes - Winter 2020
January 6, 2020 - March 21, 2020
Teen Project Studio
Instructor(s): Kathie Halfin
Time: Tuesdays and Thursdays, 4:30 - 6:30 PM
Location: BRAC - 3-D Studio (4th Floor)
Ages: 15 - 26
Fee: $0
Tuesdays and Thursdays 4:30-6:30pm
January 7, 9, 14, 16, 21, 23, 28, 30 February 4, 6, 11, 13, 25, 27 March 3, 5, 10, 12, 17, 19
Teen Project Studio (TPS+2.0) with Kathie Halfin- 3-D Studio on 4th Floor and Computer Lab 2nd Floor
Young Adults ages 15-26 (Free by application only)
From Bauhaus to Our House: Pattern as Principal of Design
Teen Project Studio + 2.0 is an intensive, 10-week, digital and fine arts program for teens and young adults ages 15-26. This free program is limited to 15 students that is available by application only. TPS is a unique opportunity to experience and learn about the visual arts & creative industries in an interactive and challenging way. It is also an opportunity to meet other teens with similar eagerness to learn and create.
From January 7 to March 19, students will meet Tuesdays and Thursdays from 2:30-4:30pm, at the Bronx River Art Center located at 1087 East Tremont Ave, Bronx NY, 10460 for the Course titled "From Bauhaus to Our House". There will also be 2 field trips to art exhibitions and cultural events. BRAC's TPS Teen Project Studio award program introduces selected participants to principles and practices of design. This is an intensive 10 week-long professional design studio course that focusses on the creative industries and addresses different media or techniques each semester throughout the year. "From Bauhaus to Our House" will address graphic and textile design through the art principle of pattern utilizing digital and hands-on techniques including: photoshop, printmaking, fabric dyeing and 3D construction. Students will learn the historical precedents and contemporary application of pattern design through monthly field trips to design studios, museums and galleries as well as through the development of their own poster and product designs.
Please respond to the questions below and submit by the due date of December 30, 2019. If you are under 18, you will need to have a parent or guardian fill out their section as well or fill out our application available for pick up from our location at 1087 East Tremont.
All interested participants must fill out an application form by clicking HERE.
Please send quesetions to mbrody@bronxriverart.org.
---
Cartooning
Instructor(s): Segun Braithwaith
Time: Tuesdays, 4:30pm - 6:30pm
Location: BRAC - 2-D Studio (4th Floor)
Ages: 11 - 15
Fee: $95
How are Comics and Manga made? How can you create your very own? In this course, students will develop an original short comic story featuring their very own characters! Students will learn about lettering their stories, drawing backgrounds efficiently and effectively using perspective, as well as creating dynamic compositions. Work will be hand drawn with pencil and ink, students seeking additional challenge can add color to their work and will be guided on how to select colors that "pop"! Past BRAC Cartooning students will find this series as "the next step" in their development. Beginners with a strong interest in comics, cartoons, and art are welcome!
---
Intermediate Ceramics
Instructor(s): Ana Ruiz-Castillo
Time: Saturdays, 2pm-4pm
Location: BRAC - 3-D Studio (4th Floor)
Ages: 13 - 19
Fee: $95
This class is for experienced students only, who have taken at least one semester of ceramics already. We will build upon the basics of ceramics with an emphasis on the creative use of clay to produce a unique body of your own work. Participants will be guided to expand their creative ceramics skills while creating uniquely formed objects such as vases, boxes, cups, pots, realistic and abstract sculptures. Students will continue perfecting their different modeling techniques such as pinching, coiling, slabs and glazing, with a basic introduction to the potters wheel. Emphasis will be on working on independent project goals.
---
Painting
Instructor(s): Joel Adas
Time: Saturdays, 2 - 4 PM
Location: Bronx River Art Center
Ages: 14 - 19
Fee: $95
Landscapes Real and Imagined
In this class we will use a variety of art making processes to come up with images that exist somewhere between abstraction and landcape. We will study the art of Mark Rothko and Milton Avery among others to better understand how such images operate. We will also do a number of life drawings of the incredible views of The Bronx from around our fantastic building to see how the urban environment can contribute to the process.
---
Registration Information:
Fee Information:
Please note: It is a first come, first serve policy. Reserve your spot as soon as possible!
Register before December 15, 2019 to receive a 10% discount!
All fees must be paid in full at the time of registration.
Or contact us at info@bronxriverart.org or call 718.589.5819
Cancellation Policy If a class does not meet capacity, it may be canceled, in which case students will have the option to either take another class or receive a full refund.
Unless otherwise noted, all classes include materials and use of professional equipment.