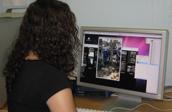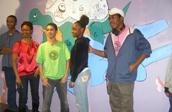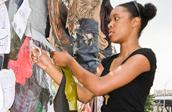 Teen Classes - Spring 2019
April 1, 2019 - June 15, 2019
Advanced Painting
Instructor(s): Joel Adas
Time: Saturday, 2-4pm
Location: BRAC - 2-D Studio (4th Floor)
Ages: 13 - 80
Fee: $85
Ways of Depicting People: a View through Art History
From Frida Kahlo to Picasso and beyond, we will look at the ways in which artists have portrayed people. A variety of approaches will be emphasized culminating in a large scale painting project all designed to immerse the student in an exploration of this essential subject.
---
Cartooning
Instructor(s): Devon Purkiss
Time: Wednesday, 4:30-6:30pm
Location: BRAC - 2-D Studio (4th Floor)
Ages: 11 - 15
Fee: $95
In this course, students will develop an original short (2 - 5 page) comic story featuring characters that they've created! Students will learn to draw backgrounds and environments that bring their worlds to life, as well as creating dynamic compositions and narrative flow. Work will be hand drawn with pencil and ink. Students will also be introduced to Photoshop and digital coloring! Returning BRAC Cartooning students will find this series as "the next step" in their development. Strong draftsmanship suggested/ Recommended for those with a solid foundation in drawing.
---
Digital Animation
Instructor(s): Isael Luperon
Time: Saturday, 2-4pm
Location: BRAC - Computer Lab (2nd Floor)
Ages: 11 - 15
Fee: $95
The Color of Your World
Do you love animated shows from Cartoon Network and Netflix? Want to learn how to bring your own drawings to life? Here at BRAC, we are welcoming students who are passionate about art and want to take their work to the next level. In our Digital Animation class, you will learn the basics of Adobe Photoshop to create your very own animated works with absolutely no prior experience needed. Not only will we develop your skills as young artists, but this is also an opportunity to add more unique work into your portfolios. You will also have the opportunity to demonstrate your animations to others through BronxNet.
---
Digital Photography
Instructor(s): Roy Baizan
Time: Saturday, 10:30am-1:30pm
Location: BRAC - Computer Lab (2nd Floor)
Ages: 15 - 80
Fee: $120
Digital Photography
In this 10 week, 3 hour photography class, students will go over the basics of photography while also creating small bodies of work around the theme of documentary work. Emphasis will be on meeting outside for photo-walks and having group photo critiques. The class will culminate in a presentation of student work.
---
Drawing & Printmaking
Instructor(s): Tammy Wofsey
Time: Friday, 4:30-6:30pm
Location: BRAC - 2-D Studio (4th Floor)
Ages: 6 - 80
Fee: $95
Introduction to Printmaking
All ages welcome! Especially Parents with young children working together!
In this class we will explore different kinds of printmaking methods. We will first learn how to make our own handmade and marbled papers for chine collé then linocut prints, watercolor monotypes, stencils, drypoint and collographs. We will explore drawing and color with the printmaking tools we learn.
---
Graffiti Mural Painting
Instructor(s): BOM5 from the Rock Steady Crew & The Bronx Boys
Time: April 1, 8, 15, 22, 29, May 6, 13, 20, June 3, 10, 4:30-6:30pm
Location: BRAC - 2-D Studio (4th Floor)
Ages: 13 - 18
Fee: $95
Abstract City Kids
A great class for New York City Teens to have the freedom to express themselves through a medium that came of age in The Bronx. Local Legend BOM5 will lead participants in bringing their own visions of the City to life through graffiti art lettering, characters and aerosol art on paper, clothes and city walls. This class will include walking trips to nearby sites for inspiration once the weather gets warm. Teens are welcome to come share their skills with this local legend and learn from each other by painting and drawing together.
---
Teen Project Studio(TPS)
Instructor(s): Art Jones
Time: Tuesday, 4:30-6:30pm
Location: BRAC - Computer Lab (2nd Floor)
Ages: 15 - 26
Fee: $0
3D Design and Digital Fabrication
TPS is a unique opportunity to experience and learn about the visual arts & creative industries in an interactive and challenging way. It is also an opportunity to meet other young adults with similar eagerness to learn and create. This course will teach students how to create original three-dimensional work using computer-aided design and 3D modeling software including SketchUp and Cinema 4D. After designing individual and collaborative architecture, furniture, and art, students will learn to transform these digital creations into physical objects through use of 3D printers and other tools.
All interested participants must fill out and email back an application form by clicking HERE.
---
Registration Information:
Fee Information:
Please note: It is a first come, first serve policy. Reserve your spot as soon as possible!
Register before to receive a 10% discount!
All fees must be paid in full at the time of registration.
Or contact us at info@bronxriverart.org or call 718.589.5819
Cancellation Policy If a class does not meet capacity, it may be canceled, in which case students will have the option to either take another class or receive a full refund.
Unless otherwise noted, all classes include materials and use of professional equipment.