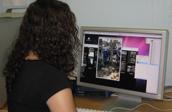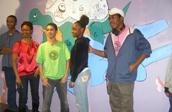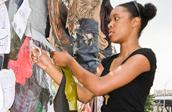 Teen Classes
Teen Project Studio +2.0: Photography and Activism
FREE REGISTRATION BY APPLICATION. APPLY HERE.
Please email info@bronxriverart.org with questions.
TUESDAYS from 4pm to 5:30pm on Zoom
For Ages 15 - 26
Join the Bronx River Art Center for the Shared Vision lecture series, led by photographers of the Black Lives Matter movement in New York City. Each instructor will lead a set number of sessions and share their experience and techniques. All five photographers will also be exhibiting their work at the BRAC Gallery at the end of May 2021. Our presenters include:
Chae Kihn (April 13 & 20)

Chae Kihn is an artist and professional photographer renowned for her evocative portraits and documentary essays. She has been covering the Black Lives Matter protest movemen in New York City since May 2020. The movement brings together her passion for Human Rights.

Website: www.chaekihnphotography.com

Instagram: @chaekihn

Erica Lansnser (April 27 & May 4)

Erica Lansner is an independent photographer based in New York City whose work ranges from reportage to portraiture. An award-winning photojournalist, she has traveled to more than 35 countries on assignment for leading international magazine and corporations.

Website: ericalansner.com

Instagram: @elansner

Lucy Baptiste (May 11 & 18)

Lucy Baptiste began photography in sports as a freelancer. She jumped into photojournalism after attending a protest after the murder of George Floyd and found it was her duty to come out and document this historical moment.

Website: flickr.com/photos/flicksbylucy

Instagram: @flicks_by_lucy

Phoenix Robles (May 25 & June 1)

Phoenix Robles' goal in photography is to be a visual storyteller. Representing everything that makes this world both complexly beautiful and sometimes painful. These photos are usually of whatever moves Robles in a moment. She "creates selfishly, and intensely" for her own satisfaction.

Website: phoenixroblesphotography.com

Instagram: @phoenixroblesphotography

Caroline Mardok (June 8 & 15)

Caroline Mardok is a French-American photographer based in Brooklyn. A graduate from Paris sorbonne in Law, she is a self-taught photographer practicing her craft for more than 25 years. With her NY.Strong project, Caroline is documenting the COVID-19 pandemic and the Black Lives Matter Movement in NYC.

Instagram: @ny.strong
This free program is limited to 15 students and is available by application only. TPS+2.0 is a unique opportunity to experience and learn about the visual arts & creative industries in an interactive and challenging way. It is also an opportunity to meet other teens and young adults with similar eagerness to learn and create.
Interested participants should fill out this application. If you are under 18, you will need to have a parent or guardian fill out their section as well. Successful applicants will be interviewed by a BRAC staff member in order to attend this once in a life time opportunity.
---
Registration & Fee Information:
Please note that we have a first-come, first-serve policy. Reserve your spot as soon as possible!
Registration opens Monday, March 22nd, 2021. Register Online Here.
All fees must be paid in full at the time of registration. In addition, you can contact us at info@bronxriverart.org or call 718.589.5819
Cancellation Policy: If a class does not meet capacity, it may be canceled, in which case students will have the option to either take another class or receive a full refund.
Unless otherwise noted, all classes include materials and use of professional equipment.
---
Locations of Classes & Travel Directions:
Virtual Visual Art & Digital Media Classes will be streamed through Zoom.