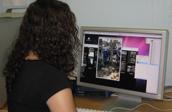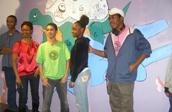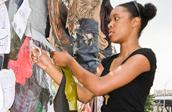 Teen Classes
Thursdays: Teen Project Studio: Honoring Black Lives Matter: Public Art Installation and Gallery Exhibition with KaN Landscape
This class is free and by application only. Apply here. Last Day to apply is Monday January 18th, 2021!
Please email dhebbert@bronxriverart.org with questions.
Jan 21, 28, Feb 4, 11, 18, 25, March 4, 11, 18, 25 and April 1st, 2021
4pm - 5:30pm
Adult, Youth, Teens
Teen Project Studio + 2.0 is an intensive, eleven week, digital and fine arts program for teens and young adults ages 15-26.
This free program is limited to 15 students and is available by application only. TPS+2.0 is a unique opportunity to experience and learn about the visual arts & creative industries in an interactive and challenging way. It is also an opportunity to meet other teens and young adults with similar eagerness to learn and create.
Interested participants should fill out this application. If you are under 18, you will need to have a parent or guardian fill out their section as well. Successful applicants will be interviewed by a BRAC staff member in order to attend this once in a life time opportunity.
This winter participants will work with KaN Landscape Design to design a public art installation honoring Black Lives Matter. The installation will take place in The Bronx, located at the triangle plaza on East Tremont and Devoe Avenue at 179th Street, near the BRAC building. The installation will be made of plywood and silhouette cut-outs on which photos of the movement will be pasted onto. The cut-outs will allow the passers by to enter the sculptures and develop a personal experience. The work represents the story of individuals & togetherness and the strength that comes from it.
The project, in collaboration with photographer Caroline Mardok (@NYStrong), won the Plywood Protection Project, organized by Worthless Studios and will be installed in May 2021. An exhibition in BRAC's gallery is scheduled for the same time. This exhibition will feature the work of @ny.strong/ Caroline Mardok Studios, other artists, and the work of our registered participants.
The class aims to include students in the art making and technical process of the installation. Participants will learn about the equipment and facilities at BRAC's Maker Space under the supervision of Free Trip from Worthless Studios. Students will learn how to and create a prototype/and or a small scale replica of the project using a laser cutter.
If and when possible this class will meet in person for selected sessions during the semester. Pending the pandemic, alternatively, this course will teach photography so participants can share their own experiences. These photos will be displayed in the gallery in a collective collage on plywood.
Materials: Disposable cameras for students or cell phone cameras. Printing and the use of the Maker Space will be provided by the art center. This class will be a mixture of virtual and in person sessions. Participants can request to attend virtual classes only.
This class is free and by application only. Apply here. Please email dhebbert@bronxriverart.org with questions.
---
Registration & Fee Information:
Please note that we have a first-come, first-serve policy. Reserve your spot as soon as possible!
Registration opens Monday, August 31st, 2020. Register Online Here.
All fees must be paid in full at the time of registration. In addition, you can contact us at info@bronxriverart.org or call 718.589.5819
Cancellation Policy: If a class does not meet capacity, it may be canceled, in which case students will have the option to either take another class or receive a full refund.
Unless otherwise noted, all classes include materials and use of professional equipment.
---
Locations of Classes & Travel Directions:
Virtual Visual Art & Digital Media Classes will be streamed through Zoom.