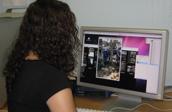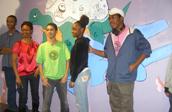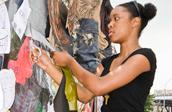 Teen Classes
Teen Project Studio +2.0: FASHION 101
with Edwin Reyes
Please email info@bronxriverart.org with questions.
MONDAYS AND WEDNESDAYS from 4:30pm to 6:30pm
For Ages 15 - 26
Interested in Fashion and learning how to make it in the Fashion World?
Teen Project Studio + 2.0 is an intensive, ten-week digital and fine arts program for teens and young adults ages 15-26. This FREE by application only course meets two days per week (Mondays with local Bronx Designer Edwin Reyes & Wednesdays for Independent Study 4:30-6:30) including at least two field trips to museums, galleries or artist/design studios.
Exploring the foundations and history of Fashion design, participants will study the different techniques of fashion icons such as Chanel or Christian Dior, as well as up and coming young designers. We will learn from them how to create a mood board to develop a color story, explore texture and pattern in fabric, and hand sewing accessories, like bags, hats, and pillowcases. The class will end with a virtual presentation of the designs students created.
Participants are not required to have sewing experience, just an eye for style and a desire to learn more about working in the Fashion Design Fields.
---
Interested participants should fill out this application. If you are under 18, you will need to have a parent or guardian fill out their section as well. Successful applicants will be interviewed by a BRAC staff member in order to attend this once in a life time opportunity.This free program is limited to 15 students and is available by application only. TPS+2.0 is a unique opportunity to experience and learn about the visual arts & creative industries in an interactive and challenging way. It is also an opportunity to meet other teens and young adults with similar eagerness to learn and create.
---
Registration & Fee Information:
Please note that we have a first-come, first-serve policy. Reserve your spot as soon as possible!
Registration opens Wednesday, December 22nd, 2021. Register Online Here.
All fees must be paid in full at the time of registration. In addition, you can contact us at info@bronxriverart.org or call 718.589.5819
Cancellation Policy: If a class does not meet capacity, it may be canceled, in which case students will have the option to either take another class or receive a full refund.
Unless otherwise noted, all classes include materials and use of professional equipment.
---
Locations of Classes & Travel Directions:
In-person classes will take place at the Bronx River Art Center, located at 1087 E. Tremont Avenue, Bronx, NY 10460
Virtual classes will take place over Zoom, with links sent out no latter than two hours before class time.