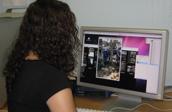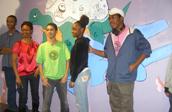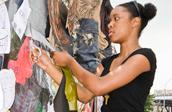 Teen Classes
Teen Project Studio +2.0: Multimedia Production
Please email info@bronxriverart.org with questions.
TUESDAYS and THURSDAYS from 2pm to 5pm both live and virtual
For Ages 15 - 26
Teen Project Studio + 2.0 is an intensive, five week, digital and fine arts program for teens and young adults ages 15-26. This is a two day per week (Tuesday 2 - 4 PM and Thursday 2 - 5 PM) series of workshops, inclusive of at least two field trips to museums, galleries or artist/design studios.
This summer, the topic is MULTIMEDIA PRODUCTION, and TPS+2.0 will act as a hybrid studio where you will learn how Google, Apple, Nike and other cutting edge companies design and produce their products. Participants will be introduced to the tools and techniques for the best production practices through online interactive sessions with Professor Canonge, and make their own hands-on projects at BRAC in its state-of-the-art Mac computer lab.
Make your summer the best learning experience possible by working with digital application tools, 3D printers, and design techniques while you learn how to effectively produce your own multimedia projects: be they games, apps, and/or interactive environments.
---
Interested participants should fill out this application. If you are under 18, you will need to have a parent or guardian fill out their section as well. Successful applicants will be interviewed by a BRAC staff member in order to attend this once in a life time opportunity.This free program is limited to 15 students and is available by application only. TPS+2.0 is a unique opportunity to experience and learn about the visual arts & creative industries in an interactive and challenging way. It is also an opportunity to meet other teens and young adults with similar eagerness to learn and create.
---
Registration & Fee Information:
Please note that we have a first-come, first-serve policy. Reserve your spot as soon as possible!
Registration opens Saturday, June 19th, 2021. Register Online Here.
All fees must be paid in full at the time of registration. In addition, you can contact us at info@bronxriverart.org or call 718.589.5819
Cancellation Policy: If a class does not meet capacity, it may be canceled, in which case students will have the option to either take another class or receive a full refund.
Unless otherwise noted, all classes include materials and use of professional equipment.
---
Locations of Classes & Travel Directions:
In-person classes will take place at the Bronx River Art Center, located at 1087 E. Tremont Avenue, Bronx, NY 10460
Virtual classes will take place over Zoom, with links sent out no latter than two hours before class time.