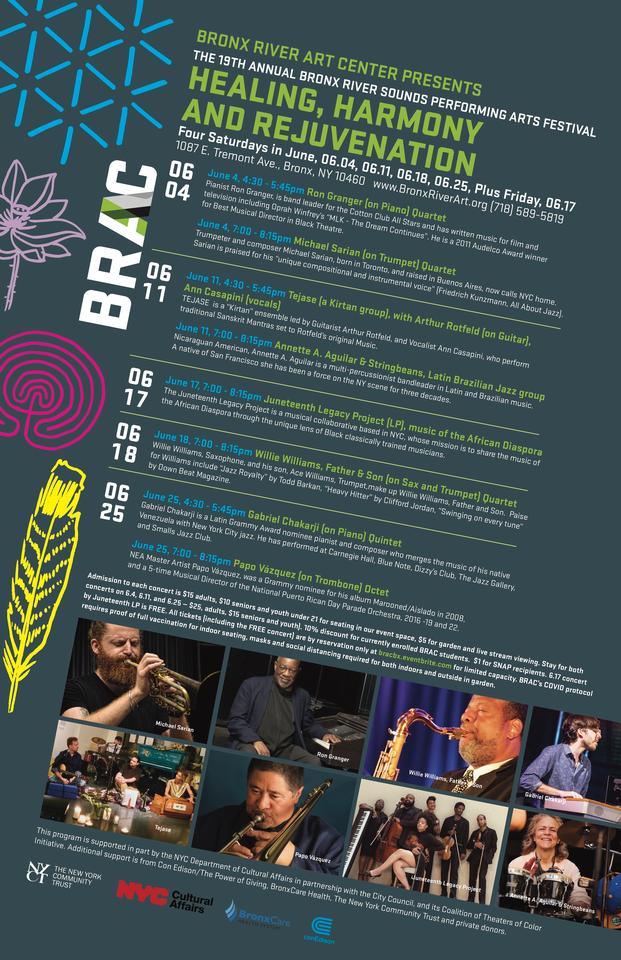 Bronx River Sounds Performing Arts Festival
June 4 - June 25 • Live
Bronx River Sounds Performing Arts Festival: Healing, Harmony and Rejuvenation
A month of music performances at BRAC in June!
Purchase Tickets Here
June 4, 4:30 - 5: 45pm Ron Granger (on Piano) Quartet
Pianist and Bronx Native, Ron Granger, is band leader for the Cotton Club All Stars. He has written music for film and television including Oprah Winfrey's Martin Luther King special "The Dream Continues". A 2011 Audelco Award winner for Best Musical Director in Black Theatre, Ron holds an MFA in Music Therapy from NYU.
June 4, 7:00 - 8: 15pm Michael Sarian (on Trumpet) Quartet
Trumpeter and composer Michael Sarian, born in Toronto, and raised in Buenos Aires, now calls NYC home. Sarian is praised for his "unique compositional and instrumental voice" (Friedrich Kunzmann, All About Jazz).
June 11, 4:30 - 5: 45pm Tejase (a Kirtan group), with Arthur Rotfeld (on Guitar), Ann Casapini (vocals)
TEJASE is a "Kirtan" ensemble led by Guitarist Arthur Rotfeld and Vocalist Ann Casapini, who perform traditional Sanskrit Mantras set to Rotfeld's original Music. Kirtan is a devotional yoga practice found throughout India and now the world.
Click Here to Watch TEJASE performance
June 11, 6:15pm Jahlil Shabazz - Free Concert
Jahlil Shabazz will perform immersive beats and songs that come from the art of playing the djembe drum.
June 11, 7pm-8:15pm Annette A. Aguilar & Stringbeans, Latin Brazilian Jazz group
Annette A. Aguilar - Is a multi-percussionist, recording artist, educator, producer and bandleader who specializes in Latin and Brazilian percussion. Annette is a native of San Francisco, Ca and is a first generation Nicaraguan-American. She holds a Masters from Manhattan School of Music and a Masters in Music Education from Lehman College. Aguilar has been a force on the NY Scene for three decades.
Click Here to Watch Annette A. Aguilar & Stringbeans performance
June 17, 7pm-8:15pm Juneteenth Legacy Project (LP), music of the African Diaspora - Free concert
The Juneteenth Legacy Project (Juneteenth LP) is a musical collaborative based in NYC whose mission is to share the music of the African Diaspora through the unique lens of Black classically trained musicians with a focus on access, outreach and community building through music.
June 18, 7pm-8:15pm Willie Williams, Father & Son (on Sax and Trumpet) Quartet
Willie Williams, Tenor and Soprano Saxophone, and his son, Ace Williams, Trumpet and Flugelhorn make up Willie Williams, Father and Son. Words of praise for Williams include "Jazz Royalty" by Todd Barkan, "Heavy Hitter" by Clifford Jordan, "Top Tenor" by Saxophone Journal, "Swinging on every tune" by Down Beat Magazine.
June 25, 4:30 - 5: 45pm Gabriel Chakarji (on Piano) Quintet
Gabriel Chakarji is a Latin Grammy Award nominee pianist and composer who merges the music of his native Venezuela with New York City jazz. He has performed at Carnegie Hall, Blue Note, Dizzy's Club, The Jazz Gallery, and Smalls Jazz Club. In 2022 Gabriel was the recipient of the renowned Jazz Gallery Residency Commission, and the Herb Alpert Young Jazz Composer Award.
June 25, 7pm-8:15pm Papo Vázquez (on Trombone) Octet
Of Papo Vázquez, Howard Mandel said in Downbeat Feb. 2021, "Papo Vázquez's Mighty Pirates Troubadours are stirring. The precise, greased-gear ensemble moves through smartly arranged, post-boppishly interpreted jazz with a Latin tinge. Russ Musto / New York City Jazz Record, Dec. 2021 said, "Papo Vazquez once again affirms his status as one of the most important creative forces today".
Admission to each concert is $15 adults, $10 seniors and youth under 21 for seating in our open-air event space.
Outdoor standing is $5.
Combined Tickets for 4:30pm and 7pm concerts on June 4th, 11th and 25th are $25 for Adult seats, $15 for Senior/Youth seats.
Discounts available for currently enrolled BRAC students, BRAC members, NYC Jazz Record Readers and SNAP recipients. Check details on Eventbrite ticket page for promo codes for reduced price tickets.
Contact BRAC at info@bronxriverart.org with any questions about tickets or discounts.
All tickets are by reservation only at limited capacity.
BRAC's COVID 19 safety guidelines-masks and social distancing will be strictly enforced. Proof of full vaccination for indoor seating.
This program is supported in part by the NYC Department of Cultural Affairs in partnership with the City Council, and its Coalition of Theaters of Color Initiative. Additional support is from Con Edison: The Power of Giving, BronxCare Health System, New York Community Trust and private donors.