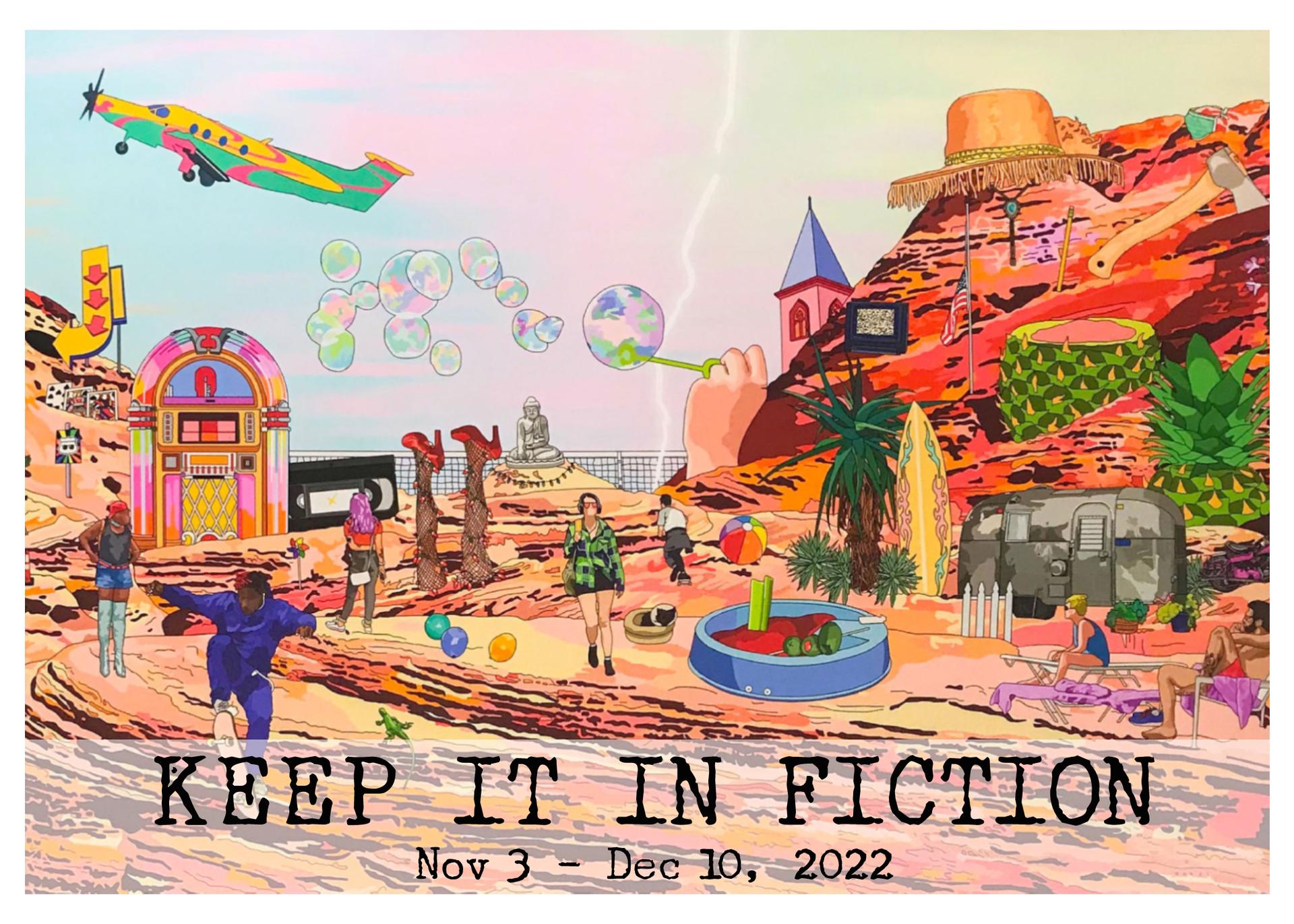 Keep it in Fiction
Keep It In Fiction
A study of the different fictional narratives artists create in their work
Curated by Stephanie Young
Artists: Marcy Brafman, Jason Bryant, Jennifer Deppe Parker, Molly Goldfarb, Sally Jerome, Kerry Lessard, Marianne Petit, Zoia Skorodapenko, Mark Torres, Chao Wang, Natalie Collette Wood
November 3-December 10, 2022
Opening Reception: Thursday November 3, 2022 from 6:30pm - 9:00pm
Artist Talk: Saturday November 19, 2022 at 5:30pm
Closing Reception/Holiday Market: Saturday December 10, 2022 4:00 - 8:00pm
Photo: Installation shot of Keep It In Fiction
Artists disguise truth with fiction in order to arrive at a few different conclusions. Art explores the possibilities of human thinking as it distorts realities to create another fiction in order for the creator to cope, reinvent, or escape. With art we engage in a fictional form of truth. The artists in Keep It In Fiction create unique identifiable narratives that explore their own consciousness and obsessions. In order to further the exhibition limits, each artist created a short story, poem or video to accompany their paintings, drawings and prints.
Photo: Marianne Petit's "The Story of the Man Who Went Out Hunting"
Our "face" to the community, and the city at large, is our exhibitions program, which offers five or more annual exhibitions of energetic contemporary art in our ground-floor, 2,000 sq. ft. gallery. This program has become known for both its deft curatorial vision and its ability to produce ambitious and challenging exhibitions with ingenuity and immediacy. We strive to expose various paradigms of contemporary art to the litmus test of our local Bronx community and the cultural, economic, and social landscape that defines it.
BRAC's exhibitions are designed to affect cultural and social change through art that is both innovative and educational. We support our guest curators to present fresh arts experiences to the Bronx while nurturing our local talent. A focus of our vision is to blur the lines between professional art practice and community self-expression. Many of the artists we show embrace a social-practice mode of operation that is as much about making a sociopolitical statement as it is about creating a resonant visual experience. For each exhibit, we include community engagement activities such as tours, panels, and workshops, as well as mixers and virtual art productions that align with the pulse of our community.