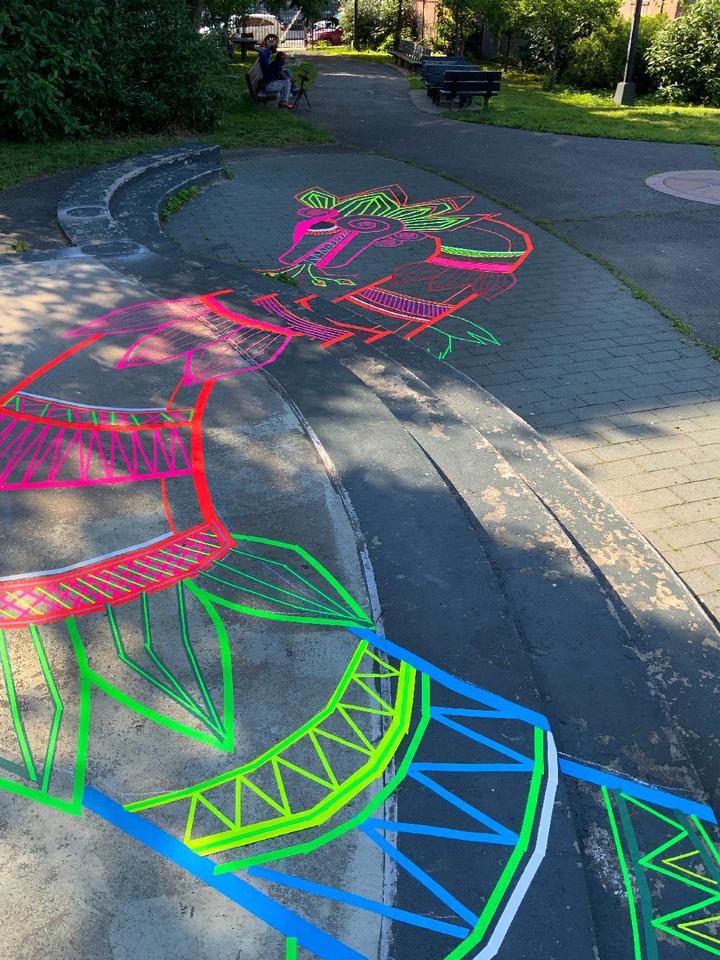 Spring Workshops and Mural Activities
On View from April 24, 2021 – December 31, 2021
Photo: Artwork created by Mythical Animals and Legends Mural Workshop in Vidalia Park on June 5th.
Through a grant from City Council District 15, this public program of three participatory design workshops and three murals will address the shared immigrant experience through such topics as native flora and fauna, culturally-specific mythical animals, and memories evoked by family textiles.
Teaching Artist Marta Blair will lead a participatory art project involving free mixed-media workshops for all ages, culminating in three tape murals created in different locations in the Bronx. Participants will develop a mixed-media project in the workshop portion and then get together one or two weeks later to build their mural using vibrant tapes on sidewalks or walls in three public NYC Parks. These temporary tape murals will be displayed for the community for approximately three weeks before they are removed.
Thank you so much for your interest in our workshops. We understand last-minute changes happen, but we would really appreciate if you would let us know if you are not coming in time to open the spot for somebody else. As you may know, we offer this workshop free of charge (and at limited capacity due to COVID-19 safety precautions) for the benefit of the community, and we have waiting lists that we cannot accommodate in full if the participants who sign up unfortunately don't make it.
In order to be fair to everyone who wants to register for our Spring art workshops, we are now needing to implement a REFUNDABLE deposit for each workshop of $3.00 for adults, at the time of registration, which will be returned to all attending registrants on the day of the workshop. When registering for multiple tickets, please put in the name of each individual attendee.
We also will require confirmation of your registration 48 hours before the workshop date. If at that time you don't confirm attendance, or decide you cannot attend, you can claim your deposit (less processing fees) in person at BRAC anytime M-F, 2 PM - 6 PM, or Saturday, Noon to 5 PM. Or, you can chose to make it a donation, which we would sincerely appreciate.
We apologize for any inconvenience this may cause any of you, but in the interest of the many community members who wholeheartedly want to participate in our public arts programs, we feel these guidelines will make it fair for everyone who want to join in.