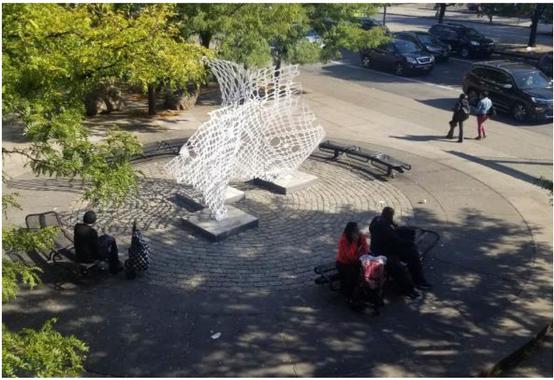 Mundillo/Little World by Samantha Holmes
On View from December 04, 2020 – October 04, 2021
Mundillo/Little World Photo credit: Samantha Holmes
DOT ART UNVEILS SIXTH TEMPORARY ART INSTALLATION AT WEST FARMS SQUARE IN THE BRONX IN PARTNERSHIP WITH THE BRONX RIVER ART CENTER
Mundillo/Little World
The New York City Department of Transportation's Art Program (DOT Art), Bronx based non- profit, the Bronx River Art Center (BRAC) and New York-based artist, Samantha Holmes, are pleased to announce the installation of, Mundillo/Little World, within West Farms Square at East Tremont Avenue and Boston Road in the Bronx.
Samantha Holmes' sculpture, Mundillo/Little World, stands as a monument in celebration of women's work and the cultural dynamism of the Bronx. Patterns of traditional Puerto Rican lacework are translated into resilient steel while capturing the delicacy and softness of cotton. As the openings in the steel fill with colors and textures of the surrounding neighborhood, the sculpture weaves the vibrant community into the fabric of the piece itself. The community is further reflected in the sculpture through the lace pattern as Holmes worked with Bronx-based lace makers to help inform the intricate details. Mundillo/Little World follows the exhibition of five previous temporary artwork commissions presented at West Farms Square through the DOT Art program in partnership with BRAC. The highly trafficked site is situated adjacent to several modes of public transportation and acts as a central meeting point for many in the neighborhood.
"To me, public art is vital in democratizing culture, addressing communities that might not feel welcome in a museum by presenting artwork on the street and within viewers' everyday lives," said artist Samantha Holmes. "With Mundillo, I'm taking a familiar domestic craft that many members of this community know from their own families, and recontextualizing that within the scale and setting of a public monument in order to raise up and celebrate the cultural dynamism that's at the heart of the Bronx identity and the women's work that underlies so much cultural progress at every level. I'm especially grateful to present this public work during COVID, giving community members an opportunity to engage with art at a time when many cultural institutions remain shuttered."
Mundillo/Little World (detail)
Mundillo/Little World was commissioned in 2018 through DOT Art's signature program, Community Commissions, in which the agency collaborates with community-based, nonprofit organizations to commission artists to design and install temporary, site-responsive artwork on DOT property for up to 11 months. DOT Art pursues unique project sites across all five boroughs, and explores new ways to collaborate with a diverse body of artists each year. The DOT Art Advisory Committee, along with partner the Bronx River Art Center, selected Holmes out of a large pool of applicants for her ability to respond to the large scale of the site through her skill as public sculptor.
"Bronx River Art Center (BRAC) is thrilled to once again partner with NYC DOT Art to sponsor this sixth installation of a temporary Public Art Work at West Farms Square," said Executive Director of BRAC, Gail Nathan. "I know our community loves the works, and the site just screams for it. This new piece by artist Samantha Holmes is particularly beautiful, with its animated lines and forms and its interaction with the environment that can be seen through the lace like patterns of open spaces. BRAC thanks NYC DOT Art for their selection of this site in the heart of the Bronx that is experiencing a Renaissance of new affordable housing in the surrounding area such that 1,000s more people will interact with the artwork and our neighborhood."