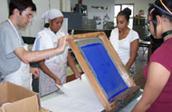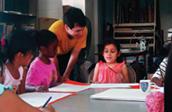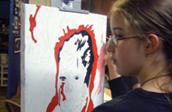 Children's Classes

On-site and online classes will run for FIVE WEEKS from Tuesday, July 6th through Monday, August 9th.
Most classes will be held on-site at the Bronx River Art Center, with sessions taking place within our well-ventilated open space studios and/or outdoors in our backyard, roof space, or the nearby greenway. Two classes – Digital Illustration and Introduction to Art – will be held virtually over Zoom, while Teen Project Studio +2.0 will be a hybrid class.
BRAC is providing temporary subscriptions of Adobe Photoshop for registered participants in our Digital Illustration classes. Anyone interested in this offer should email to info@bronxriverart.org and put Need Adobe Photoshop in the subject line. Subscriptions are limited and are assigned on a first come first served basis.
For general questions about classes, please email info@bronxriverart.org.
---
Youth Classes (under 18): $45
Youth & Parent (child must be ages 6-12): $77
Adult Classes (18+): $58
Senior Citizens (age 60+): $50
---
Mondays
July 12, 19, 26 and August 2, 9
Painting with Marta Blair
11 to 1pm (Children Ages 7-10)
2pm to 5pm (Adults and Children Ages 11+)
The theme of this painting class is "exploring the microcosmos." Participants will focus on close-up views of different everyday items to create mixed media artwork looking at the inside of vegetables, colors and shapes on fruits, plant textures, rocks, bugs, etc. We'll finish the workshop with a fantasy piece mixing all of the above. When we really pay attention to things we normally don't, we create awareness in the details and richness they have, and the universe of graphic possibilities really grows.
---
Tuesdays
July 6, 13, 20, 27 and August 3
Printmaking with Tammy Wofsey
11am to 1pm - All Ages (parent/child groups are encouraged)
This printmaking course will be inspired by nature. It will be taught both indoors using a traditional etching press and outdoors in our garden with a washer press. We will learn how to make monotypes, which are one-of-a-kind prints, and we will use plant life and recycled material for printing. In the third class, we will welcome guest artist Michele Brody to run a paper-making workshop. Students will learn the basics of how paper is made and make their own sheets to use for their printmaking. We will use the handmade paper to make "chine-collé" — a technique where paper is glued and added to the printmaking process for color and texture. This class is open to all skill levels and ages.
Basics of Drawing with Tiffany Miller
2pm to 4pm - All Ages
Drawing is one of the oldest forms of communication and storytelling. It is also the foundation for many masterful works of art. Discover the beauty, magic and power of this artistic discipline in a relaxed, supportive environment. Join us as we draw outdoors in sketchbooks on BRAC'S roof garden, greenway and other scenic areas nearby. We will draw what we see and imagine as well as learn how to express our personal visions, ideas and observations. We will discuss different approaches to drawing by sketching the portrait and landscape drawings of master artists, contemporary artists, illustrators and photographers. In-between classes, you will be encouraged to draw from life and imagination. Draw in a small sketch pad (5"x 7") and a larger sketch pad (11"x 14") for quick studies and more developed pieces. Draw with graphite (#2 pencils and/or 2b, 4b, 6b, 8b pencils), medium-soft charcoal pencils, color pencils, travel watercolor kits with water brush, markers, ink, ballpoint pens, or pastels. Use kneaded and rubber erasers.
Teen Project Studio +2.0 with Prof. Hector Canonge
2pm to 5pm - Ages 15-26
FREE BY APPLICATION ONLY - CLICK HERE
Teen Project Studio + 2.0 is an intensive, five-week digital and fine arts program for teens and young adults ages 15-26. This course meets two days per week (Tuesday 2 - 4 PM and Thursday 2 - 5 PM) for a series of workshops, including at least two field trips to museums, galleries or artist/design studios. This summer, the topic is "multimedia production," and TPS+2.0 will act as a hybrid studio class where you will learn how Google, Apple, Nike, and other cutting edge companies design and produce their products. Participants will be introduced to the tools and techniques for the best production practices through online interactive sessions with Professor Canonge, and make their own hands-on projects at BRAC in its state-of-the-art Mac computer lab. Make your summer the best learning experience possible by working with digital application tools, 3D printers, and design techniques while you learn how to effectively produce your own multimedia projects: be they games, apps, or interactive environments.
---
Wednesdays
July 7, 14, 21, 28 and August 4
Digital Photography with Andréa Straker
11am to 1pm - Ages 11-14
A photography-centered workshop for students interested in discovering their own artistic path, accompanied by an in-depth examination of the fundamentals of digital photography. In this five-week photography workshop, students will explore the essential technical elements of exposure, digital image editing within camera, light manipulation, the aesthetics of composition, and what it means to embody creative expression. Every workshop, students can expect to be actively shooting, editing, and assessing the images they take.
Digital Illustration with Maria Ferrari (VIRTUAL CLASS)
4:30pm to 6pm - Ages 14+
Having Photoshop skills and knowledge provides great creative possibilities. For this class, we will work on projects that incorporate Photoshop tools and techniques that will serve students well as they progress into higher education and beyond. This class teaches the basic skills and good work habits that are essential to mastering Photoshop – skills that will prepare you for a lifetime of creating digital art with ease. This class will be both fun and valuable, and the lessons learned here will enable students to build portfolios suitable for high-school submissions or college applications. At the end of the course, each student will be able to exhibit prints of their work
Access to Adobe Photoshop is required for this 5-week class. BRAC can provide a few temporary subscriptions of Adobe Photoshop for registered participants.
---
Thursdays
July 8, 15, 22, 29 and August 5
Introduction to Art with Jennifer Tomaiolo (VIRTUAL CLASS)
10am to 11:30am - All Ages
This class will introduce you to a variety of art materials and methods that artists use to express themselves. We will look at art and artists from around the world to inspire our lessons. We will learn about drawing, watercolor painting, paper collage, making 3D art and clay sculpting. This class welcomes beginners, as well as students who want to continue from last semester's Introduction to Art class or experienced artists who want to try something different. Join us to learn new skills and let your creativity flourish!
Materials: Paint, watercolor paper, construction paper, markers, pencil, ruler, scissors, glue, tape, self-drying clay, string/yarn, assorted household/decorative materials
Ceramics with Christopher Quinones
2pm to 5pm - All Ages (parent/child groups are encouraged)
Learn the fundamentals of clay hand building by making pinch pots, scratchiti plates, rattlers and coil drawings. In the ceramic studio, we will go through all stages of clay kiln firing, learning various glaze painting techniques as we progress and create works of ceramic art.
---
BONUS FREE CLASS
Friday, July 23 and 30
Crocheting Workshop with Ruth Marshall
11am to 2pm - All Ages
Learn the fundamentals of crochet and create crochet circles. Circles are a basic building block of crochet, which can make bags, hats, toys, slippers and more. Once you know how to make a circle, you can make a lot of different things! In our first workshop, we'll begin crocheting with slip knot, chain, and single crochet: three different ways to begin a circle. With these techniques, we'll make a flat crochet circle, which can serve as a coaster or oven mitt. Our second workshop will build on this, as we learn to make a ruffle circle, shape shifting from 2-D to 3-D to create items like bags and hats.
---
Registration & Fee Information:
Please note that we have a first-come, first-serve policy. Reserve your spot as soon as possible!
Registration opens Saturday, June 19th, 2021. Register Online Here.
All fees must be paid in full at the time of registration. In addition, you can contact us at info@bronxriverart.org or call 718.589.5819
Cancellation Policy: If a class does not meet capacity, it may be canceled, in which case students will have the option to either take another class or receive a full refund.
Unless otherwise noted, all classes include materials and use of professional equipment.
---
Locations of Classes & Travel Directions:
In-person classes will take place at the Bronx River Art Center, located at 1087 E. Tremont Avenue, Bronx, NY 10460
Virtual classes will take place over Zoom, with links sent out no latter than two hours before class time.