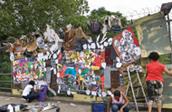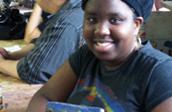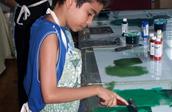 Policies & Procedures
By registering for a class, you agree to respect and abide by the following policies and procedures. The Bronx River Art Center reserves the right to discontinue the enrollment of any student who does not comply with these policies and procedures. Please read carefully.
Registration:
Registration is available every quarter, approximately three weeks prior to the beginning of classes. You may register in person during scheduled hours, or online at anytime during the registration period.
Registering after the course has begun is subject to administrative approval and we cannot offer pro-rated registration for late registrants. Registration is closed after the third class session.
Fee Information:
All fees must be paid in full at the time of registration, in the form of cash, money order, or personal check with ID. Fees may also be paid by credit card on our website. If you register and pay online, please bring your receipt to the first class in order to complete registration.
Students enrolling in more than one class or families enrolling more than one student during the same semester are eligible for a 25% discount off the additional class.
Tuition Assistance:
Limited scholarship assistance is available each semester for students who would otherwise not be able to afford to enroll. Students must complete a scholarship application in order to be eligible. Scholarships will be granted based on both merit and financial need (a federal income tax return or other official proof of income is required). Students must complete an application and meet with a BRAC staff member to discuss the completed application. Students who fail to regularly attend classes or withdraw from their class will be ineligible to receive future tuition assistance.
Cancellation Policy:
If a class does not meet capacity, it may be canceled, in which case students will have the option to take another class or be given a full refund.
Returned Checks:
All checks returned for insufficient funds will be subject to a $25 returned check fee.
Withdrawals and Refunds:
Withdrawals and refunds are available only according to the schedule below. Refunds of credit card and all other payments will be made through a check issued in the name of the payee and mailed to the address provided on the registration form. PLEASE NOTE: Refund checks are issued approximately 4 - 6 weeks after the start of class.
Refund Deadlines:
Up to 7 days prior to the first class - 100% refund of tuition
Within one week prior to the first class – 100% refund, less $15 administrative fee
Within 3 days prior to the first class – 75% refund or receive 100% credit to be used for another class within one year of date of issue
Within 2 days prior the second class – 50% refund
No refunds will be issued after the second class – NO EXCEPTIONS
In case of a medically-certified illness, a refund will be issued after receipt of physician's documentation. The value of the refund will be for the balance of the remaining class sessions.
Confirmation:
We do not mail confirmations of registration. Unless you are contacted, the course you registered for is running as scheduled. If you mail or fax a registration form, please call to verify it has been received. To verify payment process, contact your credit card or banking institution.
Course Cancellations:
BRAC reserves the right to cancel classes or change faculty assignments and makes every effort to notify students in advance. If enrollment goals are not met, a course may be canceled up to 48 hours before the first scheduled class. In the event of cancelation, students will have the option to take another class or be granted a full refund.
Audits:
New students may audit (sample) one class session before registering for that class. However, students may not attend a second class until they have registered and paid for the class.
Transfers:
If you transfer to a course of greater value, you must pay the difference before attending the new course. If transferring to a course of lesser value, a refund will be issued for the difference, less a processing fee. No transfers after the second meeting date of the original course.
Missed Classes:
BRAC will not provide refunds or credits for missed classes as a result of student illness, student emergencies, or for any unforeseeable circumstance beyond the Center's control. In the case of a class cancelation due to BRAC's instructor absence, classes will only be rescheduled if a suitable substitute instructor cannot be found.
Loss or Theft:
Each student is responsible for their own equipment and materials. The Bronx River Art Center is not responsible for personal possessions or supplies.
Media Release:
Unless the Bronx River Art Center is given written notice, registrants, upon registration, give consent for BRAC to take photos, audio, or video footage of classes, lessons, and/or concerts without advance notice, and to publish such photos, audio, and video footage royalty-free in its print, audio, and electronic promotional efforts, including its website.