Press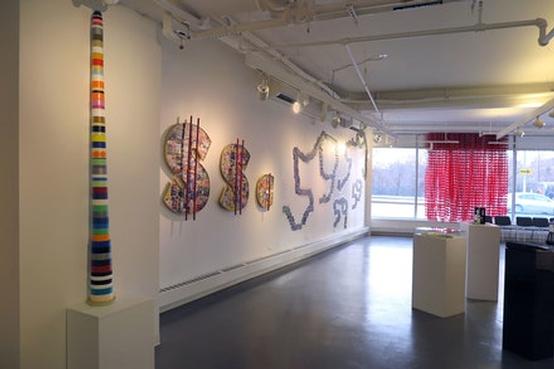 The Brooklyn Rail, 03/01/20
Celebrating 25 Years of Project 59: Irina Danilova
By Peter Malone | web link
In an art environment bending toward all manner of social, political, and aesthetic inclusivity, artists in their endless search for inspiration are presented with an embarrassment of riches. Because theirs is a profession driven by individuals whose innate sensibilities define their practice, it is not surprising that most choose a narrow and personally-satisfying niche. But then, there are other, restless souls energized by the variety available to them who reach for an anti-niche, a workspace where anything and everything is available.
A compelling instance of this all-encompassing perspective is currently installed at the newly-reopened Bronx River Art Center on East Tremont Avenue, located a short block from the East Tremont station on the 2 and 5 subway lines. Celebrating 25 Years of Project 59 is a retrospective of Irina Danilova's longitudinal commitment to a multidisciplinary art that employs a stranger's instinct for the unnoticed. Applying methodologies cobbled from science and art, but independent of either's restricting imperatives, Danilova delves into the ordinary and the incidental to create a parallel narrative of her unusually busy life. One is invited in this exhibition to surrender to the flow of a conceptual construct that, despite the show's curatorial compression, delivers an amusingly engaging and occasionally poignant stream-of-consciousness travelogue.
Installation view: Celebrating 25 Years of Project 59: A Retrospective of Ukrainian-American Artist Irina Danilova, Bronx River Art Center, 2020. Courtesy of the Bronx River Art Center.
Fifty-nine, the project's numerical criteria, was established when Danilova, an expat of the former Soviet Union, reversed the current date when the project began a quarter-century ago. Apparently, 95 struck her as implying an inevitable finale, whereas 59 seemed auspicious. Her confession to this tweak exposes the conventional underpinnings of an otherwise radical working method. She is an artist like any other, and so intuition is the final arbiter. Relying on the vigilant pragmatism of a hunter-gatherer, aesthetic patterns, and objective data are played against one another in a meme-driven algorithm that ebbs and flows with her daily existence.
Given the limitations of a modest retrospective, BRAC curators Yulia Tikhonova and Olga Kondur met their challenge admirably, considering that their subject has worked in video, maps, photographs, sculpture, jewelry, architectural design, collage, and combinations thereof. As a prodigal of the borough—the new BRAC building stands a few yards from my high-school bus stop—I was drawn to a piece titled Bronx (December 24, 2019), an alphabetically-descriptive arrangement of photographs depicting street-level views, each bearing the project's compulsory digits in one form or another. Its tourist souvenir appearance notwithstanding, the photos conjure the absorbing blandness of a walk to the store, made uncanny by the repetition of the persistent 59.
Installation view: Celebrating 25 Years of Project 59: A Retrospective of Ukrainian-American Artist Irina Danilova, Bronx River Art Center, 2020. Courtesy of the Bronx River Art Center.
Danilova's phlegmatic charm remains steady, even when stretched to meet the predominantly global span of her practice. For a number of personal and professional reasons, Danilova and spousal collaborator Hiram Levy spend a great deal of time traveling. A fact reflected in a piece titled City Drawings (2009–2015), a series of Google Map printouts that trace planned automobile tours of major cities, including Istanbul, Geneva, Buenos Aires, Tel Aviv, Sydney, and Beijing (and, as you might have guessed, 53 others), with routes designed to recreate the digits five and nine within the street patterns of each metropolis. The cartographic results expose cyphers of urban development that vary from highly-readable modern grids to medieval tugs and jerks that leave barely-legible ribbons.
Despite the project's global dimension, human scale informs most of the work. A video titled JD Sturgill and His 59 Hats (2009) is the recording of a monologue by Mr. Sturgill, in which he ties autobiographical anecdotes to the corresponding hat from that period in his life. Beyond the token imposition of limiting his exposition to 59 head coverings, he was free to paint his verbal self-portrait. The resulting vignettes hardly equal a full autobiography, but what painted portrait has ever done so? The exhibition's personal focus is occasionally countered by examples of macro-whimsy, like that offered in National and Geographic (1996-2000), a plan to expand our nation's 50 state composition to 59, by adding countries whose names begin with letters missing from the first letters of the current states. The addition of Egypt, Zambia, or Japan, to our union may be ostentatiously tongue-in-cheek, but the proposal generates subtle sparks that illuminate aspects of our ongoing immigration debates.
How this particular aspect of conceptual art—its facility for referencing in broad strokes—manifests itself in Danilova's work is largely a product of her understated humor. 59 Ties: Color Wheel (2020), an attractive mandala of neckties arranged in a circle to mimic a familiar art school image, makes a pleasing visual composition, even if its function is merely to demonstrate the once-superfluous, but now intriguing, fact that an average necktie is 59 inches long. A harmless gag, perhaps, but also a gentle metaphor reflecting our shared humanity.