Press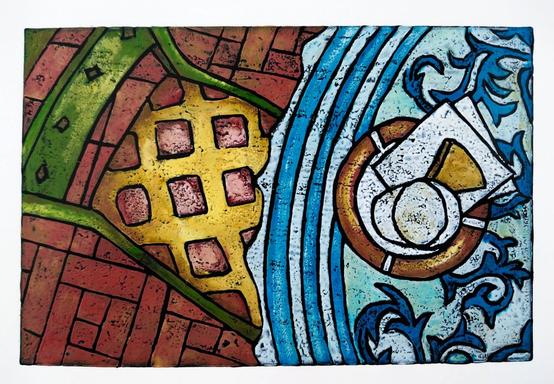 Papel, 01/04/21
Más allá de Llano Grande
By Arte y critica | web link
Image: Mónica Lorenza Taborda, Rituales; linoleo, 2018.
Una exposición que reúne 18 artistas grabadores, 16 vivos y 2 fallecidos, titulada Beyond The Encuentro (Más allá del Encuentro), se inaugurará en Nueva York, Estados Unidos, este 16 de enero, en el Bronx RIver Art Center, cuya directora es Gail Nathan.
Los artistas que hacen parte de la muestra son: Diego Arango, Álvaro Botero Gallego, Juan Ernesto Correa, Male Correa, Ana Fernández, Hernando Guerrero, Armando Londoño Gómez, María López, Carlos Marín, Camila Maya Monsalve, Luis Fernando Mejía Jaramillo (+), Victoria Ortiz, Julio Sampedro Longas, Fabián Rendón (+), Jorge Rodríguez, Luis Fernando Uribe, Mónica Lorenza Taborda y Jessica Sánchez.
El curador de la exposición es Felix Angel, artista, gestor y patrocinador, tanto de la muestra como del Encuentro de Artistas Grabadores, que a la fecha lleva dos ediciones realizadas, la primera en 2018 (presencial) y 2020 (virtual).
La selección de artistas fue realizada por Félix Ángel entre quienes participaron en el I Encuentro de Grabadores, en noviembre de 2018, realizado en Parques del Río, con la colaboración de la Secretaria de Cultura de Medellín.
La muestra se presentó en Washington en diciembre de 2019, en la Galería de Arte de la Asociación de Empleados del BID, recibiendo numerosa cobertura de prensa incluyendo comentarios positivos de The Washington Post y East City Arts.
Beyond The Encuentro es un paso posterior al Encuentro de 2018. Este evento, concebido y financiado por Ángel, con la ayuda de un Comité Organizador voluntario (Victoria Ortiz, Male Correa, Federico Londoño, Hernando Guerrero, Carlos Marín, Juan Ernesto Correa y Jorge Rodríguez), reunió en su momento a más de setenta artistas grabadores que trabajan en la ciudad de Medellín, una experiencia nunca realizada en la ciudad. Para el Encuentro del 2020, la participación fue de 125 artistas.
Los creadores participantes en la exposición varían en edad, estilo y técnica. La muestra contiene ejemplos de numerosas técnicas graficas: Punta Seca, Aguafuerte, Xilografía, Linóleo al Taco Perdido, Serigrafia, Aguatinta, etc. La obra de Victoria Ortiz, por ejemplo, alude a la vida simple alejada del tumulto de la ciudad. En un ámbito doméstico puede incluirse también la obra de Mónica Lorenza Taborda, mientras que Diego Arango hace evidente su protesta por el trato que recibe quienes por algún motivo han caído en el desarraigo. El instinto maternal permea la obra de Ana Fernández y la búsqueda abstracta con evocaciones matéricas la de Hernando Guerrero, mientras Armando Londoño lo hace con un lenguaje concreto. Julio Sampedro imbuye sus imágenes con un halo de misterio y ansiedad. Juan Ernesto Correa explora las posibilidades de lo digital. Y naturalmente hay mucho más.
Desde lo figurativo hasta lo abstracto, cada artista utiliza un proceso particular para crear un trabajo distintivo y llamativo que demuestra su capacidad y búsquedas, al mostrar a estos artistas juntos, Ángel espera ampliar los objetivos del Encuentro, uno de los cuales es llamar la atención sobre el arte de los grabadores de la ciudad en que nació, Medellín (Félix Ángel vive en los Estados Unidos hace 45 años), la cual la producido anteriormente estupendos grabadores como Augusto Rendon, Aníbal Gil, Oscar Jaramillo y Francisco Valderrama. La posibilidad de exponer la obra de los artistas grabadores de Medellín fuera de Colombia representa una faceta de la escena artística contemporánea de Medellín a la que poca o ninguna atención se le presta en la ciudad.
A ese respecto afirmó Ángel: "En Medellín, la visión que tiene mucha gente sobre el arte termina en Llano Grande. Esta exposición, primero en Washington y ahora en Nueva York, da la oportunidad de comprobar que afuera hay a menudo más receptividad para el trabajo de los artistas grabadores que la que reciben localmente, que es por lo general ninguna."
El curador Félix Ángel es un artista consumado, que ha desarrollado su actividad en múltiples campos de la cultura. Fue curador de exposiciones temporales del Museo de Arte de las Américas (OEA), director y curador del Centro Cultural del Banco Interamericano de Desarrollo (BID), y Comisionado para las Artes y Humanidades de la Ciudad de Washington, mereciendo el premio de la Alcaldía de Washington por Liderazgo Visionario de las Artes.
Graduado de la Escuela de Arquitectura de la Universidad Nacional de Colombia en 1974, Ángel ha recibido numerosas distinciones y participado en más de 500 exposiciones a nivel internacional, 100 de ellas individuales. También ha publicado ocho libros sobre arte, novela, cuento y poesía. La ciudad de Medellín cuenta con 7 murales públicos suyos, y Pereira con uno.
Para Ángel personalmente, esta exposición de artistas "recuerda la universalidad de las artes y la multidimensionalidad de la gráfica reflejando a su vez la complejidad y diversidad de la creación visual, el triunfo de la imaginación, las ansiedades de la imprevisibilidad de la vida, y los logros de la humanidad en general, así como los del individuo regular y corriente. La grafica conforma un universo, su versatilidad envidiada por otras formas de expresión". Creyendo en el poder solo creado por las sensibilidades humanas, Ángel ve el grabado como un medio en el que los artistas pueden contemplar simultáneamente cómo su visión de la sociedad afecta tanto a la interpretación del pasado como la visión del presente, al mismo tiempo que da pautas para inventar el futuro.
La recepción inaugural de la exposición se realizará el sábado 16 de enero. RSVP para recepción de apertura virtual.
El enlace Zoom se enviará por correo electrónico el día del evento y se publicará en la página web del Bronx River Art Center