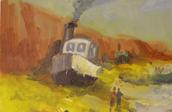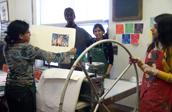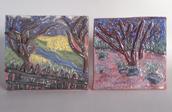 Adult Classes - Winter 2019
January 7, 2019 - March 25, 2019
Ceramics (Adults)
Instructor(s): Ana Ruiz-Castillo
Time: Saturdays, 2pm - 4pm
Location: BRAC - 3-D Studio (4th Floor)
Fee: $120
Learn the basics of ceramics, with an emphasis on the creative use of clay to produce colorful sculptures. Both the art and craft are explored as participants create uniquely-formed objects such as vases, boxes, cups and other utilitarian objects, as well as realistic and abstract sculptures. Students will learn different modeling techniques, such as pinching, coiling, slabs, and glazing.
---
Digital Photography (Adults)
Instructor(s): Roy Baizan
Time: Saturdays, 10:30pm - 1:30pm
Location: BRAC - Computer Lab (2nd Floor)
Fee: $120
In this 10-week, three-hour photography class, students will go over the basics of photography, while also creating small bodies of work around the theme of documentary work. Emphasis will be on meeting outside for photo-walks and having group photo critiques. The class will culminate in a presentation of student work.
---
Drawing & Printmaking: Introduction to Printmaking (Adults)
Instructor(s): Tammy Wofsey
Time: Fridays, 4:30pm - 6:30pm
Location: BRAC - 2-D Studio (4th Floor)
Fee: $120
In this class, we will explore different kinds of printmaking methods. We will learn how to make linocut prints, water-color monotypes, stencils, drypoint, and collagraphs. We will explore drawing and color with the printmaking tools we learn.
---
Painting and the Natural World (Adults)
Instructor(s): Jennifer Tomaiolo
Time: Thursdays, 4:30pm - 6:30pm
Location: BRAC - 2-D Studio (4th Floor)
Fee: $120
Students will take advantage of the Art Center's location on the Bronx River Greenway, as a starting point to learn about Painting and Science. We will use tools like magnifying glasses and microscopes to discover new ways of seeing, and as an inspiration for paintings. Join us for discussions and making art about animals (endangered species masks) and the environment.
---
Painting: Surrealism Around Us (Adults)
Instructor(s): Joel Adas
Time: Saturdays, 2pm - 4pm
Location: BRAC - 2-D Studio (4th Floor)
Fee: $120
In this class, we will delve into Surrealism in its many forms and functions and explore its possibilities in paintings. We will examine how Surreal artists created this unique approach to art making and discuss the games and inventive strategies they came up with. Additionally, we will paint from life and from the imagination and will explore how these two different ways of making art can combine to create wonderful and unusual paintings.
---
Registration Information:
Fee Information:
Please note: It is a first come, first serve policy. Reserve your spot as soon as possible!
Register before January 5 to receive a 10% discount!
All fees must be paid in full at the time of registration.
You can pay for classes by following the link below.
Or contact us at info@bronxriverart.org or call 718.589.5819
Cancellation Policy If a class does not meet capacity, it may be canceled, in which case students will have the option to either take another class or receive a full refund.
Unless otherwise noted, all classes include materials and use of professional equipment.