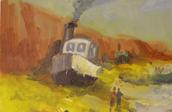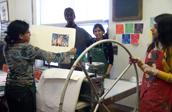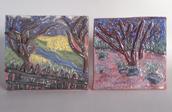 Adult Classes
Online classes run from Saturday, April 10th - Monday, June 21st, 2021.
Classes will be held on Zoom, in conjunction with some sessions taking place outdoors at BRAC and/or within our well-ventilated open space studios.
BRAC is pleased to offer new and familiar art and digital media classes this spring 2021 semester. Our class listing also includes our signature TPS+2.0 (teens plus young adults) Project Studio course.
Classes will remain virtual this spring due to the continued health risk of COVID-19 unless otherwise noted. To help our families during these difficult times we have reduced our spring semester class fees by 20% from our traditional on-site prices. Participants can also save an additional 10% for early bird registration by April 3rd at 11:30pm.
BRAC is providing temporary subscriptions of Adobe Photoshop for registered participants in our Digital Illustration, Animation and Photography classes. Anyone interested in this offer should email to info@bronxriverart.org and put Need Adobe Photoshop in the subject line. Subscriptions are limited and are assigned on a first come first served basis.
For general questions about classes, please email info@bronxriverart.org.

Youth Classes (ages 7-18)
Early Bird Registration: $67
Reduced Fee: $76
Youth & Parent (ages 6-12)
Early Bird Registration: $115
Reduced Fee: $128
Adult Classes
Early Bird Registration: $86
Reduced Fee: $96
Senior Citizens
Early Bird Registration: $78
Reduced Fee: $84
Mondays:
Class #1
Printmaking & Recycling with Marta Blair
April 12, 19, 26, May 3, 10, 17, 24, June 7, 14, 21
4pm - 5:30pm
Youth, Youth and parent, Adult, Seniors
This course will explore the possibilities of printmaking and mixed-media done with what would otherwise be considered garbage. In a society that produces an insane amount of garbage a day, it is important to rethink, reuse and creatively take advantage of the great resource that recycled materials can bring to your art. The environmental benefits of reusing materials contribute to extending the useful life of an object and as a consequence, reduces the amount of waste generated while creating art. It expands our source of materials and gives the artwork an additional sense of purpose.
Materials easily found at home: cardboard, paper bags, plastic utensils, paper towels, old clothes, etc.
Additional materials include: Sturdy paper, water-based paints, some brushes, glue, scissors, and tape!
Tuesdays:
Class #2
Teen Project Studio: Photography & Activism
April 13, 20, 27, May 4, 11, 18, 25, June 1, 8, 15
Ages 15 - 26
4pm - 5:30pm
Free by Application Only
Teen Project Studio + 2.0 is an intensive, ten week, digital and fine arts program for teens and young adults ages 15-26.
This FREE program is limited to 15 students and is available by application only. TPS+2.0 is a unique opportunity to experience and learn about the visual arts & creative industries in an interactive and challenging way. It is also an opportunity to meet other teens and young adults with similar eagerness to learn and create.
Interested participants should fill out this application. If you are under 18, you will need to have a parent or guardian fill out their section as well.
This spring participants will join a series of lectures titled Shared Visions, lead by photographers of the Black Lives Matter movement in NYC.
Each instructor will lead a set number of sessions and share their visions, experience and techniques. These photographers are also part of the exhibition that is scheduled to open at Brac at the end of May 2021.
These photographers have documented all protests since May 2020. They continue their work by documenting the weekly BLM and Stonewall LGBTQ+ protests. Participants will witness different narratives and gain an understanding of the artists choice of framing and compositions that creates their own personal vision. Each photographer comes from different levels of experience and craftsmanship.
This class will help participants understand how to express their own vision on a chosen subject and to trust their inner voice.
Materials: Your own digital camera or cell phone camera.
This class is free and by application only. Apply here. Please email info@bronxriverart.org with questions.

Tuesdays:
Class #3
Photography Class with Hosea Johnson
April 13, 20, 27, May 4, 11, 18, 25, June 1, 8, 15
6pm - 7:30pm
Youth, Youth and parent, Adults, Seniors
Students will explore photography on zoom. Participants are encouraged to document their lives or aspects of their lives that they would like to share with the world, through photography, essays, and slide show presentations.
Materials: Adobe Photoshop, Camera phone, lamps or other forms of lighting
Access to Adobe Photoshop is required for this 10 week class. BRAC can provide a few temporary subscriptions of Adobe Photoshop for registered participants.
Wednesdays:
Class #4
Introduction to Art (Painting & Sculpture) with Jennifer Tomaiolo
April 14, 21, 28, May 5, 12, 19, 26, June 2, 9, 16
4pm - 5:30pm
Youth, Youth and Parent, Adult, Seniors
This class will introduce you to a variety of art materials and methods that artists use to express themselves. We will look at art and artists from around the world to inspire our lessons. We will learn about drawing, watercolor painting, paper collage, making 3D art and clay sculpting. This class welcomes beginners as well as students who want to continue from Winter's Introduction to Art class or experienced artists who want to try something different. Join us to learn new skills and let your creativity flourish!
Materials: Paint, watercolor paper, construction paper, markers, pencil, ruler, scissors, glue, tape, self-drying clay, string/yarn, assorted household/decorative materials

Wednesdays:
Class #5
Digital Illustration with Maria Ferrari
April 14, 21, 28, May 5, 12, 19, 26, June 2, 9, 16
6pm - 7:30pm
Ages 13 and up
Photoshop skills and knowledge provide great creative possibilities. For this class, we will work on projects that incorporate Photoshop tools and techniques that will serve students well as they progress into higher education and beyond. This class teaches the basic skills and good work habits that are essential to mastering Photoshop – skills that will prepare you for a lifetime of creating digital art with ease. This class will be both fun and valuable – lessons learned here will enable students to build portfolios suitable for high-school submissions or college applications. At the end of the course, each student will be able to exhibit prints of their work. This class can be a great compliment to the Photography class if you're thinking of taking two classes!
Access to Adobe Photoshop is required for this 10 week class. BRAC can provide a few temporary subscriptions of Adobe Photoshop for registered participants.
Thursdays:
Class #6
Basics of Drawing with Tiffany Miller
April 15, 22, 29, May 6, 13, 20, 27, June 3, 10 17
4pm - 5:30pm
Youth, Youth and parent, Adults, Seniors
Drawing is one of the oldest forms of communication and storytelling. It is also the foundation for many masterful works of art. Discover the beauty, magic and power of this artistic discipline in a relaxed, supportive environment. Learn how to express your personal visions, ideas and observations. We will discuss different approaches to drawing by sketching the works of master artists, contemporary artists, illustrators, storyboard artists and photographers. We will also draw from imagination. In between classes you will be encouraged to draw from life and imagination and share your work with the class.
Materials: Paper or sketch pads or sketch book, graphite - (#2 pencils and/or 2b, 4b, 6b, 8b pencils), medium-soft charcoal pencils, basic traveling watercolor kit, kneaded eraser, rubber eraser.
Fridays:
Class #7
Textile and Collage with Kathie Halfin
April 16, 23, 30, May 7, 14, 21, 28, June 4, 11, 18
4pm - 5:30pm
Youth, Youth and Parent, Adult, Seniors
There are so many reasons to love the art of collage! One beautiful element of collage is its ability to tell stories in a tangible and playful way through a variety of materials, expressive textures and techniques. This class will reference the work of artists like Judith Pfaff, Mickalene Thomas, Robert Rauschenberg, Romare Bearden, Henry Matisse and others. Students will dive into the basic principles of design, patterns, weaving, and sculpture - all through the process based lens of collage. This hands-on online workshop will consider the relationship between 2D and 3D using simple materials. Participants will incorporate found objects and materials into their collage work to create rich textural compositions.
Materials: scissors, fabric glue, fabric, tape, mix media paper, paintbrush, markers
Saturdays:
Class #8
People in Nature with Joel Adas
Saturday: April 10, 17, 24, May 1, 8, 15, 22, June 5, 12, 19,
12pm - 1:30pm
Tweens, Teens, Adults, Youth and Parent
For this spring series of classes we will look at the interaction of people and nature in art. Each week we will start with a look at works by artists who celebrate the natural world and how people explore and cultivate it. We will work in a variety of media but the focus will be painting with some collage and drawing. We will look at prominent examples of paintings with people in nature and use them to inspire our own projects. We will also create self portraits with nature as a backdrop. Along the way we will talk about the Romantic movement in art, the Impressionists and the Expressionists.
Materials: Set of paints: acrylic or tempera or gouache, watercolors; range of paint brushes: small, fine point, 1/2 inch flat, 1" flat and 2" flat; pad of watercolor or cardstock paper (about 12"x 18" or so), pencils, erasers, scissors and glue.

Saturdays:
Class #9
Digital Animation with Hector Canonge
Saturday: April 10, 17, 24, May 1, 8, 15, 22, June 5, 12, 19,
3pm - 4:30pm
Ages 13 to 16
Explore Digital Animation for 10 weeks with Hector Canonge. Discover how digital animation can be used to make everyday objects come to life on screen. Working with computers, cameras, and crafts, participants will work on small projects to develop, direct, and film their own original animated movies. Digital Animation class consists of five sessions, each one builds sequentially on the other. In this course participants will learn the fundamental tools and techniques for 2D animation with hands-on examples and an overview of optical toys, stop motion, and frame by frame animation. Drawing skills are not required, but participants should be knowledgeable of working with computers. Participants are required to have photoshop installed on their computer to allow for screen sharing.
Access to Adobe Photoshop is required for this 10 week class. BRAC can provide a few temporary subscriptions of Adobe Photoshop for registered participants.
---
Registration & Fee Information:
Please note that we have a first-come, first-serve policy. Reserve your spot as soon as possible!
Registration opens Monday, March 22nd, 2021. Register Online Here.
All fees must be paid in full at the time of registration. In addition, you can contact us at info@bronxriverart.org or call 718.589.5819
Cancellation Policy: If a class does not meet capacity, it may be canceled, in which case students will have the option to either take another class or receive a full refund.
Unless otherwise noted, all classes include materials and use of professional equipment.
---
Locations of Classes & Travel Directions:
Virtual Visual Art & Digital Media Classes will be streamed through Zoom.