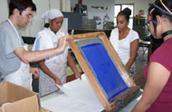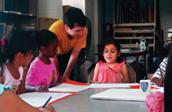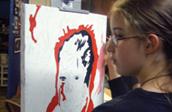 Children's Classes
Registration for BRAC's Winter 2021 semester is now open through Eventbrite!
Online classes run from January 4 - March 20, 2021.
Save an additional 10% off early registration unil December 26th!
All classes will be held on Zoom.
BRAC is pleased to offer new and familiar virtual art and digital media classes this winter 2021 semester. Our class listing includes visual art, digital media, our signature TPS+2.0 (teens plus young adults) Project Studio course, and a new professional development course in photoshop this winter 2021 semester.

BRAC is committed to providing relief through creative-art programming for all ages. We will continue to offer our classes virtually this winter due to the continued health risk of COVID-19. We have reduced our winter semester class fees by 20% from our traditional on-site prices. Participants can save an addtional 10% until December 20, 2020.
BRAC is providing temporary subscriptions of Adobe Photoshop for registered participants in our Digital Media classes. Anyone interested in this offer should email to dhebbert@bronxriverart.org.

For general questions, please email info@bronxriverart.org.
Youth Classes (ages 7-16)
Early Registration: $67
Semester Fee: $76
Youth & Parent (ages 6-12)
Early Registration: $115
Semester Fee: $128
Adult Classes
Early Registration: $86
Semester Fee: $96
Senior Citizens
Early Registration: $78
Semester Fee: $84
Mondays: Exploring the Point of View: Mixed Media Workshop with Marta Blair
Jan 4, 11, 18, 25, Feb 1, 8, 15, 22, March 1, 8, 15
4pm - 5:30pm
Youth, Youth and Parent, Adults, and Seniors
Each session participants will be shown a brief introduction about a specific point of view, such as aerial views, microscopic views, angular perspective, reflections and shadows. The artwork created during this 11 week workshop will be conceptually inspired by each perspective.
Materials: Sturdy paper, paint of any kind, paint brushes, colored paper, fabric scraps, scissors, glue, masking tape, and recycled cardboard from cereal boxes
Tuesdays: Drawing with Tiffany Miller
Jan 5, 12, 19, 26, Feb 2, 9, 16, 23, March 2, 9, 16
4pm - 5:30pm
Youth, Youth and parent, Adults and Seniors
Drawing is one of the oldest forms of communication and storytelling. It is also the foundation for many masterful works of art. Discover the beauty, magic and power of this artistic discipline in a relaxed, supportive environment. Learn how to express your personal visions, ideas and observations. We will discuss different approaches to drawing by sketching the works of master artists, contemporary artists, illustrators, storyboard artists and photographers. We will also draw from imagination. In between classes you will be encouraged to draw from life and imagination and share your work with the class. erasers.
Materials: Paper or sketch pads or sketch book, graphite - (#2 pencils and/or 2b, 4b, 6b, 8b pencils), medium-soft charcoal pencils, basic traveling watercolor kit, kneaded eraser, rubber eraser.
Tuesdays: Photoshop Essentials for Social Media Marketing with Maria Ferrari
Jan 5, 12, 19, 26, Feb 2, 9, 16, 23, March 2, 9, 16
6pm - 7:30pm
Adults
Learn to use the graphics editing tools in Adobe Photoshop to create stunning social media content. This course will open career opportunities in many fields giving you solid skills for professional development. Adding this asset to your resume will open new doors. Learn tools and techniques to create effective content and best practices for saving these files for the web or even for Powerpoint presentations.
This course is ideal for beginners and occasional Photoshop users. Impress your boss or use your new skills to promote your own business on the web. Learn an efficient, non-destructive, flexible workflow!
Students will need to have the current version of Adobe Photoshop and Bridge installed on their computers. (Adobe Bridge comes built-in with a Photoshop subscription). BRAC can provide a few temporary subscriptions of Adobe Photoshop for registered participants.
Wednesdays: Digital Illustration with Maria Ferrari
Jan 6, 13, 20, 27, Feb 3, 10, 17, 24, March 3, 10, 17
4pm - 5:30pm
Ages 12-18
Photoshop skills and knowledge provide great creative possibilities. For this class, we will work on projects that incorporate Photoshop tools and techniques that will serve students well as they progress into higher education and beyond. This class teaches the basic skills and good work habits that are essential to mastering Photoshop – skills that will prepare you for a lifetime of creating digital art with ease. This class will be both fun and valuable – lessons learned here will enable students to build portfolios suitable for high-school submissions or college applications. At the end of the course, each student will be able to exhibit prints of their work.
Access to Adobe Photoshop is required for this 11 week class. BRAC can provide a few temporary subscriptions of Adobe Photoshop for registered participants.
Thursdays: Teen Project Studio: Honoring Black Lives Matter: Public Art Installation and Gallery Exhibition with KaN Landscape
Jan 7, 14, 21, 28, Feb 4, 11, 18, 25, March 4, 11, 18
4pm - 5:30pm
Adult, Youth, Teens
Teen Project Studio + 2.0 is an intensive, eleven week, digital and fine arts program for teens and young adults ages 15-26.
This free program is limited to 15 students and is available by application only. TPS+2.0 is a unique opportunity to experience and learn about the visual arts & creative industries in an interactive and challenging way. It is also an opportunity to meet other teens and young adults with similar eagerness to learn and create.
Interested participants should fill out this application. If you are under 18, you will need to have a parent or guardian fill out their section as well. Successful applicants will be interviewed by a BRAC staff member in order to attend this once in a life time opportunity.
This winter participants will work with KaN Landscape Design to design a public art installation honoring Black Lives Matter. The installation will take place in The Bronx, located at the triangle plaza on East Tremont and Devoe Avenue at 179th Street, near the BRAC building. The installation will be made of plywood and silhouette cut-outs on which photos of the movement will be pasted onto. The cut-outs will allow the passers by to enter the sculptures and develop a personal experience. The work represents the story of individuals & togetherness and the strength that comes from it.
The project won the Plywood Protection Project, organized by Worthless Studios and will be installed in May 2021. An exhibition in BRAC's gallery is scheduled for the same time. This exhibition will feature the work of @ny.strong/ Caroline Mardok Studios, other artists, and the work of our registered participants.
The class aims to include students in the art making and technical process of the installation. Participants will learn about the equipment and facilities at BRAC's Maker Space under the supervision of Free Trip from Worthless Studios. Students will learn how to and create a prototype/and or a small scale replica of the project using a laser cutter.
If and when possible this class will meet in person for selected sessions during the semester. Pending the pandemic, alternatively, this course will teach photography so participants can share their own experiences. These photos will be displayed in the gallery in a collective collage on plywood.
Materials: Disposable cameras for students or cell phone cameras. Printing and the use of the Maker Space will be provided by the art center. This class will be a mixture of virtual and in person sessions. Participants can request to attend virtual classes only.
This class is free and by application only. Apply here. Please email dhebbert@bronxriverart.org with questions.
Fridays: Introduction to Art (Painting & Sculpture) with Jennifer Tomaiolo
Jan 8, 15, 22, 29, Feb 5, 12, 19, 26, March 5, 12, 19
4pm - 5:30pm
Youth, Parent and Child, Adults and Seniors
Let's get creative! This class will introduce you to a variety of art materials and methods that artists use to express themselves. We will work with many different materials, 2D painting, collage and drawing, 3D multi-media and sculpture with an emphasis on materials that are easily found at home. We will look at art & artists from all over the world to inspire us. Join us to paint, draw, use paper, make clay figures and create masks to chase away the winter blues.
Materials: Paint, watercolor paper, construction paper, markers, pencil, ruler, scissors, glue, tape, clay, string/yarn, assorted household and decorative materials
Saturdays: Artists on the Beach with Joel Adas
Jan 9, 16, 23, 30, Feb 6, 13, 20, 27, March 6, 13, 20
12pm -1:30pm
Teens, Youth and Parent, Adults and Seniors
This course will examine different artists to see how they depicted the sea. Their works will span several centuries and different cultures and will be the inspiration for paintings you can create at home. Each project will provide students with a new approach and process through which to depict the sea.
Materials: White multi-media paper, set of water based paint like acrylic or gouache, pencil, scissors, eraser, and a fine tip marker.
Saturdays: Digital Animation with Hector Canonge
Jan 9, 16, 23, 30, Feb 6, 13, 20, 27, March 6, 13, 20
3pm - 4:30pm
Ages 11 - 26
Explore Digital Animation for 11 weeks with Hector Canonge. Discover how digital animation can be used to make everyday objects come to life on screen. Working with computers, cameras, and crafts, participants will work on small projects to develop, direct, and film their own original animated movies. Digital Animation class consists of five sessions, each one builds sequentially on the other. In this course participants will learn the fundamental tools and techniques for 2D animation with hands-on examples and an overview of optical toys, stop motion, and frame by frame animation. Drawing skills are not required, but participants should be knowledgeable of working with computers. Participants are required to have photoshop installed on their computer to allow for screen sharing.
Access to Adobe Photoshop is required for this 11 week class. BRAC can provide a few temporary subscriptions of Adobe Photoshop for registered participants.
---
Registration & Fee Information:
Please note that we have a first-come, first-serve policy. Reserve your spot as soon as possible!
Registration opens Monday, August 31st, 2020. Register Online Here.
All fees must be paid in full at the time of registration. In addition, you can contact us at info@bronxriverart.org or call 718.589.5819
Cancellation Policy: If a class does not meet capacity, it may be canceled, in which case students will have the option to either take another class or receive a full refund.
Unless otherwise noted, all classes include materials and use of professional equipment.
---
Locations of Classes & Travel Directions:
Virtual Visual Art & Digital Media Classes will be streamed through Zoom.