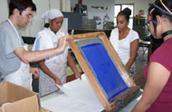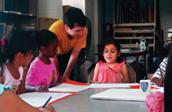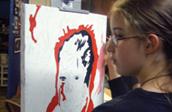 Children's Classes
Mondays
Oct. 5, 19, 26
Nov. 2, 9, 16, 23, 30
Dec 7, 14
(No classes on Oct. 12th)
4pm to 6pm: Learn To Draw By Drawing with Tiffany Miller
Ages 7 - 18: $76 for 10 sessions
Youth and Parent: $128 for 10 sessions
Drawing is one of the oldest forms of communication and storytelling. Discover the beauty, magic, and power of this artistic discipline in a relaxed, supportive environment. Learn how to express your own personal visions, ideas, and observations. We will discuss and sketch images from master artists, as well as contemporary artists, animators, photographers, and more.
Materials: paper or sketch book, drawing materials such as graphite pencils (#2 pencils, 2b or 4b), medium-soft charcoal pencils, colored pencils, ballpoint pen, markers, oil pastels, etc., kneaded or rubber eraser.
---
Tuesdays
Oct. 6, 13, 20, 27
Nov. 10, 17, 24
Dec 1, 8, 15
(No class on Nov. 3rd)
4pm to 6pm: Art Around the World (Painting & Sculpture) with Jennifer Tomaiolo
Ages 7 - 18: $76 for 10 sessions
Youth and Parent: $128 for 10 sessions
In this class, we will take a journey around the globe through artwork. Every class will introduce participants to a new location, explore examples of incredible art, and make your own creation inspired by the session. Participants will work with many different materials and styles, including 2D painting, collage and drawing, 3D multi-media, and sculpture with an emphasis on materials that are easily found at home. Tour the world through art!
Materials: paint, watercolor paper, construction paper, markers, pencil, ruler, scissors, glue, tape, clay, string/yarn, assorted household/decorative materials such as wrapping paper, tissue paper, foil, cardboard, etc.
---
Wednesdays
4pm to 6pm: Digital Illustration: Learn Photoshop! With Maria Ferrari
Ages 11 - 26: $76 for 10 sessions
Photoshop skills and knowledge provide great creative possibilities. In this class, we will work on projects that incorporate Photoshop tools and techniques that will serve students well as they progress into higher education and beyond. This class teaches the basic skills and good work habits that are essential to mastering Photoshop – skills that will prepare you for a lifetime of creating digital art with ease. This class will be both fun and valuable – lessons learned here will enable students to build portfolios suitable for high-school submissions or college applications. At the end of the course, each student will be able to exhibit prints of their work.
Access to Adobe Photoshop is required for this ten-week class.
---
Fridays
Oct. 9, 16, 23, 30
Nov 6, 13, 20
Dec. 4, 11, 18
(No class on Nov. 27)
4pm to 6pm: Postal Mail Art with Tammy Wofsey
Ages 11 - 18: $76 for 10 sessions
Adults: $86 for 10 sessions
Youth and Parent: $128 for 10 sessions
Now, more than ever, the U.S. postal service needs our support. What better way to help our mail carriers and the U.S. post office than by creating mail art? The mail art movement began in the 1940s and is now reaching a new audience in a digital age faced with too much screen time. This movement is driven by people that seek tactile hand-made material to create friendships and art through mailing letters and postcards to one another. Together we will create pen-pal teams. We will learn about altered postcards, printing multiples, reusing found materials, making our own envelopes, and pop up cards. By the end of the program, students will be able to make multiple postcards and letters.
Materials: multi-media paper, cardboard, acrylic, water, paintbrushes, tape, glue, and more.
---
Saturdays
Oct. 10, 17, 24, 31
Nov. 7, 14, 21
Dec. 5, 12, 19
(No class on Nov. 28)
11am to 1pm: The Artist's Garden with Joel Adas
Ages 7 - 18: $76 for 10 sessions
Youth and Parent: $128 for 10 sessions
In this class, we will investigate artists who found creative inspiration from the garden. Looking at examples of Monet, Frida Kahlo, and Joan Mitchell, among others, we will celebrate the color and vitality of gardens in paint and collage.
Materials: water-based paints, brushes, glue, pencils, scissors, multimedia paper
2pm to 4pm: Digital Animation with Hector Canonge
Ages 11 - 26: $76 for 10 sessions
Discover how digital animation can be used to make everyday objects come to life on screen. Working with computers, cameras, and crafts, participants will work on small projects to develop, direct, and film their own original animated movies.
This Digital Animation class consists of six sessions, with each one building sequentially on the others. In this course, participants will learn the fundamental tools and techniques for 2D animation, through hands-on examples and an overview of optical toys, stop-motion, and frame-by-frame animation. Drawing skills are not required, but participants should be knowledgeable of working with computers. Participants are required to have Photoshop installed on their computer to allow for screen-sharing.
Access to Photoshop is required for this ten-week class.
---
Registration & Fee Information:
Please note that we have a first-come, first-serve policy. Reserve your spot as soon as possible!
Registration opens Monday, August 31st, 2020. Register Online Here.
All fees must be paid in full at the time of registration. In addition, you can contact us at info@bronxriverart.org or call 718.589.5819
Cancellation Policy: If a class does not meet capacity, it may be canceled, in which case students will have the option to either take another class or receive a full refund.
Unless otherwise noted, all classes include materials and use of professional equipment.
---
Locations of Classes & Travel Directions:
Virtual Visual Art & Digital Media Classes will be streamed through Zoom.