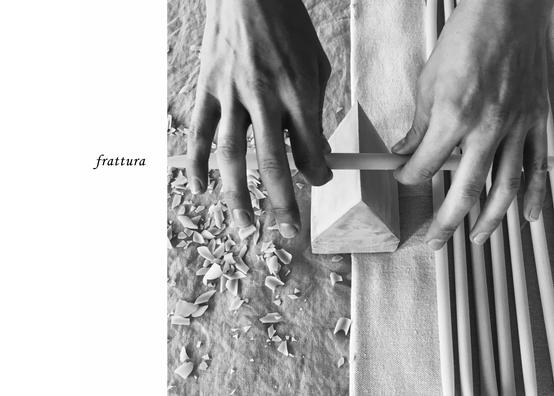 Frattura
Pop-Up Kitchen with Leon Johnson and Audra Wolowiec
Saturday, November 7th, Noon - 4 PM
Hosted by Gustiamo
1715 West Farms Rd, Bronx, NY 10460
RSVP on Facebook or email Socialmedia@bronxriverart.org
Frattura is a performance event "Pop-Up Kitchen" by multi-media artists Leon Johnson and Audra Wolowiec, being staged on Saturday, November 7th from noon to 4pm at the warehouse of Gustiamo, an extraordinary Italian artisan food importer located at 1715 West Farms Road near 173rd Street in the Bronx.
Frattura, the Italian for "broken," refers to the process of preparing Candele pasta for cooking. Candele, named after the long, thin candle once used in liturgical processions in Gragnano, Southern Italy, is extruded through bronze dies and dried for several days in long form, then broken into smaller pieces prior to cooking. This Candele pasta is made by the legendary Pastificio Faella, a pasta making family who still dries their Candele pasta at their Pastificio, located in the historic Piazza of Gragnano.
The event will be set up as a series of interactive, working stations throughout the warehouse that will include a Candele pasta breaking "performance" with audience participation that will be amplified by contact microphones to produce unusual sounds echoing throughout the space. Other activities will include musical recordings of Lorenzo from Pianogrillo (the producer of olive oil) and a series of tasting experiences.
Be sure to stay long enough for a surprise dessert made with delicacies sourced from Gustiamo's enticing warehouse labyrinth. This will be a day to slow down and savor the genius and art of great food.
About the Artists:
Leon Johnson was born in Cape Town, and is a recipient of the Pollock-Krasner Foundation Grant for Painting, a Yaddo Fellowship, and he won both the Ersted Award and the Williams Fellowship for innovative teaching. His film Faust/Faustus In Deptford was selected for the KunstFilmBienale in Cologne. He co-evolved Salt and Cedar Letterpress in Detroit, and is developing a new learning and production laboratory in Georgia as part of the work he initiated during his 2014 Martha Daniel Newell Distinguished Scholarship. He completed a residency last year at the Bemis Center in Omaha, Nebraska and was named a Kresge Arts Fellow in Film & Theater for 2014-15.
Audra Wolowiec is an interdisciplinary artist whose work oscillates between sculpture, installation, text and performance, to produce conceptually driven work with an emphasis on sound and the material qualities of language. Her work has been shown at Art in General, Magnan-Metz, Reverse, Socrates Sculpture Park, Reverse and The Poetry Project. Featured in Modern Painters, Brooklyn Rail, Time Out NY, LaVague Journal, Sound American, and thresholds (MIT Dept of Architecture). Recent artist residencies include Bemis Center for Contemporary Art and the Physics Department at the University of Oregon. Wolowiec currently teaches at SUNY Purchase, Pratt Institute and is the 2015 Artist Educator in Residence at Dia:Beacon. She is based in New York City.
About Gustiamo:
New York based Gustiamo, Inc - Italy's Best Foods is a premier selector, importer and distributor of authentic, artisanal foods from all regions of Italy. Founded in 2000 by a passionate Italy born team, Gustiamo top quality catalog of Italian ingredients is sourced among the best Italian artisans, with an uncompromising eye toward purity, sustainability and authenticity.
We take our tagline "Italy's Best Foods" to heart and continuously travel to Italy to unearth new wonderful specialties to share with you.
While we wholeheartedly support local and sustainable, we believe that if you want to experience the best San Marzano tomatoes in the world, the complex nuances of extra virgin olive oils made with hundreds of ancient olive cultivars, the wholesome taste of pasta which centuries of experience have produced... you still have to follow us to Italy.