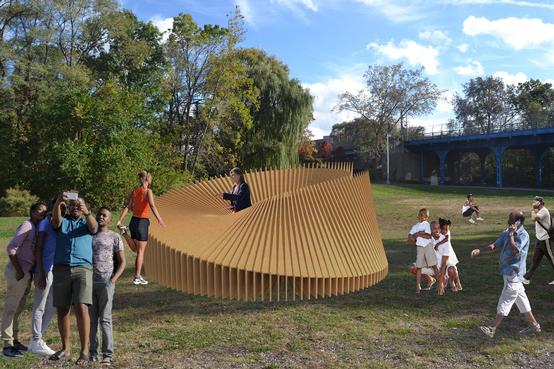 Opening Weekend: River Rising/Sube el Rio
The Bronx River Art Center invites the community to come out to Starlight Park for the opening of the outdoor exhibition River Rising/Sube el Rio* An Exposition of Science, Art and Technology. BRAC will present eight large-scale public art sculptures in the newly renovated Starlight Park that the community will be able to interact with and enjoy as modern pavillions. The sculptures artistically recreate the 1918 Bronx International Exposition of Science, Arts and Industries.
This fun weekend of parades, music, dancing, live performance, and more recreation will reimagine the vibrant outdoor space of the 1918 Fair's art and business focus and celebrate the rejuvenated Bronx River and redesigned Starlight Park .
June 30, 12-10pm
11am: Stephen Paul DeVillo's leads a historical tour of Starlight Park.
12pm: Mind-Builder's New Orleans's Style Second Line Opening Parade
4:30pm: James Lovell and the Afrigarifuna Music Ambassadors
6pm: Moonlight Dancing to Papo Vazquez Mighty Pirates Troubadours
and much more in between
July 1, 12-6pm
12pm: Arthur Aviles Typical Theatre and friends, followed by another day of art, science, and entrepreneurial activities
Special kids art & science workshop too!
DJs spinning all weekend
River Rising continues on view June 30, 2018 to June 30, 2019
Starlight Park
Enter at 177th St. & Devoe Ave. or 174th St. Bridge
Produced by BRAC's Executive Director Gail Nathan and Programs Associate Laura James
Site curation by KaN Landscape Design, Karine Duteil & Nadej

Papo Vazquez Mighty Pirates Troubadours



Manuel Acevedo, "S" is for Starlight



Samantha Holmes, Starlight Ride
*Named after a Latin Jazz composition by Papo Vazquez, sponsored by BRAC
Programs are made possible with support from the NYC Department of Cultural Affairs in partnership with the City Council, the NYS Council on the Arts with support from Governor Andrew Cuomo and the NYS Legislature, and Con Edison. Additional support from the Bronx Borough President Ruben Diaz, Jr., Councilman Ritchie Torres and the Bronx Delegation. River Rising/Sube el Rio is made possible in part by the Lincoln Center Cultural Innovation Fund, which is generously supported by The Rockefeller Foundation and administered by Lincoln Center. River Rising/Sube el Rio is produced in conjunction with KaN Landscape Architects and Bronx River Alliance, in partnership with NYC Parks.