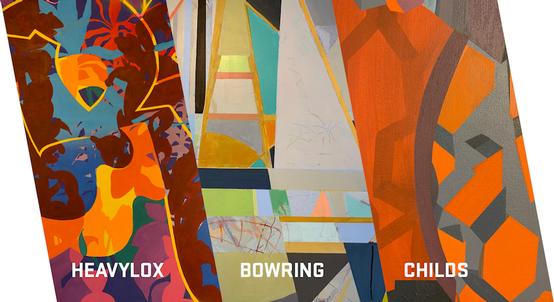 On the Edge: Hard Edge Painting Today Artist Talk
Artist Talk, Sunday, April 25th, 3-5 PM on Zoom
Artists:
Sally Bowring
Mike Childs
Heavy Lox
Curated by Gail Nathan
Ehibition runs April 10 - May 15, 2021
***
Please join us Sunday April 25th from 3-5pm for a virtual artist talk for this eye catching exhibition of three artists working in Hard Edge Abstraction today.
BRAC will host a lively dialogue featuring Sally Bowring, Mike Childs and Heavylox. They will discuss geometric, color-field abstraction's deep roots in American art which to this day is a beloved and driving force in contemporary painting, and how this history has influenced their art making personally. This artist talk will be in association with BRAC's current exhibition presenting three prime examples of Hard Edge Abstraction artists working today.
Admission is FREE. RSVP to reserve your tickets on Eventbrite.