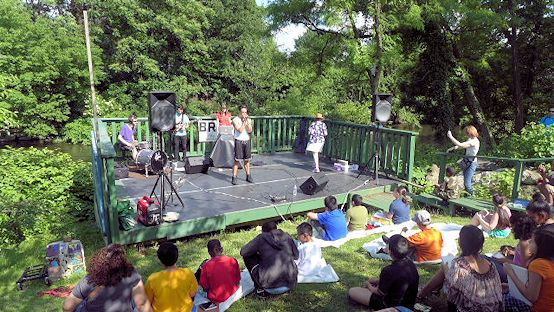 Summer Student Exhibition and Potluck Party
WHEN: Saturday, June 21, 2014 from 3:00-6:00 PM
WHERE: Drew Gardens, E. Tremont Ave, Bronx, NY 10460
ADMISSION: Free and open to the community
In celebration of the end of our Spring Semester and the incredible artwork our students have created, BRAC is hosting a student exhibition and potluck community party. There will be a collection of student drawings, paintings, cartoons, digital photographs, animation and ceramics on display in an exhibition curated by students in the Teen Project Studio course. In addition, there will be a chance to enroll in Summer classes, and of course we can't forget the food and the fun. This will be a potluck reception so we ask that guests please bring food and/or drinks to share. Also, please bring blankets and beach chairs to picnic by the river.
At 4 pm, there will also be a special live music performance by BambaYo, a youth project dedicated to preserving the rich Afro-Puerto Rican tradition of Bomba led by Jose Ortiz, aka Dr. Drum.
We look forward to seeing you THIS Saturday, June 21st!
Rain date: June 28th