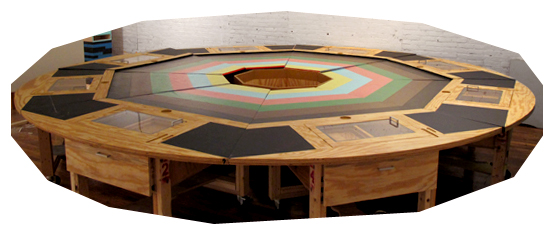 Shifting Communities Roundtable Series Guidelines
April 4 - June 5, 2012
Andrew Freedman Home
1125 Grand Concourse
Bronx, NY 10452
Open hours: Thursdays - Sundays from 1 - 7pm
As part of No Longer Empty's This Side of Paradise exhibition at the Andrew Freedman Home, the Bronx River Art Center will present a continuation of the Shifting Communities Roundtable Series. The roundtable is an installation built by artist collective J+J that was created for the Shifting Communities exhibition series to serve as the physical infrastructure for discussions, events and film screenings.

The Andrew Freedman Home was once built to be a haven, a paradise, for the rich elderly who had lost their fortunes. Referencing this quixotic history, This Side of Paradise references the past and reconnects the vision of Andrew Freedman with the Bronx of today. The exhibition and its extensive public programming onsite and offsite draws together the economic and social history of the Home with the present day realities of the Bronx and its residents.

(Anyone is free to propose a Roundtable Event by following the guidelines below. All ideas will be considered, but preference will be given to those that have a collective and/or participatory and/or community-based theme. A full list of scheduled events can be found HERE on the No Longer Empty website.
APPLY NOW !
Guidelines:
1) Roundtable sessions can last no longer than 1 full day during open exhibition hours: Thursdays - Sundays from 1 - 7pm.

2) Some form of documentation (photos, video, transcript, notes, essay, etc) of the event must be submitted to BRAC for the Shifting Communities archives.

3) Any materials, ideas, notes, etc, left in the Shifting Communities Roundtable space after a scheduled event become free to use and appropriated by any future events.

4) Events will be scheduled on a first come first serve basis. Check the Shifting Communities Google Calendar for currently scheduled events. Please note that an empty date does not guarantee availability.

5) To schedule an event, please adhere to the following:

Email Chad Stayrook, Curator, at cstayrook@bronxriverart.org with "Shifting Communities Event Proposal" in the subject line. In the body of the email include: one short paragraph description of the proposed event, preferred dates and times, contact information.

6) Chad will contact you with questions and/or to confirm your event. Events are not valid until you receive a confirmation email from Chad.

Examples of possible roundtable events:
- Community Board meeting
- Artist Lecture
- Video Podcast
- Brainstorming time travel session(s)
- Planning sessions for civil protest
- Poetry workshop
- Art critique
- Other