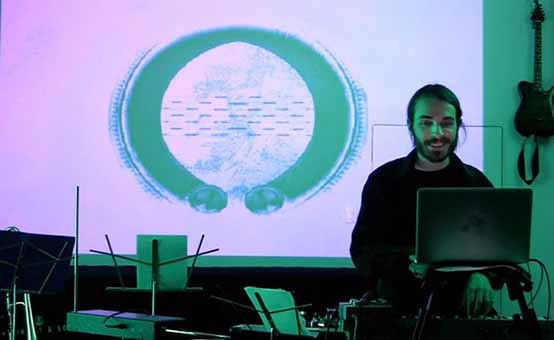 Live Gallery Performance by Michael Durek
BRAC Invites You to Attend This Special Event

Live Gallery Performance by Michael Durek

WHEN: Friday, June 13, 2014 from 7-8pm

WHERE: Bronx River Art Center Gallery
Located at 305 E. 140th St. (off Alexander Ave)

ADMISSION: Suggested donation is welcome

In conjunction with BRAC's exhibition, "Terroir," filmmaker John Dunstan gives us a surprising view into the exotic world of his Jersey City backyard in his award winning film:

"The Secret Life of...My Small Urban Backyard"

Thereminist, producer, and sound designer Michael Durek will provide a live score to a screening of Dunstan's film. For the performance, Durek will use electronic guitar and theremin to modulate custom designed computer effects to create an ambient soundscape.
Michael Durek with his sound equipment.
Michael Durek is a multi-instrumentalist, sound designer and producer. Since 2010, he has performed in seven countries around the world, including Poland, Germany, India, and the United States. He frequently performs in the NYC and NJ region at venues such as Flux Factory, Public Assembly, Surreal Estate and Madame Claude. He has also played with the Rutgers Symphony Orchestra and at the 2012 Queens Museum Biennial. Artists such as Laura Mylott Manning and Rachel Mason have commissioned his sound design work. Durek has also appeared on over 15 albums and has a full-length solo disc, "What's the Use?"

John Dunstan is an award winning filmmaker who moved to the United States in 1983 after being born and raised in New Zealand. "The Secret Life of...My Small Urban Backyard" has been shown at the New Filmmakers New York, Wildlife Vaasa Finland, the International Wildlife Film Festival of Montana where it received the Merit Award in Macro Cinematography, and the 2012 Golden Door International Film Festival. His film "My Time with the English Tourist" also won the Audience Choice Award at the 2012 Golden Door International Film Festival. Dunstan currently is based in Jersey City, where he lives with his wife and two children. Click here to view:
A preview of one of John's films that BRAC will be showing on Friday, June 15th.


"Terroir" is a group exhibition that endeavors to investigate and rekindle our relationship with the land and is on view now through June 21. War, hunger and inequality are all social conflicts that have historically influenced the issues of rights and ownership of land in order to benefit the few. The alienation and disassociation with the concepts of place and land severely impact the daily lives of all citizens in our global village. Place and space is a continually evolving subject matter that shapes aesthetics, geography, politics and the social welfare of a nation resulting in a variety of visual articulations through art.

About BRAC's Curatorial Practice Series
"Terroir" is the fifth exhibition of BRAC's "Curatorial Practice Series," which sparks dynamic, inter-disciplinary collaborations between guest curators, artists, and art students enrolled in BRAC educational programs. The guest curator of "Terroir" is artist and curator Tattfoo Tan. BRAC is dedicated to stimulating social growth through the arts by deepening our understanding of our mutual reliance, our dependence on the environment, and the interconnection of the natural and man-made parts of our urban world.

About the Bronx River Art Center
Bronx River Art Center (BRAC) is a culturally diverse, multi-arts, non-profit organization that provides a forum for community, artists, and youth to transform creativity into vision. Our Education, Exhibitions, and Presenting Programs cultivate leadership in an urban environment and stewardship of our natural resource - the Bronx River.

For more information visit: www.bronxriverart.org
For Press Inquires
Karine Duteil
Programs Curator
Kduteil@bronxriverart.org
718.589.5819 ext 14
| 718-589-5819 | socialmedia@bronxriverart.org | http://www.bronxriverart.org
This project is supported in part with public funds from the National Endowment for the Arts, Art Works; The New York City Department of Cultural Affairs in partnership with the City Council; and the New York State Council on the Arts with the support of Governor Andrew Cuomo and the New York State Legislature. Related education and public programs are supported, in part, by the Simón Bolívar Foundation, Deutsche Bank Americas Foundation, Con Edison, the 42nd Street Development Corporation, and The New York Community Trust.

The Bronx River Art Center expresses its appreciation for the support of The City of New York, Mayor Bill de Blasio, Bronx Borough President Ruben Diaz Jr., Councilwoman Annabel Palmer, and members of the Council's Bronx Delegation.