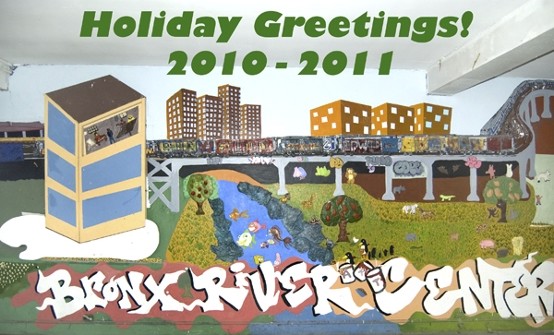 Holiday Open House
At our temporary headquarters:
2064 Boston Rd. at 179th St.
Saturday, December 18, 4 - 7 pm
The Bronx River Art Center: 23 years strong... and on the move....
In 2010, BRAC reached unparalleled heights in our evolution as an interdisciplinary, community-based Art Center. After over 5 years of planning and designing an award winning building (New York City Design Commission's 28th Annual Awards for Excellence in Design), we will break ground in the spring of 2011 on an 18-month complete renovation of our 16,000 square foot facility. We also completed construction of a 2000 square foot Environmental Education Garden in our rear lot, funded by the José E. Serrano WCS/NOAA Lower Bronx River Partnership Program.Over the past six months we have been busy packing and relocating our offices, our classes, and our gallery to temporary sites around the Bronx, all while continuing our programming without even so much as a pause. Since July we have registered over 200 students in our out-of-school-time fine arts and digital media classes, and have welcomed over 700 visitors to our gallery program. 150 people alone attended the opening reception last Friday night of our current exhibit "Acting Out" at our temporary gallery space at 305 East 140th Street in the South Bronx Cultural Corridor.
All of this would not be possible without the generous support of our patrons. Please consider giving what you can to help sustain the momentum of BRAC on the Block. Click the money tree below to DONATE now!