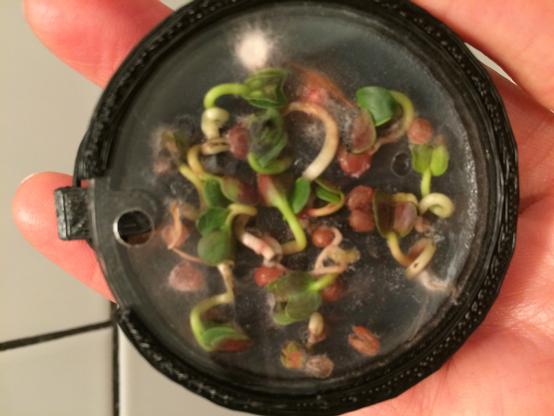 M(y)Crobes Stefani Bardin and Dr. Toby Heys
M(y)Crobes, a project by The Cotard Syndicate (a collaboration between Neuroscientist Siddharth Ramakrishnan and Media Artists Stefani Bardin + Toby Heys) explores our cohabitation with microbes that live within, on and around us.
The Food Design Show workshop will instruct participants on how to make their own M(y)Crobes using swabs and Petri dishes that will allow them to explore their personal world of germs and bacteria.
The M(y)Crobes project aims to bring organisms to the forefront by culturing them, allowing us to see how they directly impact a living being like a small plant, while also showcasing the variety of microbial cultures that we may encounter (and host) in our everyday wandering.
Free Program - part of The Food Design Show
On View from January 09, 2015 – January 31, 2015
The Food Design Show addresses the content, or "container," of our sensory experiences and the act of food consumption through the eyes of artists. The exhibit seeks to break the boundaries of past limitations of how food is thought of (its culinary science) by addressing it through the lens of the visual arts and curatorial practice. Here, food is designed as molecular gastronomy, artifact and bio-sensory experience.
The exhibition will run through January 31, 2015 and will be accompanied by the following special events.
• Opening Reception, Friday, January 9, 6-9pm
• Workshop with Stefani Bardin and Dr. Toby Heys, January 12, 5-6:30pm
• Lecture by Brett Littman, Executive Director at The Drawing Center, on Ferran Adrià, Notes on Creativity, January 22, 7-8pm
Curated by Karine Duteil, the exhibition will feature the work of: Master Chef Ferran Adrià (curated by Brett Littman, Executive Director of The Drawing Center), Emilie Baltz, The Cotard Syndicate (Dr. Siddharth Ramakrishnan, Stefani Bardin, Dr. Toby Heys + engineer Eric Rosenthal), and visual artist Maggie Nelson.