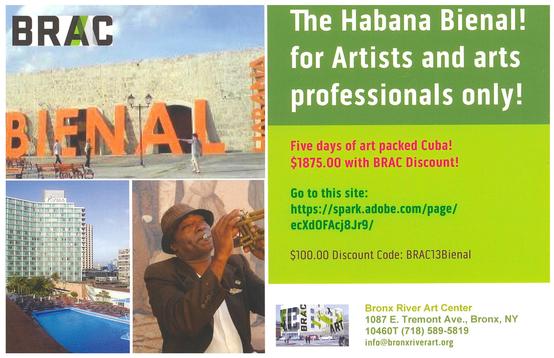 Travel to the Havana Bienal
FOR ARTISTS, CURATORS, AND EDUCATORS ONLY - APRIL 11 - 15, 2019
Travel to the opening week of the 2019 Havana Bienal on a specialized low-cost trip. It is designed exclusively for art professionals including artists, curators, and arts educators to be able to participate in this important contemporary art gathering.
You will join like-minded colleagues from around the world to see Havana open its doors to official exhibitions, openings, alternative shows, performances, and experimental events of select contemporary artists from throughout the developing world. Visit artist studios, go to openings, hear live music, and get to know the unique city of Havana at it's best.
It will be an experience to remember forever and we hope you will join us.
$100 discount through BRAC
Discount Code: BRAC13Bienal