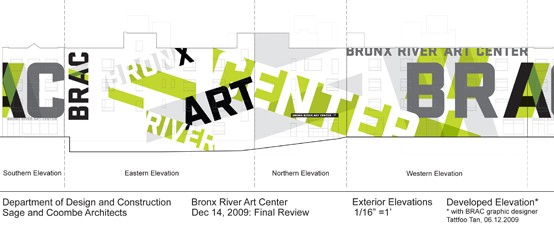 Celebratory Cocktail Party
Bronx River Art Center holds reception honoring their architects and designers of the $8,000,000 renovation of BRAC's building:
What: BRAC will thank their Architects, Sage and Coombe, and designer Tattfoo Tan, for their award winning designs for our building's renovation, which is scheduled to break ground this summer. We also want to thank all of our supporters who helped make this happen.
Who: BRAC is a 24-year-old, community-based, multi-arts organization dedicated to providing arts and environmental studies programming to Bronx youth and their families as well as cultural experiences to the wider New York Metro area.
Why: Our building designs received two "pre-build" awards including the New York City Design Commission's 2010 "Award for Design Excellence", and a 2011 Merit Award from the American Institute of Architects, received just this month.
Who Should Attend: This Capital project has garnered outstanding support from City and Bronx public officials, community leaders and residents and patrons from all parts of the Bronx and beyond, all of whom have been invited. The press is welcomed to cover this event.
When: Wednesday, April 20th, 2011, from 6:30 – 8:00 PM. Public address will be at 7:15 PM
Where: BRAC's temporary gallery space at 305 East 140th St. between 3rd and Alexander Avenues in the "South Bronx Cultural Corridor". Street parking is available after 6:00 PM.
Gail Nathan recognizing the combined efforts of those involved in the capital project.
An attentive crowd.
Gail Nathan chats with board member: Thomas J. Reardon and Bronx BP Office Director of Planning & Development: Wilhelm Ronda
The crowd mingling and viewing the gallery exhibition.
Chatting with the architects and BRAC staff.
BRAC events are fun for all ages.
Delicious food from Panera Bread, Gustiamo, Conti's Pastry Shoppe, and Riviera Ravioli.
Looking in from the street as the night winds down.