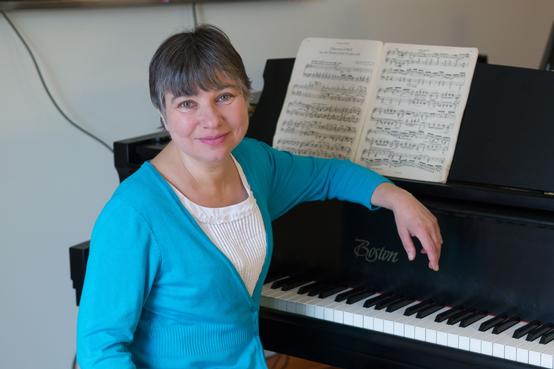 Helen Ryba Piano Performance
Suggested Donation: $10 adults, $5.00 seniors and youth through age 18, or Pay What You Can. FREE for currently enrolled Students in BRAC's Education program.
Ukrainian classical pianist Helen Ryba, who will offer a program of rarely performed 20th century works for piano on Thursday, June 27 at 7 PM in our new event space. Ms. Ryba's program will feature Bach's Chaconne in D minor as well as works by lesser-known composers,Viktor Kosenko, and Myroslav Skoryk, and Florence Price, an under-recognized African American woman composer who emerged out of America's segregated south in the 1920s and who joined "the great migration" to Chicago where she was able to develop her career as a classical composer. The program will be performed on our recently donated Yamaha baby-grand piano.
This is a wonderful opportunity to enjoy a selection of rarely performed works by artists whose identity informed their compositional choices. Here, Price's life as a black woman in a segregated society finds expression in her exploration of the sonata form. The first black female composer to have her work performed by a major symphony orchestra in 1933 by The Chicago Symphony, Price helped to broaden the definition of what American classical music could represent. Likewise, Kosenko and Skoryk's works helped expand the musical vocabulary to include Ukrainian folk melodies, some of which weave their way through these works and connect us to Ms. Ryba's homeland.
Ms. Ryba studied at the Mykola Lysenko Music school and Gliere Music College in Kiev, Ukraine. She works as a piano teacher and vocal coach in NJ and NY, focusing on creative and technical skills, ear training, sight reading, as well as music history and theory. An accomplished solo pianist, Ryba's career highlights include the complete Book I of the Well-Tempered Clavier and The Goldberg Variations by J.S. Bach.
Ms. Ryba will play the following works of music at BRAC:
1. Bach-Busoni Chaconne in D-minor BWV 1004
2. Viktor Kosenko Consolation op. 9
3. Viktor Kosenko Allemande op. 19
4. Florence Price Sonata in E-minor movements I and II.
5. Myroslav Skoryk Prelude and Fugue in F-Major
This program is supported in part with City funds by the New York City Department of Cultural Affairs, in partnership with the City Council, including Council members, Ritchie Torres, Andrew Cohen, Andy King, Ruben Diaz Sr. and Mark Gjonaj, BronxCare Health System and individual donors.