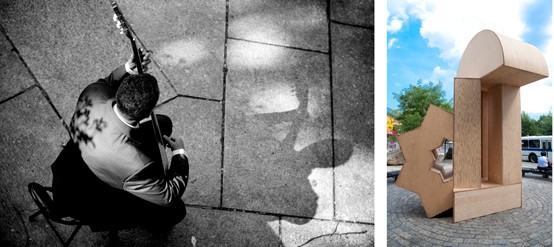 Andrew Geddis Performance
RESCHEDULED DUE TO INCLEMENT WEATHER--SEE BELOW FOR UPDATED INFORMATION
Bronx River Art Center presents a lunchtime concert and tribute to the removal of Diego Medina's temporary public sculpture Aurora.
Featuring: Andrew Geddis (Classical Guitar)
Saturday, May 21 @ 12:30pm
in Drew Gardens directly across the street from the Bronx River Art Center
Admission: FREE (donations/contributions are welcomed)
Andrew Geddis's performance will commemorate the removal of the temporary public sculpture Aurora. This piece, created by artist Diego Medina, was sponsored by BRAC through the NYC Department of Transportation's urbanART program. While we are sad to see it go, we look forward to presenting a new public sculpture in the same location in the coming months.
ABOUT THE PERFORMER:
Andrew Geddis is a classically trained guitarist intent on carving out his niche among the many artists and musicians who call New York City home. Andrew has appeared as soloist and vocal accompanist throughout the Tri-State area. He was a regular featured performer at The Four Seasons Restaurant in New York and has given guitar recitals on Long Island at the Freeport Memorial Library, the Peninsula Public Library, and the Baldwin Public Library. He has performed in New Jersey at the Church of the Immaculate Conception in Montclair and at the First Baptist Church of Montclair. Andrew has also played for such dignitaries as former New York City Mayor David Dinkins and former Governor of Virginia Douglas Wilder. As an accompanist, he has had the honor and distinction of playing for internationally renowned basso Kevin Maynor in a program of music dedicated to the work of Paul Robeson. Through these performances Andrew has been able to express his Black identity. He has also been a pioneer of sorts, in the sense that there are few classical guitarists who are of African- American descent.
ABOUT AURORA:
Aurora is constructed of marine plywood and consists of six interlocking geometric shapes, such as columns, a half-star and a half-circle, and measures 14 feet tall by 11 feet wide and 11 feet deep. Each component of the sculpture is juxtaposed to look dramatically different from each perspective. Diego Medina, Aurora's creator, is an interdisciplinary artist who was originally trained as an architect and works in all media. According to Medina, this abstract sculpture is inspired by the Spanish poet Federico Garcia Lorca's 1930 poem, "La Aurora de Nueva York" (Dawn in New York), that interpreted the hardships witnessed in the marginalized areas of New York City at that time.
Bronx River Art Center Performances are made possible with support from the New York State Council on the Arts, a state agency. Additional support is provided by: the New York City Department of Cultural Affairs, the Deutsche Bank Americas Foundation's Arts & Enterprise Place-Based Revitalization Program,Bronx Borough President Ruben Diaz Jr., Majority Leader Joel Rivera and the Bronx Delegation of the City Council, Senator Ruth Hassell-Thompson, and the Bronx River Alliance.