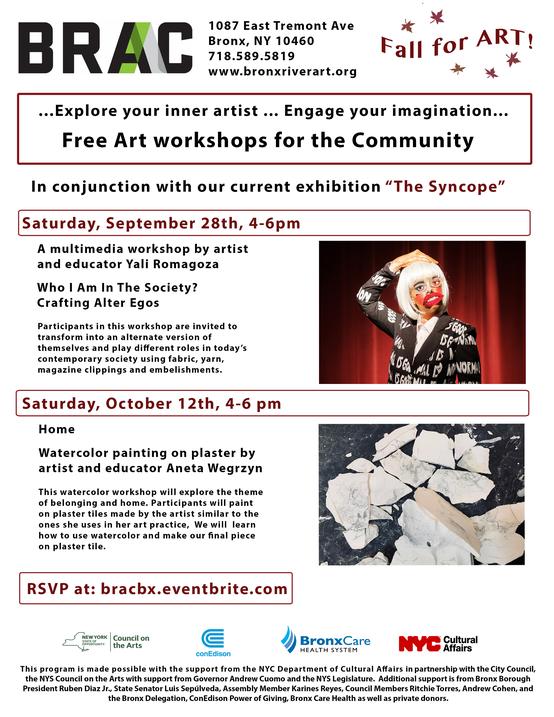 The Syncope Workshops
Workshops through October:
September 18th, 4-6 pm
Katya Grokhovsky Presents: Performance in the Everyday
A performance art workshop, by artist, curator, organizer and educator Katya Grokhovsky, in which the everyday daily actions are highlighted and explored as potential material for constructing live performances.
Performance in the Everyday is a hands on group workshop, in which participants explore and mine their everyday routines for potential raw material, in order to develop multidisciplinary works of performance art. Mundane gestures are isolated, repeated and workshopped in combination with found objects, movement, voice, sound, body and visual elements as well as peer collaboration in order to investigate the various possibilities of a live medium.
September 28th, 4-6pm
Yali Romagoza Presents: Who Am I in This Cociety? - Crafting Alter-Egos
Inspired by her experience as an immigrant artist Yali Romagoza's created her alter-ego "Cuquita the Cuban Doll, responding to displacement, isolation, and self-alienation. Participants in the workshop are invited to transform into an alternate version of themselves and play different roles in today's contemporary society using fabric, yarn, magazine clippings, and embellishments.
October 12th, 4-6pm
Aneta Wegrzyn Presents: Home
The watercolor workshop will explore the theme of belonging and home from current socio-political situation, our culture and geographical roots. Participants will paint and draw on hand-made by artist plaster tiles, similar to what I use in my work. After a short discussion what is the personal meaning of home to each of us - a physical space, mental space, certain objects, people etc., we will briefly learn how to use watercolor and create our final piece on an individual tail.
Watercolor bleeding into plaster make the participants to give up a lot of control and adjust to the unpredictable material. The process of painting on a plaster, similar to the immigrant situation, requires letting go of control, being open to the new/unknown, constantly adjusting and at the same time keeping our identity and expressing ourselves freely. The workshop will be a personal journey of self-discovery within creative and safe and supportive community.