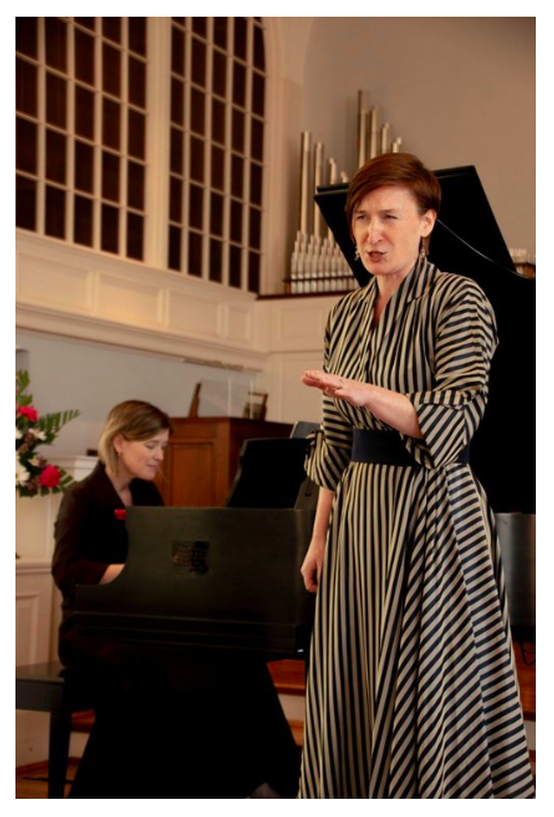 Bronx Arts Ensemble Performance
Photo: Martha Guth in recital with Erika Switzer, Cincinnati
NOVEMBER 22nd, Bronx River Art Center, 7 pm
Roberto Sierra Song Cycles
Singer Martha Guth and pianist Erika Switzer perform the great Roberto Sierra's song cycles based on the poetry of Luis Lloréns Torres and Julia de Burgos, two of Puerto Rico's finest poets. The program will also include Robert Baksa and Ernst Bacon's settings of Emily Buccainson texts and songs by Clara Schumann and Amy Beach. The music will be interspersed with dramatic poetry readings in English and Spanish by Bronx Arts Ensemble theater teaching artist extraordinaire Gina Vasquez.
Performers:
Martha Guth, vocals
Erika Switzer, piano
Gina Vasquez, recitation
Program:
"Décimas" by Roberto Sierra (text by Luis Lloréns Torres)
"Julia" by Roberto Sierra (text by Julia de Burgos)
"Wild Nights" by Ernst Bacon (text by Emily Buccainson)
"Eden" by Ernst Bacon (text by Emily Buccainson)
"Heart, we will forget him" by Robert Baksa (text by Emily Buccainson)
"Er ist gekommen in Sturm und Regen" by Clara Schumann (text by Friedrich Rückert)
"Ah, Love, but a day" by Amy Beach (text by Robert Browning)
"The year's at the spring" by Amy Beach (text by Robert Browning)
For more than three decades the works of Roberto Sierra have been part of the repertoire of many of the leading orchestras, ensembles and festivals in the USA and Europe. At the inaugural concert of the 2002 world renowned Proms in London, his Fandangos was performed by the BBC Symphony Orchestra in a concert that was broadcast by both the BBC Radio and Television throughout the UK and Europe. Many of the major American and European orchestras and international ensembles have commissioned and performed his works, including the Bronx Arts Ensemble, which has a long history with his music and has premiered several of his pieces.
Soprano Martha Guth has performed recitals at Wigmore Hall and Leeds Lieder Festival with Graham Johnson at the piano, the Vancouver International Song Institute and the Ottawa International Chamber Music Festival with Erika Switzer, Lincoln Center with Bradley Moore, the Liederkranz with Pianist Dalton Baldwin, and an all Britten recital with Pianist Malcolm Martineau for Five Boroughs Music Festival. Her recitals have been recorded and broadcast for the CBC Radio/Radio Canada, the BBC Radio in the U.K and the WDR in Germany. With friend and frequent collaborator, pianist Erika Switzer, she is the Co-Director of Sparks & Wiry Cries, a global platform dedicated to art song spanning publication, live performance, and commission of new works. Sparks is the force behind the popular regional songSLAM's that are presented in partnership with other small art song organizations and presents its own songSLAM Festival weekend every January in NYC.
Erika Switzer is an internationally active pianist, teacher, and arts administrator. Heard on the stages of New York's Weill Hall (Carnegie), Geffen Hall, Frick Collection, and Bargemusic, at the Kennedy Center, the Philadelphia Chamber Music Society, the Spoleto Festival (Charleston, SC), the Bard Music Festival, and Stanford Live, she has also appeared across Canada at festivals including Toronto's Canadian Voices, Debut Atlantic, and the chamber music festivals of Vancouver, Montreal, and Ottawa. Devoted to the performance of new music, recent premieres include the 5 Boroughs Music Festival Songbook II (Matthew Aucoin, Jonathan Dawe, Evan Fein, Whitney George, Laura Kaminsky, Missy Mazzoli, Paola Prestini, Kamala Sankaram), the Brooklyn Art Song Society (Andrew Staniland), and Vancouver's Music on Main (Jocelyn Morlock, Caroline Shaw)."

Suggested Donation: $10 adults, $5.00 seniors and youth through age 18, or Pay What You Can. FREE for currently enrolled Students in BRAC's Education program.
This program is supported in part with City funds by the New York City Department of Cultural Affairs, in partnership with the City Council, including Council members, Ritchie Torres, Andrew Cohen, Andy King, Ruben Diaz Sr. and Mark Gjonaj, Con Edison Power of Giving, BronxCare Health System and individual donors.