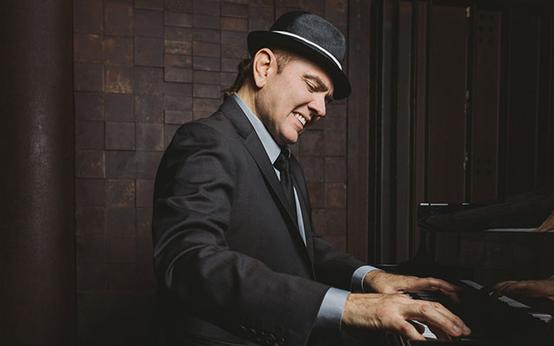 Edsel Gómez's Triumvirate
Bronx River Art Center (BRAC) is pleased to present a performance by Edsel Gómez's Triumvirate January 30, 2020 at 7pm in BRAC's newly renovated event space.
Open to the public. Suggested donation $10 adults/ $5 seniors/students.
Watch This is The Bronx's Gary Axelbank interview Edsel Gómez about his upcoming BRAC performance and a performance preview!
Edsel Gómez is a multi-Grammy nominated Composer, Pianist, Arranger, Educator, Producer and Musical Director. Established in New York City since 1996, Edsel was born and raised in Puerto Rico, is a Berklee College of Music Alumni (class of '86), and resided in Brazil for 10 years ('86-'96). He later established a professional residence in France and South Korea. Speaker of 5 languages and endowed with a vast world musical culture, he is one of the most respected Latin Jazz musicians in the world. His compositional work comprises several genres and includes a personal musical concept that he named "Cubist Music". His album" Cubist Music" was nominated for the Grammy for best Latin Jazz album and is considered by Chick Corea as one of his favorites. His work over a 35+ year career as an innovative virtuoso musician worldwide includes historical collaborations with Dee Dee Bridgewater (17 years) and his work with Jack DeJohnette, Richard Bona, Don Byron, David Sanchez, Antonio Sanchez, Miguel Zenon, Freddie Bryant, Carlos "Patato" Valdes, Dave Valentin, Eddie Palmieri, Brian Lynch, Jerry Gonzalez and the Fort Apache Band, Conrad Herwig, Kip Hanrahan, Janis Siegel and Manhattan Transfer, Willie Colon, Celia Cruz and the Brazilian icons Caetano Veloso, Paulinho Da Viola, Alcione, Raul de Souza and Eric Bennett (reached platinum sales).
Edsel Gómez's Triumvirate (L-R) Robert Ameen, Edsel Gómez, Rubén Rodríguez
Edsel Gómez's Triumvirate
This new exciting group premiered at Jazz Plaza 2018 in Havana. The group explores a vast array of musical concepts in new original compositions, as well as retrospective works of Edsel's musical career in Brazil, Africa, India, Mexico, Southeast Asia and South Korea, some of which are included in the albums: "Celebrating Chico Buarque de Hollanda", (work done in Brazil in homonymous homage in a Jazz/Latin perspective to the Brazilian singer-songwriter), along with "Cubist Music" and his latest release "Road to Udaipur", (work that explores Indian music with jazz and world music composed influenced by experiences lived during Gomez's stay in India and his studies of the Hindu musical instrument "tabla", which Gómez studied in the city of Udaipur and in the school of Performing Arts at the University of Benares, in Varanasi, India.
The Triumvirate is also exploring original arrangements of South-Asian music combined with Jazz, a product of Gomez's research for the Ayala Museum in Manila at the Philippine Historical Heritage Library in Makati, Philippines (Himig Library), where Gómez conducted research on traditional and tribal Philippine music in search of similarities to the music of its native land Puerto Rico, since both geographic regions converge in their similar histories on Spanish sovereignty. With this research Gómez received the title of honorary member of the association of Filipino musicians (Asosasyon Ng Musikong Pilipino), and contributed to the creation of an integrated program of Jazz presentations sponsored by the Ayala Foundation as well as the granting of 30 youth scholarships to the music program at the University of the Philippines and the inclusion of the local Quezon City Jazz Club, "Tago Jazz Club" as a historical heritage site of the United Nations in the Philippines.
Members of Edsel Gómez's Triumvirate
Robert Ameen – Drums
Grammy award-winner Robby Ameen has been living in New York since the 1980s and has a solid career in the recording world and around the world. He has worked with musical icons from a wide range of styles, from Dizzy Gillespie to Paul Simon, and played for over 20 years with Rubén Blades, as a member of Los Seis del Solar. Robby is of Lebanese descent, known for the original and influential Afro-Cuban jazz style he created. His musical collaborations include Dave Valentín, Eddie Palmieri, Jack Bruce, Rumba Profunda, Orlando "Maraca" Valle and Conrad Herwig's Latin jazz all-stars. As Leader Robby composed, arranged and produced his albums Days in the Life and, Days in the Night,(Down Beat 4 stars). As co-director, he recorded three albums with El Negro and Robby Band, along with drummer Horacio "el Negro" Hernández. He is also co-founder of the Latin jazz trio Overproof and recorded two Latin jazz albums with Seis del Solar. Robby is also co-author, with bassist Lincoln Goines, of the best seller "Funkifying the Clave: Afro-cuban Grooves for Bass and Drums".
Rubén Rodríguez - Electric Bass
Born in New York, raised in East Harlem and Puerto Rico, the son of a classical guitarist, Self-taught since his adolescence, Rodríguez is nowadays recognized worldwide as one of the best and most sought after bassists of Latin music and Latin Jazz in the world. U.S. He has worked with Don Byron, Grover Washington Jr., Roberta Flack, Eddie Palmieri, The Fania All Stars, Machito Orchestra, Tito Puente, India and Africando, Mark Anthony, Celia Cruz among many other great artists. His collaboration with the producer Sergio George has been consecrated as responsible for revolutionizing the sound of the genre known as Contemporary Pop-Salsa. The Fender Bass, both the precision model and the Jazz model has been his sound selection for the past 37 years. He has an immense discography that includes diverse musical genres.