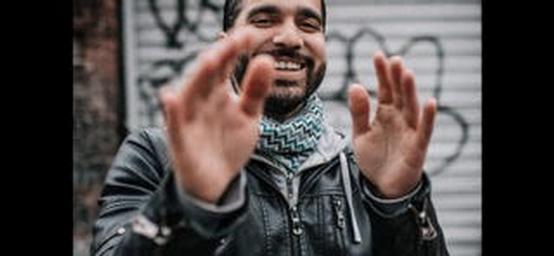 Lumi & Dr. Drum Virtual Performance
Our festival concludes with a performance by Frank Antonio López AKA "Lumi" with Dr. Drum
"Congo Square (New Orleans) to West Farms Square (The Bronx): Jazz and Blues to Latin and Hip Hop"
This is the theme of our 2020 performing arts festival taking place over three weeks in June. Headline performances and multiple community-art workshops are available online through our website or directly on our YouTube page.
Join us for a compelling hip-hop performance by Frank Antonio López AKA "Lumi" with Dr. Drum (originally shown on June 30).
Lumi and Dr. Drum (originally of the Peace Poets) are musicians that celebrate, examine, and advocate for life through music and poetry. They have helped invigorate the social movements of our time with chants and songs. Hailing from The Bronx and having performed across the world in over 40 countries, they have rocked the mic in prisons, schools, community centers, clubs, rallies, refugee camps, and the blocks they live on. Fortified with the belief that the cypher is the opposite of prison, they are committed to raising up the power of the people to be creative and connected.
LUMI is a Dominican poet, filmmaker, and educator from the Bronx who has interwoven the knowledge he gained from his BFA earned at New York University's Tisch School of the Arts, his years of film experience, and poetry to teach youth throughout New York City, the Dominican Republic, Cuba, Ireland, and Singapore, as a facilitator for Tisch Special Programs. For the last decade, he has been the filmmaker in residence at The Brotherhood/Sister Sol (Bro/Sis), an organization that provides comprehensive, holistic, and long-term support services to youth in Harlem, creating films that highlight an array of issues affecting black and brown youth in NYC, from themes of masculinity to police accountability.
Dr. Drum is presently the co-founder and Musical Director of BombaYo Afro-Puerto Rican Arts' Project. His work helps members of all ages, cultures, backgrounds, races, and ethnicities develop a strong sense of identity and responsibility through actively exploring their cultural roots. Dr. Drum's engaging style encourages children and adults to explore their own musicality. He sees this artform as a vehicle for self-discipline, cultural affirmation, and healing. In doing this work, Dr. Drum most importantly seeks to bring awareness and appreciation of the contributions of the African Diaspora in the Americas to the entire world.