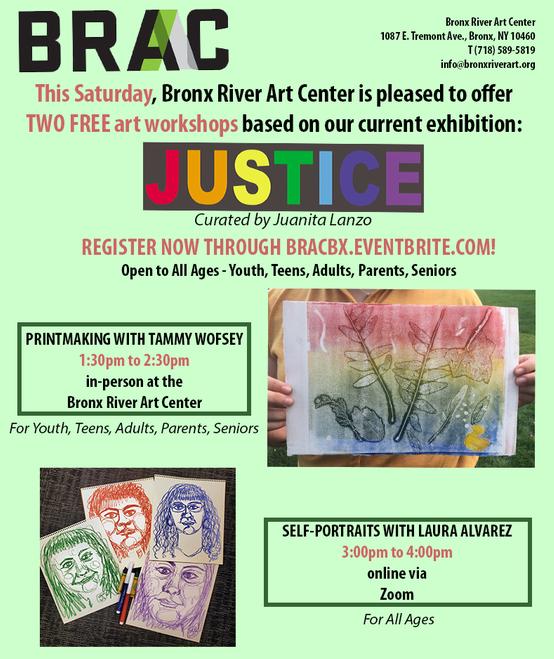 JUSTICE Workshops
BRAC is pleased to offer TWO FREE art workshops based on our current exhibition "JUSTICE" curated by Juanita Lanzo.
On view at Bronx River Art Center, JUSTICE features four artists who activated the windows and the gallery space to create artworks that document, illustrate, converse and capture our shared humanity, pain, and joy, daily life struggles, and resilience. The works in the exhibition will develop by ongoing public interactions by the artists in everyday or regular encounters with Bronx residents, visitors, and students at BRAC.
Both artists hosting each workshop have artwork featured in the gallery space located at 1087 E Tremont Ave, in the Bronx. The gallery is open to the public Monday - Friday from 12pm to 6pm and Saturdays and Sundays from 12pm to 5pm. Please be advise COVID-19 healthy and safety procedures are required.
Workshop 1: Printmaking workshop with Tammy Wofsey from 1:30pm to 2:30pm at the Bronx River Art Center
Open to Adults, Teens, Seniors, Youth and Parents
This workshop will be held in the BRAC building, in our performance space to allow for social distancing. Artist Tammy Wofsey and participants will work with a portable washer press, printmaking ink, paper, and autumn leaves. The group will collect autumn leaves from the surrounding area, near the recently opened bicycle path. The work will be inspired from nature and allow for quiet time to reflect and work with our hands and heart to heal from a tumultuous year of personal, economic, and social unrest. We will hang the prints on the windows of the building for display. For the safety and health of our community a maximum of 8 participants are allowed to register for this in person program. Masks are required.
Materials: The art center will provide all materials for this class. Please dress for art making.
See Tammy's work here: https://www.plotzingpress.com
Workshop 2: Join artist Laura Alvarez and create with us Self-portraits!
From 3pm to 4pm on Zoom.
This virtual workshop will meet on Zoom and is open to all ages!
This workshop connects to representation and identity, celebrating our diversity, and common humanity. In spite of variations on culture, race, gender and points of view, we will create artwork together. This is one of the main themes for the exhibition JUSTICE.
Materials: paper, pen, pencil, markers, mirror or photograph