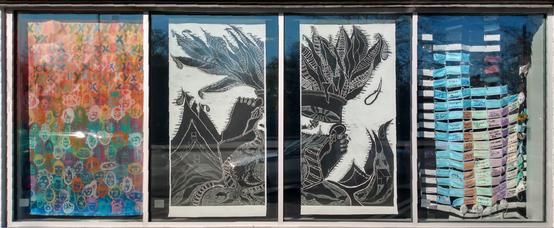 JUSTICE Virtual Artist Talk
Window Installation shot: (L to R) Laura Alvarez, Tammy Wofsey, Tijay Mohammed
---
In conjunction with the exhibition JUSTICE
VIRTUAL ARTIST TALK
December 10th at 6:30pm
Join us via Zoom on Thursday at 6:30pm!!
Or go directly to Zoom on Thursday
---
JUSTICE curated by Juanita Lanzo
Bronx River Art Center is pleased to present an evening of artist conversation in response to JUSTICE, a four person exhibition of works activating the windows and gallery space at BRAC to create artworks that document, illustrate, converse and capture our shared humanity, pain, joy, daily life struggles, and resilience. The exhibition runs through December 12, 2020
Curator Juanita Lanzo and participating artists Laura Alvarez, Rejin Leys, Tijay Mohammed, and Tammy Wofsey will engage in conversation about their individual works and the exhibition as a whole.
Laura will talk about her "Genetics" paintings and their celebration of our similarities and differences.
Rejin will address how her "Pandemic Book of Dreams" video and paintings expresses her take on our daily routines during the Pandemic when anxieties, loss and hope are intertwined.
Tijay will speak about his interactions with people responding to issues of racism, loss, violence, hope and joy that he then transcribed onto surgical masks for his window piece, "We Are All in this Together" and his colorful and joyful artwork "BLACK".
Tammy will elaborate on her linocut prints' "Keep the Aspidistra Flying George Orwell Double Helix" commenting on (or lack the lack thereof) to health care and the fragility of the environment.
Artists will also discuss:
how their roles facilitating or conducting education workshops engaging the public has changed during this Pandemic, and how these roles can be optimized to overcome existing inequities.
how they see these interactions changing the way they make and present art
JUSTICE is a work in progress exhibition that takes place while NYS has been in lockdown, due to COVID-19, and has begun to partially re-open. The artists will present work to create a dialogue around the racial and social disparities that have been exacerbated by the Pandemic, resulting in the loss of thousands of Black, Brown, Asian and Indigenous lives. This includes the disruption of education and social services to working-class and poor families, food insecurity, urban violence and police brutality.
Join us for Artist Talk December 10th at 6:30pm