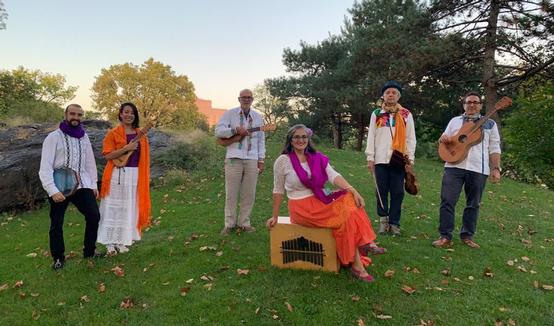 Son Pecadores
Enjoy Spring Outdoors with BRAC
Music and Art in the Park
Son Pecadores Music Performance - May 15th, 1PM
River Park, Boston Road and E 180th Street
BRAC is pleased to present Son Pecadores, a Mexican folk music group, performing on Saturday, May 15th at 1pm as a part of a day of events that will explore and celebrate the immigrant experience.
This Fandango, a community party, will take place in River Park at Boston Road and E 180th Street in the Bronx. Everyone is invited to enjoy Music at 1pm and a Mural Workshop from 10am - 6pm in beautiful surroundings on the Bronx River.
Son Pecadores is a collective of jaraneros based in NYC, dedicated to learning and promoting Son Jarocho music on the East Coast. Son Jarocho is a style of folk music from the Mexican state of Veracruz, on the Gulf of Mexico. It represents a mixture of indigenous, Spanish and African musical elements, thus reflecting the population that developed in that region during the colonial era.
Click Here to watch a Son Pecadores performance
The Son Jarocho is played with jaranas, stringed instruments smaller than guitars, and is sung in a style in which several participants exchange verses, sometimes improvised, which are very poetic and often with comic content and even offensive. The best-known song of the Son Jarocho is "La Bamba".
The members of Son Pecadores are Algeria Arreola: jarana second, zapateado, jarana; Henry Chalfant: jarana second, jarana first; Felipe Fournier: jarana first, tambourine; Aurelio del Muro: first jarana, tuxteco violin; Mehmet Kucukozer: first jarana, third jarana, lioness; Paula Sánchez-Kucukozer: marimbol, zapateado and Claudia Valentina: jarana first, zapateado.
BRAC will also offer a community Mural Workshop: Flora and Fauna of our Countries on May 15th from 10am - 6pm at River Park. Participants will create a tape mural using typical animals and flowers from our countries considering how animals and plants around us are important in the construction of family ties, identity and life experiences.