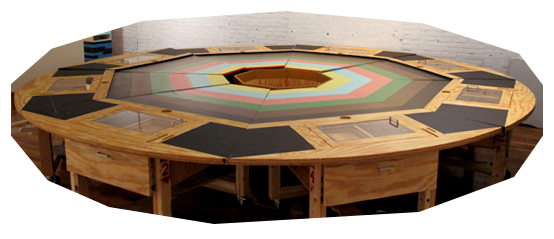 Shifting Communities Roundtable Series Guidelines
Beginning Sept 9th and continuing through February 18th the Bronx River Art Center will host the Shifting Communities Roundtable Series. An installation built by artists J + J in our gallery will serve as the physical infrastructure for a series of discussions. Featuring the Bronx as a hub, the roundtable will host an ongoing series of events and talks based on the changing socio- demographics, community development, and non-profit exhibition strategies (to name a few) across the boroughs of New York City. Each of the four Shifting Communities exhibitions will feature one or more roundtable sessions led by the artists in the show.
Anyone is free to propose a round table event by following the guidelines below. All ideas will be considered, but preference will be given to those that have a collective and/or participatory and/or community-based theme.
Guidelines:

1) Roundtable sessions can last no longer than 1 full day between the hours of 9am and 10pm.
2) Some form of documentation (photos, video, transcript, notes, essay, etc) of the event must be submitted to BRAC for the Shifting Communities archives.
3) Any materials, ideas, notes, etc, left in the Shifting Communities Roundtable space after a scheduled event become free to use and appropriated by any future events.
4) Events will be scheduled on a first come first serve basis.* Check the Shifting Communities Google Calendar for currently scheduled events. *Please note that an empty date does not guarantee availability.
5) To schedule an event, please adhere to the following:
Email Chad Stayrook, curator, at cstayrook@bronxriverart.org with "Shifting Communities Event Proposal" in the subject line. In the body of the email include: one short paragraph description of the proposed event, preferred dates and times, contact information.
6) Chad will contact you with questions and/or to confirm your event. Events are not valid until you receive a confirmation email from Chad.
Examples of possible roundtable events:
- Community Board meeting
- Artist Lecture
- Video podcast set
- Brainstorming time travel session(s)
- Planning sessions for civil protest
- Poetry workshop-Prayer group
- Art critique
- Other