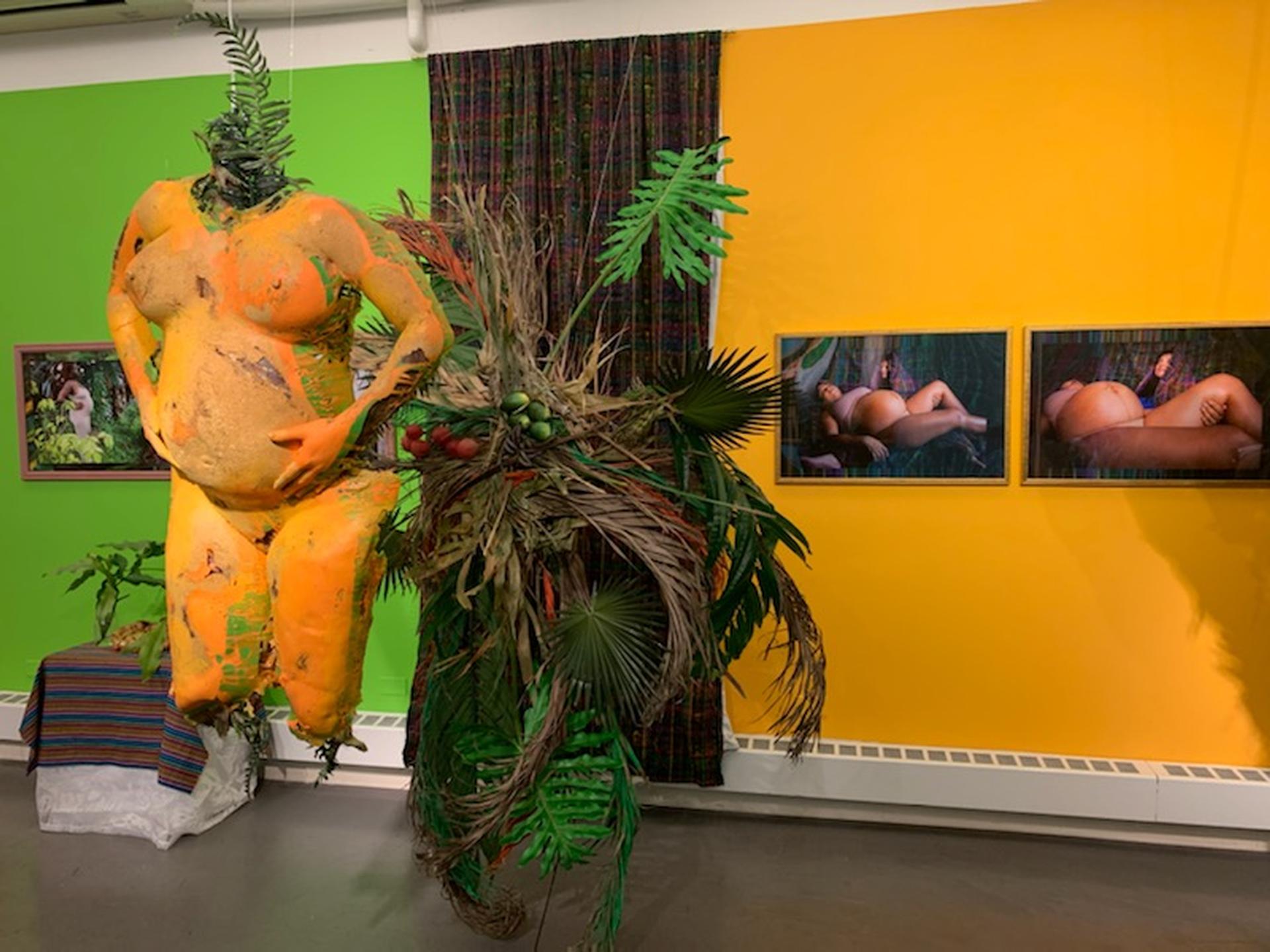 Mother Mold Virtual Artist Discussion
Coralina Rodriguez Meyer: Mother Mold Project & Mama Spa Botánica
On view October 30 — December 12, 2021
Artist Talk - Virtual Discussion
Saturday, November 13, 1-2:30pm
Mama Spa Botánica artist & collaborator
Join us Saturday, November 13 from 1-2:30pm for a conversation about the global maternal health crisis between artist Coralina Rodriguez Meyer and Doula Nicky Dawkins.
To join the conversation, RSVP for virtual discussion HERE
According to the CDC, Black and Indigenous women are far more likely to die from pregnancy-related causes than white women.[1] In the United States, more mothers die within a calendar year of the baby's birth than anywhere else in the industrialized world. Here, the death rate is worse today than it was 25 years ago, and the crisis persists for families of color across class lines, which increasingly more medical professionals attribute "to the lived experiences of race in this country."[2]
BRAC is uniquely positioned to offer mutual aid to community members on the front lines of the reproductive health crisis. Of the five boroughs, the Bronx has seen some of the highest rates of infant and maternal death over the last ten years. To that end, Rodriguez Meyer and Dawkins will discuss strategies for at-risk families to overcome systemic and interpersonal racism and sexism in our academic and medical communities and shed light on the migratory stresses of climate change.
This program is in conjunction with Rodriguez Meyer's exhibition The Mother Mold Project & Mama Spa Botánica on view at BRAC through December 12. The exhibition features a series of maternity photographs and sculptures which emerged from previous Mama Spa Botánica workshops. Working with commercial materials—such as latex house paint, braided hair, and plastic fruit—with a slurry of organic ephemera—from egg shells and seeds to coffee grounds and palm fronds—Rodriguez Meyer formalizes the tension between matrilineal ancestral rituals and the violent structures of modern colonial life. In addition, the artist's photography draws on sacred signifiers of motherhood across spiritual traditions and describes the social and political risks that melanated people face in our ranked society. Through both modes of portraiture, families participate in agency-building exercises that help excavate trauma and prepare mothers for their birthing experience with confidence.
To join the conversation, RSVP for virtual discussion HERE
Click here for links to birthing justice resources and literature
ARTIST STATEMENT
Serving the BIPOC birthing community in the Americas (whose death rate in the US is 6-11x higher than white women), the Mother Mold project began in 2018 after the artist's own high-risk hospital delivery. Following the umbilical cord to her late mother's birth (a 1st generation indigenous-immigrant) to Coralina in a car outside the Everglades swamp, the artist destigmatizes welfare queen narratives and the legacy of the Castas system that continue to threaten the survival of her unvanquished community. Mother Mold is a deeply personal and political project that recasts the aesthetic and medical institution as a material and maternal refuge.
ARTIST BIO
Coralina Rodriguez Meyer is an indigenous Colombian American, Brooklyn and Miami based artist who translates structural and domestic violence into American heirlooms. Raised queer between the rural US South and the Caribbean, Coralina mends her Muisca/Inca, mixed-race, Latinx identity into navigational tools to transform American colonial mythology and transcend trauma. Her role as a Quipucamayoc (urban designer, culture keeper, community organizer) activates vulnerable communities to perform their citizenship by building sovereignty and solidarity with civic action. In the wake of Ferguson and the Great Recession, she founded FEMILIA (City of Today for Feminine Urbanism) in 2009 as a masterplan for survival, proposing intimate solutions for urban scale problems.
Coralina Rodriguez Meyer (b. 1982, Homestead, FL) studied painting at Maryland Institute College of Art (MICA) (2001) and completed her architecture BFA at Parsons School of Design at The New School (2004) and MFA at Hunter College CUNY (2013). Her work was exhibited at the Contemporary Art Center New Orleans, Mana Contemporary Miami, Queens Museum, Bronx Museum, A.I.R. Gallery, Bitforms Gallery, Künstlerhaus Bethanien Berlin, the Smithsonian Museum DC and Perez Art Museum Miami. She has held residencies and fellowships at the Bronx Museum, Museo de Sitio Machu Picchu, The Artist's Institute CUNY, Syracuse University Florence Italy, and Mildred's Lane PA. Rodriguez Meyer is the recipient of fellowships and awards, including the Oolite Arts Ellies Creator Grant, NYFA, Graf Travel Grant in Inca Urban Design & Khipus, Universität der Künste Leutz Riedel Fellowship and the Kennedy Center VSA Arts Grant. Coralina has been featured in The Guardian, The New York Times, Village Voice, Hyperallergic, London Review of Books, Univision and Jezebel. Rodriguez Meyer is mother of Zaita and recently an adjunct professor in the Department of Landscape Architecture & Environmental and Urban Design at Florida International University (FIU).
CURATOR BIO
Taylor Bradley (b. 1986, Los Angeles, CA) specializes in modern and contemporary art with a focus on the history of photography and conceptual art. She received her BA in Art History with distinction from Boston University (2008) and earned her MA (2012) and PhD (2019) from The University of Texas at Austin.
Gallery Open Tues-Fri, 2-6pm and Sat. 12-5pm
Admission is open and free to all
[1] "In 2019, the maternal mortality rate for non-Hispanic black women was 44.0 deaths per 100,000 live births, 2.5 times the rate for non-Hispanic white women (17.9) and 3.5 times the rate for Hispanic women (12.6) (Figure 1 and Table). Rates for non-Hispanic black women were significantly higher than rates for non-Hispanic white and Hispanic women. The increase in the maternal mortality rate from 2018 (14.9) to 2019 for non-Hispanic white women was statistically significant. The observed increases from 2018 to 2019 for non-Hispanic black women and Hispanic women were not significant." https://www.cdc.gov/mmwr/volumes/68/wr/pdfs/mm6835a3-H.pdf
[2] https://www.nytimes.com/2018/04/11/magazine/black-mothers-babies-death-maternal-mortality.html
***
All programming at BRAC will comply with COVID-19 safety protocols. All persons age 12 or over must show proof of vaccination.