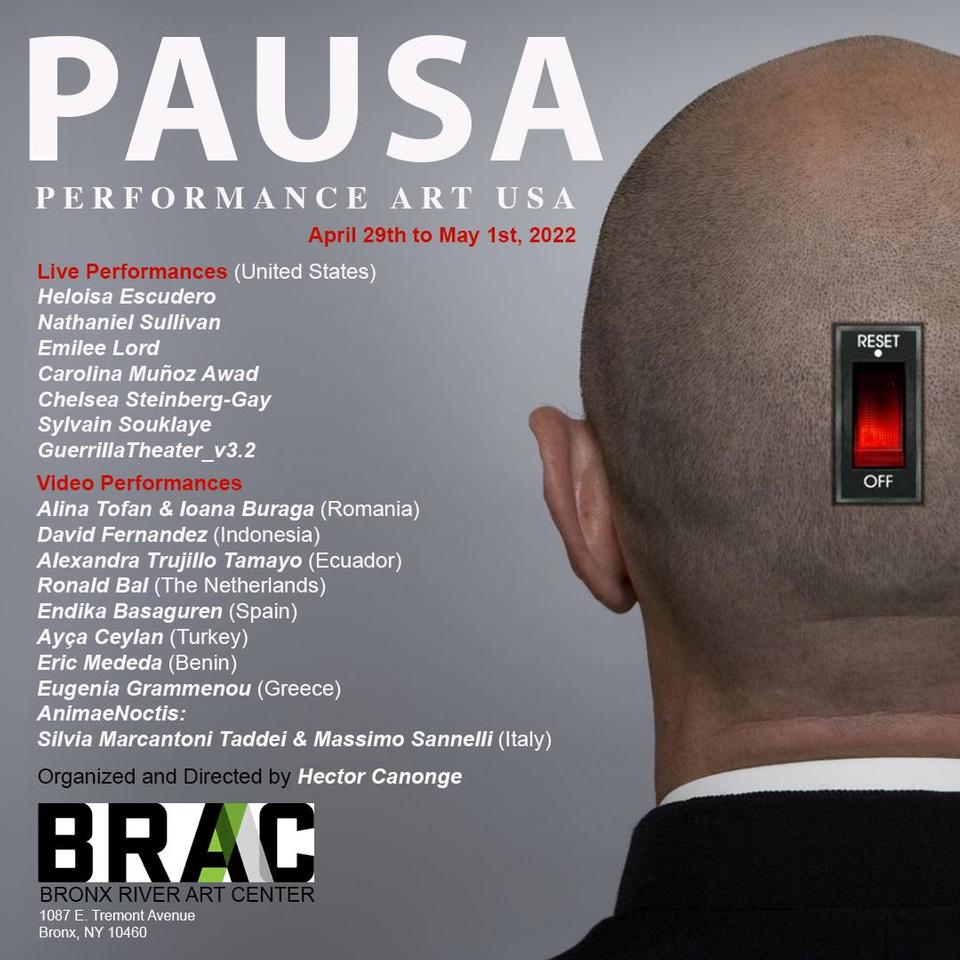 RE(cover, set, think, start, create, emerge, boot, live)
Bronx River Art Center and PAUSA - PERFORMANCE ART USA present
RE(cover, set, think, start, create, emerge, boot, live)
---
CHELSEA STEINBERG-GAY
New York-based sculptor and performance artist. She holds an MA from the Jewish Theological Seminary of America, a BFA from SUNY Purchase College and is currently Fine Arts MFA candidate at Parsons School of Design, class of 2023. She has studied and worked at The Educational Alliance, The Brooklyn Museum, The Art Student's League in New York City, and at the David Boyajian Sculpture Center in New Milford, CT. She was the founder of Salon 690, a monthly salon and group crit for women artists living in Fairfield County, and is a member of both the Harry G. Friedman Society and the Jewish Art Salon in New York City. Her work has been included in numerous group shows and private collections.
NATHANIEL SULLIVAN
Nathaniel Sullivan is a creative non-fiction artist, based in New York City. He makes documentary videos, multimedia lecture performances and site-specific guided tours. He uses these forms of truth telling to combine facts with speculative ideas in order to explore the roots of power and social control. Often, he uses one character and an event from their real life as a way into the story. He has made work about Francois Mitterrand's rumored last meal, exploring the limits of reason, Wilt Chamberlain's mythological sex life, in which he wrote a teenaged version of himself into the story to critique the enculturation of young men, and the semi-fictional love letters JPMorgan Chase CEO Jamie Dimon, to retell the story of the current financial crisis. Sometimes, he takes it to the streets. He has led a guided tour of an abandoned housing project re-imagined as a Richard Serra sculpture, conducted a seminar on desire from the back of a limousine and performed for one person at a Brooklyn Nets game.
CAROLINA MUÑOZ AWAD
Carolina Muñoz Awad (she/her) is an MFA in Fine Arts candidate at Parsons School of Design (graduating in May 2022) and currently holds the President's Scholarship in the program. She has been based in New York City since January 2021, and is originally from Santiago, Chile, where she has spent most of her life. muñoz awad graduated from a bachelor and master's in architecture from the Pontificia Universidad Católica in 2018. After architecture school, carolina worked as an architect, and then researcher for her former university and The National Fund for Scientific and Technological Development of Chile. In 2019, she started experimenting with materials and performance, trying to respond to personal questions that architecture couldn't resolve for her: How do we use our body in space? What does it mean to use space? And how do we perceive human presence? muñoz awad has exhibited her work in Santiago, Albany and New York City. She has attended the Arts Letters & Numbers Residency in upstate, NY.
ELOISA ESCUDERO
Heloisa Escudero grew up in São Paulo, Brazil, but relocated to the United States in 1987 where her interest in Fine Arts developed. She obtained a Bachelor of Fine Arts from the Massachusetts College of Art and a Master of Fine Arts from the San Francisco Art Institute. She is interested in conceptually based art that is both tactile and interactive. Her most recent art projects focus on art that emphasizes the participation of the viewer. In 2007 she moved to Sweden where she worked as a full-time artist, creating four successful projects and exhibiting in Sweden at the Uppsala Art Museum and in Spain at the University of Valencia. While in Sweden she built the first three BackPack Gallery Sculpture Units, starting the BackPack Gallery Project. One of her BackPack Gallery exhibitions/ performances was held at the popular urban park, The High line. In the beginning of 2013 Heloisa set up her studio in Arlington, Virginia, where she works on several different art projects. When Heloisa Escudero is not in her studio making art she is working at the Hirshhorn Museum as an Exhibit Specialist, as Curator for Betty Mae Kramer Gallery and SoloLab 5 Project at Visarts. Escudero has been showing in the DC area, New York city and Boston on a regular basis and her recent solo exhibition is part of the lecture artist program at the NOVA College in Woodbridge, VA. Escudero has had numerous solo exhibitions including Arlington Art Center (Arlignton-VA), Object Center Gallery (Boston-MA), The New Gallery at NOVA Woodbridge Campus (Woodbridge-VA), Art Museum of America (DC), Commom Ground Gallery (Rockville-MD) and many other art museums and galleries. Her art was mentioned at the the New York Times, Wall Street Journal, The New Yorker, Resource Magazine, Harvard University Archive and etc.
SYLVAIN SOUKLAYE
Sylvain Souklaye is a Brooklyn based French multi-modal artist. He is obsessed with sampling intimacies about people who don't belong to a determinate identity, gender, class, colour or nationality. Sylvain Souklaye performances are a collage of individual memories which are relived for and via the audience. Self-taught, he began performing with vandalism in Lyon, and then intimate happenings, radio experimentation and action poetry. He later developed digital art installations using field recording techniques as a narrative layer while pursuing his writer's path. Among his best known pieces are la blackline, a 5-year durational radio performance about socio-economic survival and urban absurdity, le déserteur a digital art installation dwelling on the notion of abandonment, TME a docudrama performance exploring self-inflicted amnesia and resilience and MIGRANT MARKET a remake of the slave market updated for the uber economy. Sylvain Souklaye methods characteristically involve intense physical acts as well as the use of unsettling intimacy.
EMILEE LORD
Emilee Lord is a visual and performing artist. She investigates the multiple ways through which a drawing can be made, performed, and defined. She received her BA from Bennington College, in sculpture and dance - 2004 and her MFA in Fiber from Cranbrook Academy of Art - 2007. She has been an artist in residence at Vermont Studio Center, Santa Fe Art Institute, Jentel Artist Residency, and SIM in Reykjavik, Iceland. As either visiting artist or professor, she has taught and lectured at Pratt Institute of Art, Caldwell University, College of Dupage, Bergen Community College, and Bard High School Early College. She has performed and exhibited both nationally and internationally including Chicago, New York, Philadelphia, Reykjavik, Reggio Emilia, Santa Fe, and Toronto. She lives and works in Brooklyn, NY, and writes critical reviews for thINKingDANCE.net
---
PAUSA — PERFORMANCE ART USA — is a platform for live and online presentations of performance art nationwide as well as a conduit for dialogue, exchange, and reflection working with local, national and international guest artists.
Organized and Curated by Hector Canonge
Contact: performance.art.usa@gmail.com