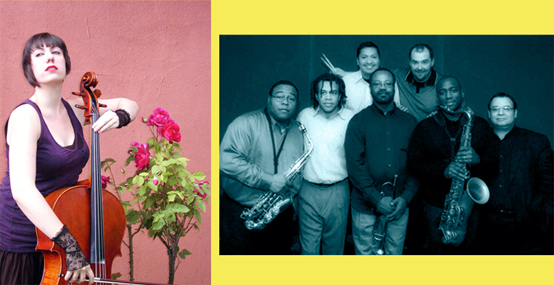 Bronx River Sounds: 6th Annual June Performing Arts Festival
CONCERT DATES:
Friday, June 19, 2009 at 7:30pm
The Elizabeth Glushko Party
(Contemporary Cello Music) at BRAC Gallery
$6 suggested contribution
Saturday, June 27, 2009 at 2pm
SÃLONGO
(Afro-Cuban/Brazilian Sounds) at River Park
FREE
*This concert is in conjunction with the Bronx River Alliance's Bronx River Festival. River Park is located 4 blocks from the Bronx River Art Center (directions below).
The Bronx River Art Center (BRAC) is pleased to present their 6th Annual Performing Arts Festival, Bronx River Sounds. This summer festival highlights a broad range of cultural and stylistic sounds, through a series of concerts that take place inside and outside BRAC. On June 19th at 7:30pm, The Elizabeth Glushko Party kicks off the festival with contemporary cello music inspired by BRAC's current exhibition, Bartered States: Contemporary Art from El Salvador, which closes on Saturday, June 20, 2009. On June 27th at 2pm, BRAC partners with the Bronx River Alliance to present SÃLONGO, an Afro-Cuban/Brazilian band, at the nearby River Park. Bronx River Sounds aims to connect the spectrum of the performing arts with the rich diversity of the West Farms community and beyond.
---
The Elizabeth Glushko Party:
Elizabeth Glushko – cello
Peter Tascio – electric guitar
Jimmy Lopez – percussion
The Elizabeth Glushko Party is a three-piece band led by the classically-trained, Bronx-based celloist and composer Elizabeth Glushko. This tenacious trio fuses classical and experimental music to create contemporary compositions and eclectic improvisations. As part of their performance, The Party will musically interpret the works hanging in the gallery. Ms. Glushko is an active member of the Bronx Symphony Orchestra and currently serves as the musical director at several Bronx schools.
SÃLONGO:
Eddie Allen – trumpet, flugelhorn, electric trumpet,
handclaps & vocals
Bruce Williams – alto sax, flute & handclaps
Teodross Avery – tenor sax
Hector Martignon – piano
Mario Rodriguez - electric bass
Diego Lopez – drums
Renato Thoms – congas & percussion
SÃLONGO is the brainchild of trumpeter, composer, arranger, and bandleader Eddie Allen. This 7-piece Afro-Cuban/Brazilian group combines the driving rhythmic concepts of congero legend Mongo Santamaria, the rhythms of Brazil, the harmonic concepts found in jazz, and the commercial appeal of Santana. Through improvisation and analytical compositions, the band creates original music that weaves elements of mambo, cha-cha, bossa nova, samba, jazz and R&B.
---
*DIRECTIONS TO RIVER PARK
Subway: #2 or #5 to West Farms Sq./East Tremont Ave. Walk two blocks north on Boston Road to 180th St.
Bus/Car: See above. Walk two blocks north on Boston Road to 180th St.