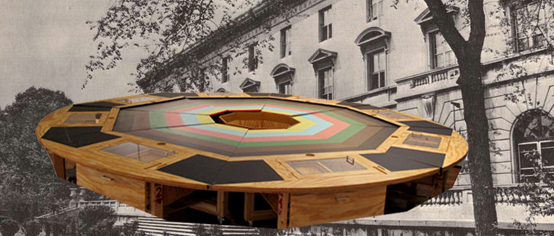 Shifting Communities Roundtable Series at the Andrew Freedman Home
As part of No Longer Empty's This Side of Paradise exhibition at the Andrew Freedman Home, the Bronx River Art Center will present a continuation of the Shifting Communities Roundtable Series. The roundtable is an installation built by artist collective J+J that was created for the Shifting Communities exhibition series to serve as a physical meeting point for discussion, events, and film screenings.
The Andrew Freedman Home, located at 1125 Grand Concourse in the Bronx, was once built to be a haven, a paradise, for the rich elderly who had lost their fortunes. Referencing this quixotic history, This Side of Paradise references the past and reconnects the vision of Andrew Freedman with the Bronx of today.
Sunday, May 6 from 1-3pm and 4-7pm
Corina Reynolds "The Reynolds Testing Corporation"
When entered into a Google search, the words "personality test" bring up a virtually unlimited number of ways to categorize oneself in the privacy of the home. Interdisiplinary artist Corina Reynolds will guide participants in group personality testing sessions, bringing this normally solitary activity into the public for a day. Based on the MENSA Self Scoring Personality Test, the survey will ask the group a series of yes or no questions to be answered by consensus. At the end of each testing session the group will be scored on the four Personality Factors (Extroversion, Stability, Creativity, Strong-Mindedness) and then labeled for their strength. In conclusion, each group will be given a title that relates to this new, collaborative assessment. www.corinar.com
Sunday, May 13 from 2-4pm
Yuka Otani "Bubble Remix"
Though the river's current never fails, the water passing, moment by moment, is never the same. Where the current pools, bubbles form on the surface, bursting and disappearing as others rise to replace them, none lasting long. In this world, people and their dwelling places are like that, always changing. --Chomei Kamono
Bubble Remix is a research-based lecture by visual artist Yuka Otani, who draws inspirations for her work from the ephemeral but dynamic nature of the "bubble." From 16th century Vanitas paintings to Buckminster Fuller's visionary domes and spheres, the lecture will explore images and videos of bubbles through various perspectives: science, history, literature, art, architecture, pop culture and more, conceptually drawing attention to the fleeting nature of the Andrew Freedman Home. www.yukaotani.com
Saturday, May 19 from 1-3pm
Caroline Burghardt "Pastoral Daydreams"
For the event Pastoral Daydreams, interdisiplinary artist Caroline Burghardt will present an interactive community workshop and photography "studio" session using the Andrew Freedman Home as scenic backdrop. Like the original residents of the Andrew Freedman Home, who knew they were no longer rich but were performing as a means to make themselves happy and comfortable in their last days, we too perform rituals searching for means to escape our realities, looking for happiness in our waking hours through daydreaming. The idea for the series came from the artist's own desire to be in the countryside, to be in a quieter, more peaceful place. She believes this desire is shared by many urban dwellers, those that lived in the Andrew Freedman Home before and those that live in the surrounding neighborhood now. www.carolineburghardt.com
Thursday, May 24 from 5-7pm
"Bronx Tarot Reading" with Moira Williams
Artist Moira Williams has created a new series of Bronx Tarot Cards for her Bronx Tarot Reading that feature local psychics and landmarks to invoke a journey through the past lives of the Andrew Freedman Home and the surrounding Bronx area. During the journey she will light a spirited candle made in collaboration with Lady Rhea, a psychic who owns and operates a local Bronx-based Botanica. The intuitive Lady Rhea will present a reading conjuring past lives of the home and will lead a discussion with Moira and guests around the Roundtable discussing the psychic energy residing in the area. Individual Bronx Tarot Readings will also be offered.
Sunday, May 27 from 1-3pm
"The Walk Exchange" with Dillon, Blake, Moira, Bess, Virginia
How can a threshold become an invitation? The collaborative group The Walk Exchange will consider the boundary between the Andrew Freedman Home and the Grand Concourse as a space of past, present and future negotiations by first leading a open roundtable conversation that considers how city dwellers experience fences, barriers and doorways. Following by a workshop to transform these ideas through a circumnavigation of the Andrew Freedman home itself. As the group is led on a wandering tour, participants will interact with the building's fences and entryways in a spirited re-imagining through body movements and the momentary construction of new physical pathways woven from colorful yarn and ribbons. After the walk, a final discussion will take place of the discoveries. Using walking as a method for interpreting boundaries and creating connections, this workshop will uncover new relationships between the Andrew Freedman Home and its pre-existing points of entry. www.walkexchange.org
Sunday, May 27 from 3:30-6:30pm
Angie Waller "Unknown Unknowns"
Unknown Unknowns is a quarterly newsletter that provides "timely information you didn't know you didn't know." Launched in Spring of 2012 by artist Angie Waller, the contents of the site are derived from search engine data collected by advertisers. Newsletter articles cover diverse topics ranging from what are the most commonly searched fears, tattoo designs, as well as the number of times people seek advice on knowing themselves and what other people are thinking. To introduce the newsletter and its eclectic offerings, Angie will present her research and invite experts to weigh in on her data from their professional standpoints. Invited guests will include a linguist, a psychologist and a marketing research analyst. Come learn how your internet searches are being tracked and give your input to the discussion. www.unknownunknowns.org
Thursday, May 31 from 3-5pm
Alicia Grullon "Becoming Green in the Bronx"
Artist and activist Alicia Grullon presents Becoming Green in the Bronx, a social practice project examining green initiatives that are reshaping urban environments and appling those values in areas where sustainable living practices are needed. For this roundtable discussion, attendees will be invited to participate in discussions to find practical solutions for issues on specific environmental challenges people experience in their everyday lives. What we learn from this process will form the basis of creating new community-inspired measures for how arts and culture engage with ideas of balancing ecological, social and economic success in stratified urban environments exemplified throughout the bouroughs of New York City. www.aliciagrullon.com
Friday, June 1 from 4-6pm
A Blade of Grass "Stories About Money"
Emcee'd by financial literacy expert Mario Bodden, A Blade of Grass presents Stories About Money, an open-mic style platform for people to come together and share the ways different people encounter money today. As an alternative to workshops that stress problem-solving or asking for help, this forum will provide a platform for open communication, allowing people to simply talk and listen. As our nation's economy is more and more scrutinized, personal economies of earning and saving money become less and less apparent. Stories About Money provides a lighthearted means of communication on this topic through discussion and storytelling. www.abladeofgrass.org

Andrew Freedman Home | 1125 Grand Concourse | Bronx, NY 10452