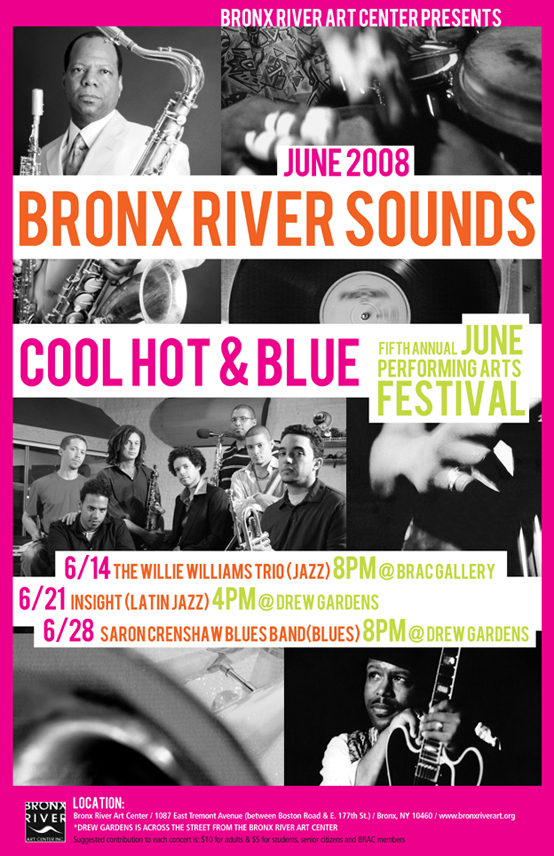 Bronx River Sounds - Cool, Hot & Blue: 5th Annual June Performing Arts Festival
| | |
| --- | --- |
| | Concert Dates: |
| June 14 - 8pm | The Willie Williams Trio (Jazz) at BRAC Gallery |
| June 21 - 4pm | Insight (Latin Jazz) at Drew Gardens |
| June 28 - 8pm | SaRon Crenshaw Blues Band (Blues) at Drew Gardens |
*Drew Gardens is located across the street from the Bronx River Art Center. In case of inclement weather, outdoor concerts will take place at the BRAC Gallery.
Suggested contribution for each concert is $10 for adults and $5 for students, senior citizens and BRAC members.
Bronx River Art Center presents Bronx River Sounds - Cool, Hot & Blue, our 5th Annual June Performing Arts Festival. This summer festival highlights renowned and emerging performing artists, whose work transverse a broad cultural and stylistic range of sounds. This year's theme, Cool, Hot & Blue, presents an evening of "cool" Jazz by The Willie Williams Trio on June 14th, a family-friendly afternoon performance by the "hot" young Latin Jazz band Insight on June 21st, and the series will conclude on June 28th, with a "blue" evening concert by the SaRon Crenshaw Blues Band. Now in its fifth year, Bronx River Sounds is a festival that aims to connect the spectrum of the performing arts with the rich diversity of the West Farms community and beyond.
---
The Willie Williams Trio:
Willie Williams – Saxophone
Rudy Walker – Drums
Ben Williams – Bass
Willie Williams is a veteran saxophonist whose brand of Jazz swings hard and loud with clever compositions and soulful improvisations. Raised in the tradition of Philadelphia saxophonists, Willie Williams was performing and recording professionally by the age of twelve. He later studied classical saxophone at the Philadelphia College of the Performing Arts by day while performing extensively with various trios by night. After moving to New York City, he landed his big break by playing with Taylor's Wailers, a quintet formed by the late drummer, Arthur Taylor. During that time, he toured with Clifford Jordan's Big Band, Mingus Dynasty and started a long and fruitful collaboration with T.S. Monk. At present, Willie Williams is known as a leader of ensembles. After recording four critically acclaimed albums, he has made his mark on the Jazz world as an award-winning performer, composer, arranger and teacher.
---
Insight:
Zaccai Curtis – Musical Director, Piano
Luques Curtis – Acoustic, Electric Bass
Richie Barshay – Drummer, Percussion
Reinaldo de Jesus – Congas, Percussion
Joel Gonzalez – Trumpet, Flugelhorn
Zach Lucas – Alto sax, Flute, Composer
Frank Kozyra –Tenor, Soprano Saxophone
Insight resembles the eclectic and diverse experiences of American life through their grooves, melodies, and compositions rooted in Jazz and Latin Jazz. Their focus on African-based sounds with influences from Puerto Rico, Cuba, South and Central America, Europe and Asia offers a powerful interpretation of musical expression and communication. Insight's unyielding energy and experimentation has been captivating audiences at national and international music venues and festivals. Their unique sound has allowed them to share the stage with some of the most important artists from the Jazz and Latin Jazz scene such as Wynton Marsalis, Danilo Perez, Tito Puente, Nelson Gonzalez, John Patittucci and even the Hartford Symphony Orchestra. Individually, the members of Insight are or have been sidemen for some of the greatest musicians alive including Herbie Hancock, Eddie Palmieri, Jimmy Greene, David Valentin, Ralph Peterson, Gary Burton, and Donald Harrison.
---
SaRon Crenshaw Blues Band:
SaRon Crenshaw – Guitar, Vocals
Alan Hager – Bass
Baron Harrison – Drums
Robert Schlesinger – Keyboard
James Dalton – Harp
SaRon Crenshaw started playing guitar at the age of ten and quickly developed into an extremely talented guitarist and vocalist. Armed with a Gibson "Lucille" guitar, signed by B.B. King himself, and a Fender amp, he travels the country spreading his love for the Blues. He has shared the stage with numerous talented recording artists such as Lee Fields, Roy Roberts, Denise Lasalle, Bobby Rush, Jessie James, Tyrone Davis, and Chuck Roberson, to name a few. Some of the greatest musicians and singers of all time such as B.B. King, Albert King, Albert Collins, Stevie Ray Vaughan and Buddy Guy inform and inspire SaRon's original music and lyrics. Crenshaw is a powerful entertainer who never fails to deliver his signature credo— old school Blues, the way it should be.