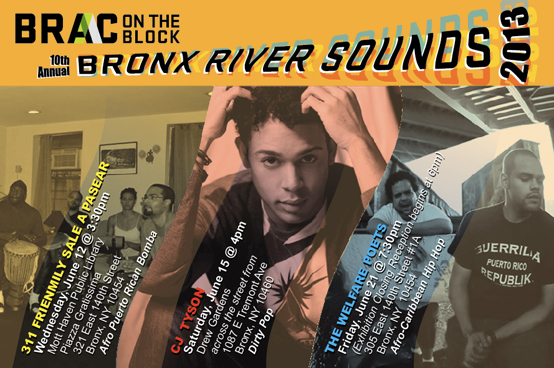 10th Annual Bronx River Sounds Performing Arts Festival
June 12th, 15th and 21st at various sites throughout the Bronx
Song and Dance on the Move is this year's Festival Theme
This month, BRAC continues its "BRAC on the Block" brand of programming with its 10th Annual Bronx River Sounds Performing Arts Festival held throughout the Bronx in public spaces and with partner organizations. With a theme of Song and Dance on the Move this years performers will present a variety of dance, song and spoken word that crosses cultures and pop styles to create invigorating and innovative performance that promises to thrill their audiences.
The dates and sites for the series of FREE performances will be:
311 Frienmily sale a pasear
(Bomba, an Afro Puerto Rican tradition)
Wednesday, June 12, 3:30 PM
At the Mott Haven Public Library's Piazza Gratissima at 140th St and Alexander Ave. (6 train to 138th St Station) this event is in conjunction with New York City Public Library series Reading Aloud!
CJ Tyson
(R&B/Dance/Pop)
Saturday June 15th 4:00pm
At Drew Gardens (across the street from our Building's construction site at 1087 East Tremont Ave., of the East Tremont stop on the 2 or 5 trains). www.officialcjtyson.com
The Welfare Poets
(Afro-Caribbean Hip Hop)

Friday June 21st at 7:30 PM
at BRAC's temporary gallery shared with the Bronx Arts Space, 305 E.140th St
(6 train to 3rd avenue 138th St Station)
No reservation required, but get there early for good seating. Since some of these are outside performances rain dates will be announced 12 hrs before the performances at our website www.bronxriverart.org.
Since leaving our building in early 2011, BRAC has stayed true to its mission to provide the Bronx with high quality Arts programming in spite of its homeless status. BRAC Executive Director of 13 years, Gail Nathan says, "We cannot afford to curtail providing essential quality of life amenities to our community just because our building is undergoing a gut renovation. While we wait for our building to be restored BRAC on the Block is our way of continuing to meet the cultural needs of thousands of Bronx residents".
BRAC's unique performing arts festival of contemporary and traditional music and dance has been a crowd pleaser with it artistic accessibility and family friendly brand of cutting-edge art.
About the artists of this year's line up:
311 Frienmily sale a pasear play Bomba, an Afro Puerto Rican tradition that involves music, dance and community. We are a group of frienmily that gathers to celebrate our culture, share and manifest our love for one of the oldest traditions in Puerto Rico. Bomba is a music of resistance, empowerment and healing. We embrace our heritage and reaffirm that when a community organizes a new world is possible if it is guided by love, intention, participation and transformation. The members of this group are educators, organizers, cultural/political activist, therapist, that firmly believe in the power of the arts and the need to be accessible to the community.
CJ Tyson is a rising star of the R&B/Dance/Pop music scene. His distinct look, movements and vocal sound have been seen and heard around the world on stage and screen. At the age of 21 he was the youngest cast member to join the cast of the Broadway blockbuster Wicked and became the first African/Mexican dancer to fill the featured dancer role. At 23, he appeared in the Broadway revival of West Side Story as a swing and understudying the role of Bernardo. The American television audience went crazy for his sweaty hot moves as a finalist on the hit TV dance show So You Think You Can Dance. That fighting spirit led him to work with Madonna performing with her in Smirnoff's NightLife Exchange and appearing in her music video, Give Me All Your Luvin. CJ is currently one of Madonna's master trainers for her international gym Hard Candy Fitness and was the face of Angelina Basile and Comme des Garcon's Nicolas Aksil's new t-shirt line "Courduroy Paris".
The Welfare Poets, are an Afro-Caribbean hip hop group that began to come into fruition up at Cornell University in the early 90's, but it wasn't until around 1997 when Ray Ramirez and Hector Rivera were back from college and Dahu Alah was also back home that the group began to perform locally and move towards the recording of a first album. The group has toured the United States, Puerto Rico, South America and across Europe and plays Hip Hop with a fusion of (and separately at times) Jazz and various styles from the Caribbean, including Puerto Rico, Cuba and Jamaica. The Welfare Poets' music is complimented with lyrical content concerning social, political, economical and ecological issues which has made the group relevant over the years.
Bronx River Art Center's exhibitions and presenting programs are made possible by the National Endowment for the Arts, The Andy Warhol Foundation for the Visual Arts, The New York City Department of Cultural Affairs, and the New York State Council on the Arts with the support of Governor Andrew Cuomo and the New York State Legislature. Related education and public programs are supported, in part, by the José E. Serrano WCS-NOAA, Lower Bronx River Partnership Program, Bloomberg Philanthropies, Simón Bolívar Foundation, and Con Edison.
The Bronx River Art Center expresses its appreciation for the support of The City of New York, Mayor Michael R. Bloomberg, Bronx Borough President Ruben Diaz Jr., New York City Council Majority Leader Joel Rivera, and members of the Council's Bronx Delegation.