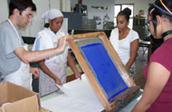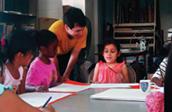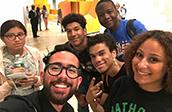 Our Teaching Artists
Ceramics
Reuben King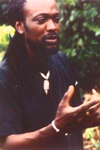 Reuben King has been a ceramic artist and art teacher for over 25 years. He was born and raised on the Caribbean island of Dominica, where his art education began at Marigot Arts and Crafts Institute. He studied at the Jamaica School of Art, the Caribbean's only formal arts institution. His fine work and command of the material won him a scholarship to study design at the State Institute of Art in Naples and Florence, Italy. He has also taken several professional development courses at New York University, Lincoln Center, and several museums.
In his early career in pottery, Reuben was the manager of Baldwin Pottery, the only studio school in the country to train young artists and potters. He oversaw the daily operations of the center and spent nine years as a Ceramics Instructor, teaching all levels. For over ten years, he worked with Ceramic Supply of New York and New Jersey, New York City's only ceramic supply store. He then went on to manage his own company, Kubuli House Designs/RTK Ceramic Arts, designing, producing, and selling his artwork and doing ceramic consulting and repair. Reuben has also worked as a mold maker and special assistant to glass artists Chistopher Cosma and Denise Amsess, where his expertise was vital to create a 30x10 foot cast glass crystal sculpture commissioned by the Rockefeller Group, which was installed and is on display at Rockefeller Center.
For the past 12 years, King has taught pottery and sculpture, as well as a variety of other media, to children and adults across New York City. He has worked with several local institutions, including the Museum of Art and Design, Bronx River Art Center, School of Visual Arts, and New York City Housing Authority. He has done numerous radio and television interviews related to his work as an artist and teacher and has been recognized by his contemporaries as a Master Potter. In 2002, Reuben was selected as Afterschool Teacher of the Year by his students and peers. He is an advocate for teaching and promoting environmental awareness, sustainability, and social justice through the arts. He teaches his students how to find their voice and make art using materials that are readily available to them, through his recycling and repurposing curricula.
Reuben maintains a studio in Brooklyn and has produced art and craft exhibitions locally and participated in many art exhibitions in New York City and internationally. He has demonstrated and exhibited at the New York City Historical Society and at other major institutions in the U.S. His work is usually functional, yet artistically formed and designed. The complex richness of his glazes engages the viewer in the relationship between color, texture, form, and function.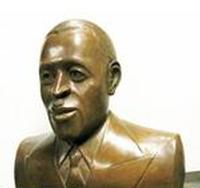 ---
Ana Ruiz-Castillo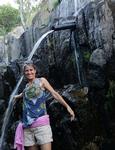 For 16 years, Ana Ruiz-Castillo has taught visual arts to children ages 2-18 at numerous public schools throughout the NYC area, as well as in Connecticut and Massachusetts, including her time spent as Director of Visual Arts at Harlem School of the Arts (2012-2015).
Ana has partnered with institutions such as No Longer No Empty, the National Black Theatre of Harlem, and City College, where she engaged the students in exhibitions on social justice and income inequality. She has also participated in exhibitions at the Harlem Arts Fair, The Wright Museum, and the Sugar Hill Building.
Her teaching experience ranges from specific subjects such as sculpture, ceramics, drawing and painting, and mixed media, to curricula-integrated classes in the public school system, including 10 years (2002-2012) as an artist in residence at the School for Excellence in the Bronx (High School) and after-school programs throughout the city. Furthermore, Ana has experience working with students with mental disabilities and autism, having worked with PS 176 and ARC for several years.
Ana has served as a panelist for the Brooklyn Arts Council Art Regrant twice, Apex-Art, and the Harlem Arts Alliance, and she has created a few Staff Development workshops for teachers from PS 176 and School for Excellence.
From 2015 to 2016, Ana opened her studio to the neighboring children in Bridgeport, CT, starting her own after-school program where she taught art to children from the South End and Hope School. Now, back in NYC, she is a teaching artist for Marquis Studios and teaches throughout the city's Public schools.
Ana has managed to continue creating her own artwork in her studio, having evolved from sculpture to painting. She has been committed to arts education in the arts, yet she has also participated in exhibitions in the University of Bridgeport, Bridgeport Art Trail, Biennal Latinoamericana del Bronx, Lincoln Hospital, Centro Español, Harlem School of the Arts, National Black Theatre of Harlem, and the Queens Museum of Art.
Ana firmly believes that exposing children to the arts is crucial in their development as productive, creative happy human beings.
---