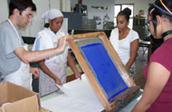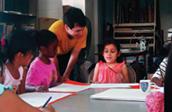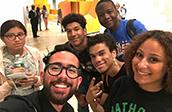 Our Teaching Artists
Drawing & Painting
Joel Adas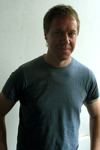 Joel Adas began painting and drawing in earnest during adolescence; his early heroes included Albert Ryder and Pablo Picasso. In 1988, Adas was fortunate enough to spend a year in Florence, Italy. The beautiful landscape and rich painting tradition were just the inspiration he needed to launch him on a career as a painter.
Shortly after earning a Bachelor of Fine Arts at Mason Gross, the art school at Rutgers University, in 1992, Adas moved to New York to pursue a Master of Fine Arts at SUNY Purchase college. Having obtained his MFA in 1996, he moved to Williamsburg, Brooklyn — then and still a hotbed for young artists and gallerists — where he continues to reside.
Adas has and continues to paint landscapes often showing natural settings with a hint of human presence in the form of a cabin, power lines, a skyscraper, or an airplane. His atmospheric, painterly works recall those associated with the Hudson River School or the likes of Camille Corot. He shows an adept ability to capture the fleeting moments of ever-changing light.
Adas, also like Corot, keeps his works small and intimate. But unlike the master, his work only hints at humans, never actually including them. He also brings a fresh perspective, presenting unique cropping and framing — the top of a steeple with a lot of sky, or branches in the immediate foreground framing a faraway cloudscape.
Recent paintings focus to a great degree on riverscapes, rough with windswell, with strong horizon lines and ever-more hazy objects, most often a cargo ship. Other paintings focus completely on sky and clouds. While still clearly representational, these edited works lean toward abstraction and a greater sense of emotion.
Adas has exhibited with a number of galleries both in Williamsburg and Manhattan. His studio in Greenpoint, Brooklyn, is a block from the East River, and he often takes breaks by walking down to the shore and taking in the beautiful mix of buildings, water, boats, birds, and sky.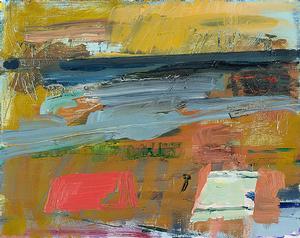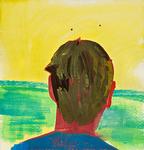 ---
Marta Blair

Marta Blair is a Colombian artist based in NYC since1997. She has a Fine Arts degree from the National University of Colombia and a BFA in Graphic Design. She has worked in visual arts and textile design for over 15 years. Blair has been a member of Cornerstone Studios since 2015, a collective of artists from northern Manhattan who are based in Washington Heights. She enjoys large format painting. Marta has had several shows in NY and a few commissions for public art installations.

---
Michele Brody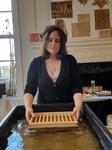 Michele Brody has been working with BRAC since 2010. She received her BA from Sarah Lawrence College in 1989 and an MFA from the School of the Art Institute of Chicago in 1994. Utilizing her strong background in the liberal arts, Michele creates site-specific, mixed-media installations and works of public art that are generated by the history, culture, environment, and architecture of a wide range of exhibition spaces. While living and working in such places as France, Costa Rica, California, the Midwest, Germany, and her home of New York, her art career has developed into a process of working in collaboration with each new community as a means towards developing an interpretation of the sense of a place as an outsider looking in. Michele has recently had exhibitions of her work at The Bronx Museum of the Arts and the Julio Valdez Project Space in Harlem, and she also recently worked as as an artist in residence at the Wave Hill Winter Workspace.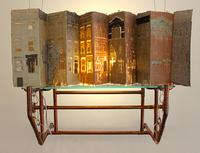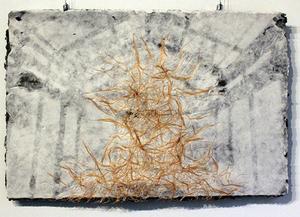 ---
Tiffany Miller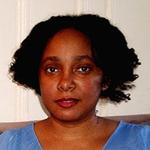 Tiffany Miller is a multi-disciplined, experimental artist from The Bronx. She is primarily a self-taught artist, though she studied briefly at The Arts Students League. Tiffany's paintings are surreal, expressionistic, mournful, and darkly humorous. Many of the bright colors she uses invoke the Caribbean Carnival tradition. She is a poet and storyteller who experiments with visual storytelling methods to explore themes of colonialism, spirituality, colorism, death, transformation, and carnival. Her work was featured in France and Brazil as part of the Street Art without Borders Project and at various galleries in the New York Area, most recently at the Corridor Gallery in Harlem.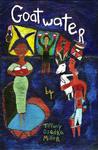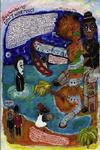 ---
Gil Robles

Gil Robles began studying art at the High School of Art and Design in New York City under Irwin Greenberg, or Greeny as his students called him. He then went on to Parsons School of Design, as well as taking classes at the Art Students League. He has had work published in Bloomberg Market Magazine,(three caricatures) and The Guide magazine (Pacific Press Publishing).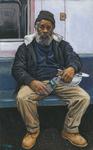 ---
Jessica Spence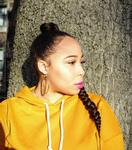 Artist Bio Jessica Spence is a New York-based artist, creating paintings that depict topics related to her life, specifically black womanhood, and societal beauty ideals. Her current body of work focuses on the beauty and versatility of Black hair. Spence holds a BA in Studio Art an MA in Art Education at Lehman College in the Bronx. She has had a solo exhibition at The Gallery at the 14th Street Y (New York, NY), and has been a part of group exhibitions at Bronx Art Space (Bronx, NY), ATYPE Gallery (New York, NY) and Thierry Goldberg Gallery (New York, NY).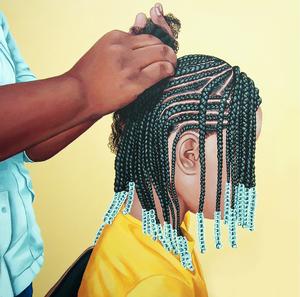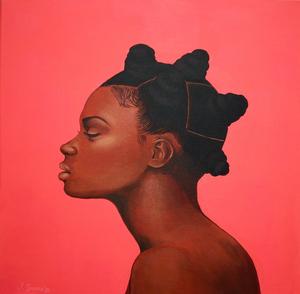 ---
Jennifer Tomaiolo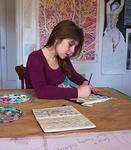 Jennifer Tomaiolo has earned a Bachelors of Fine Arts from the School of Visual Arts in New York City, a Masters in Fine Arts from Brooklyn College and an Associates in Chemistry from New York City College of Technology. She is a four-time BRIO award winner and has created commissions and exhibited in galleries around the Tri-State area.
From her studio in The Bronx, Jennifer Tomaiolo studies and experiments with the interposition of patterns and the landscape, natural rhythms that have been perceived and explored by artists in cultural patterns throughout art history that are now also being described through science and math. Her work explores the interrelation of the chaotic, but discernible fractal nature of life, and investigates the way artists have perceived and represented this nature in art throughout time and space, and how the enduring unearthing and investigation by artists and scientists into the nature of life relates to and inspires the artist personally.
Outside her studio, Jennifer travels to ancient, cultural, and natural places and museums of the Mediterranean, Near East, and America to research art history and uncover patterns in the cultural and natural landscape. Through her work, she engages in the conversation between compassion, memory, continuity, and connectedness on the one hand, and the looming shadow of an ominous future.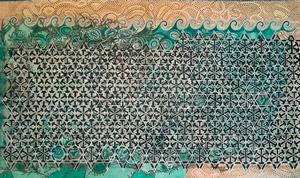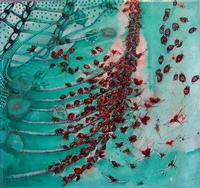 ---