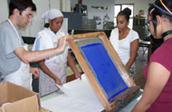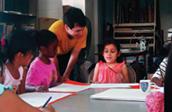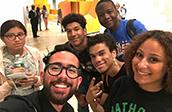 Our Teaching Artists
Printmaking
Tammy Wofsey

Tammy Wofsey lives and works in the South Bronx as a book artist and printmaker. She grew up in Colorado and attended SUNY College at Purchase, NY where she took her first book arts class with Antonio Frasconi. This experience began her love for printmaking and the process, texture, and image of the embossed page.
After graduation she worked at Bob Blackburn's Printmaking Workshop. Over the course of three years, Tammy completed her first artist book, "The Pest". This led to more artist book projects and prints that helped refine her technical skills in linoleum, letterpress and etching. She would describe her own visual language as a "process constantly being reworked and reprinted". However, this printing process always originates from drawings taken from her dog-eared spiral sketchbooks that she carries with her everywhere.
She later set up shop in Greenpoint, Brooklyn. Suddenly, on a cold winter day, a KeySpan gas explosion knocked all the walls flat and destroyed ten years worth of work. Through the cinders of this unfortunate moment, Plotzing Press was born. The name comes from the Yiddish word to "burst or explode" and refers to both, the disaster and her expressesion of total frustration.
---