Our Teaching Artists
Cartooning & Illustration
Charles Esperanza
Born the second of six kids, the South Bronx is where Charles Esperanza first opened his eyelids. A land shrouded in bright-colored decay, the birthplace of graffiti, and the hip-hop DJ! He paints fantasy worlds of elephants, and castles too! Accompanying this wonder is some whimsical truth. Charles has a voice that is seldom heard. A fusion of jazz, distorted guitars, and chirping birds. Author and illustrator of "Red, Yellow, Blue, and a dash of White too!".
---
Devon Purkiss

Devon Purkiss (a.k.a D3) is a NYC-based artist. His interest in art began early on during childhood, thanks in part to the action-packed, whimsical cartoons of the 1980s.
Eventually, D3 was introduced to comic books, Anime, classical art, and experimental modern art and decided that he desired a career in the arts.
D3 attended the School of Visual Arts, where he attained his B.F.A in illustration. He is currently a freelance illustrator, storyboard artist, humorist, optimist, and cartoonist working from his studio in the Bronx, always sketching his way to the top.
Currently Teaching: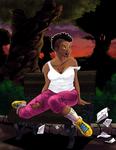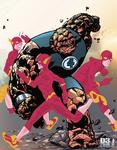 ---