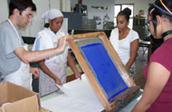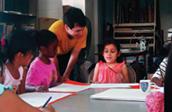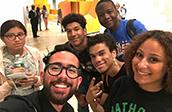 Our Teaching Artists
Animation
Krisia Ayala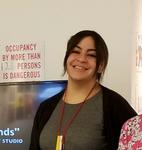 Professional interdisciplinary artist/designer focused in communication and editorial design. My aim is to find opportunities where I can employ my skills and knowledge in teaching and practicing arts. I am interested in applying my experience to serve those programs or individuals who are looking to develop creative ways to succesfully communicate their ideas.
---
Hector Canonge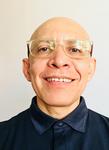 HECTOR CANONGE is an interdisciplinary artist, independent curator, and cultural entrepreneur based in New York City. His work incorporates the use of new media technologies, cinematic narratives, Live Action Art, and Social Practice to explore and treat issues related to constructions of identity, gender roles, and the politics of migration. Challenging the white box settings of a gallery or a museum, or intervening directly in public spaces, his performances mediate movement, endurance, and ritualistic processes. Some of his actions and carefully choreographed performances involve collaborating with other artists and interacting with audiences. His installations, interactive platforms, performance art work, and literary readings have been exhibited and presented in the United States, Latin America, Europe and Asia.
---
Art Jones

Art Jones is an image/sound manipulator working with film, digital video, and hybrid media. His films/videos, CD-ROMs, live audio/videomixes and installations often concern the inter-relationships between popular music, visual culture, history, and power. As a VJ he has performed with a variety of musicians and artists, including Soundlab, DJ Spooky That Subliminal Kid, DJ T-Ina, Amiri Baraka, Femmes with Fatal Breaks, and Alec Empire and Phillip Virus. He has completed a trilogy of music videos and a CD-ROM, and continues to perform at various locations. He is from the Bronx and lives and works in New York.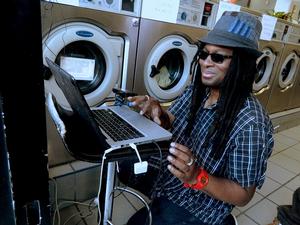 ---
Isael Luperon
My art is inspired by my interests in a wide range of media, from television shows such as cartoons, sitcoms, and the news to illustrations in print like comics and Japanese manga. I admire a variety of art styles like the exaggerated characters of Kohei Horikoshi to the simplistic dark humor of Joan Cornellá. Every day I experiment with different techniques in my designs to see how I can evolve my own artwork throughout time.
I was born in the neighborhood of Washington Heights in New York, surrounded by the richness of Puerto Rican and Dominican culture. My interest in art began as a hobby; then my hobby grew into a serious interest in art. I took classes at the Cooper Union High School Saturday Program for two years where I learned what it meant to be a designer within the real world. I am currently a Digital Design student at The City College of New York where I am learning more about Adobe Creative Suite and Studio Art. I do not only use these skills for my own personal use, but also to benefit others that are new to the field.
It is very meaningful for me to motivate others. I have volunteered as an assistant art therapist for the elderly at the Isabella Geriatric Center and I led an art club at the Operation Exodus afterschool program in my neighborhood. Since 2016, I have been a teacher assistant for kids with special needs at the Easter Seals Child Development Center in the Bronx. I believe that every child needs to enjoy creating art, just as I did. I encourage children to create based on their experiences and imaginations, with my guidance and passion for enjoying art to serve as an inspiration.
---
Luis Navarro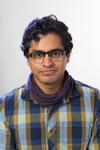 Luis Navarro is both a faculty member and the Systems Administrator for the Undergraduate Fine Arts Department at the School of Visual Arts in New York City. He currently teaches "Digital Sculpture," a class in which undergraduate students learn how to use myriad 3D design software and digitally-aided fabrication technologies to create works of art. He is also the Windows Administrator for the BFA Fine Arts Department and helps to maintain the 2D and 3D fabrication machines at SVA's CNC Room, including ABS plastic and plaster powder 3D printers, a CNC router, and laser cutters. He graduated in 2009 with an MFA in Computer Art from the School of Visual Arts and has exhibited in New York and Puerto Rico.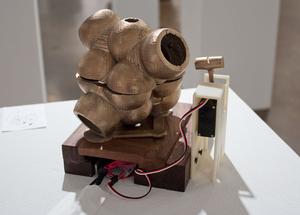 ---